The other day I was walking my dog, Dusty, in the backyard. The entire backyard is fenced, but I stay close at hand because she is such a small dog and we have a lot of wild critters roaming our wooded areas and perched in the trees.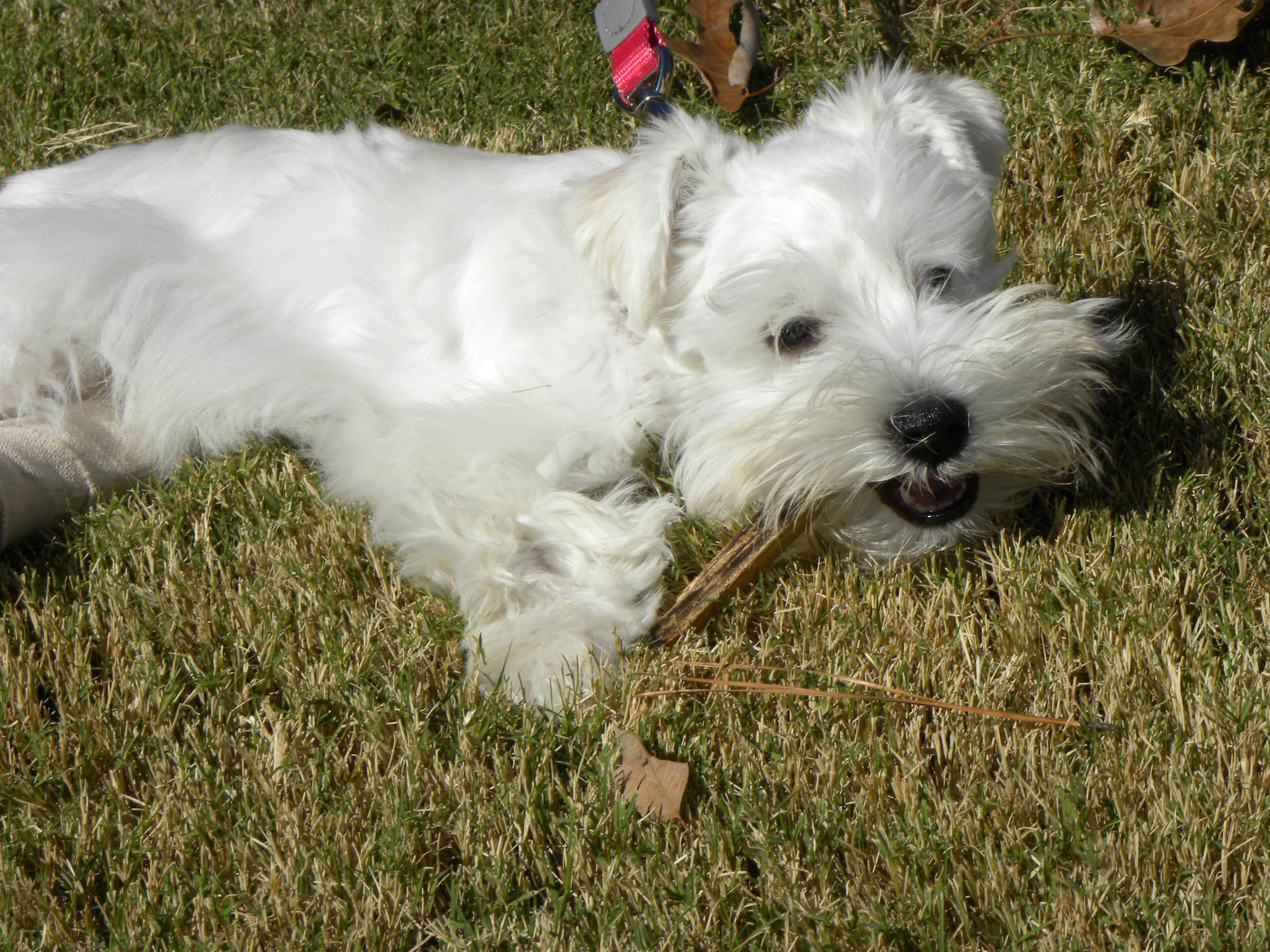 As we were walking around the backyard, I noticed that all of my feral cats were in the driveway with their eyes fixated on Dusty. They sat quietly watching every move that she made. This is puzzling cat behavior. They weren't fearful of Dusty, as they see her multiple times a day. Besides, most of them are two to three times her size and weight. It's not hard to figure out who'd win if a confrontation between Dusty and any of the cats should occur. The cats seem to watch Dusty more out of curiosity than anything.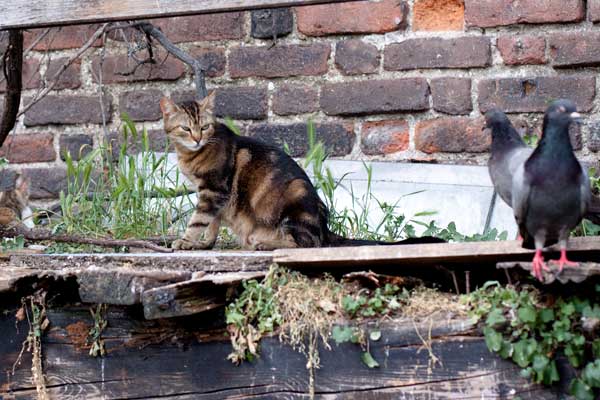 I'm sure they're thinking: Why is she always behind the fence? Why does she bark at us every time we move? Why is she always walking around with that guy? It made me wonder: Why do cats find watching other animals so fascinating?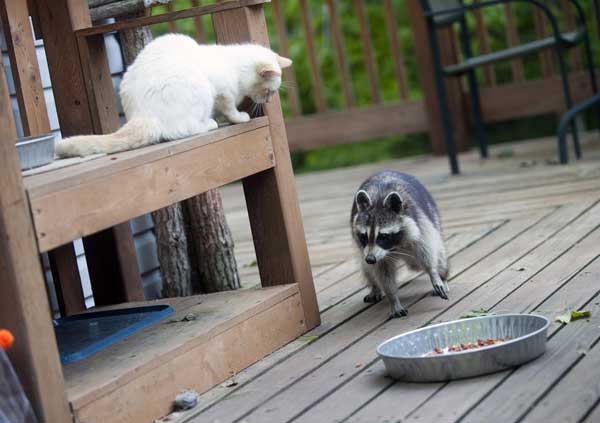 Dusty isn't the only animal my cats like to watch. They'll look up toward the trees and bushes whenever they hear a bird. Once they see the bird, they aren't aggressive. They just sit quietly gazing at it, flipping their tails gently from side to side.
We have many squirrels who like to run along the top of our fence. Our cats will occasionally get excited and chase one of the squirrels. However, this is rare, and the squirrels stay out of harm's way. Maybe the cats have gotten used to them, or maybe they're just too lazy to bother with a silly squirrel.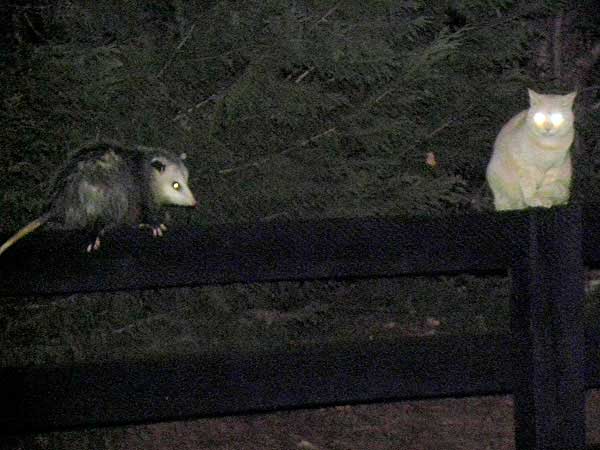 A pair of opossums frequent the house most evenings. They'll sit on the fence and not move an inch for many minutes. The cats will watch them to make sure they aren't trying to steal their food. However, once the cats have finished dining, they have no issue with the opossums finishing the leftovers. They'll even sit within inches of the opossums while they eat. They watch them inquisitively wondering why this type of "cat" has such a long nose and no fur on its tail. Our cats will even share their warm garage with the opossums during the winter.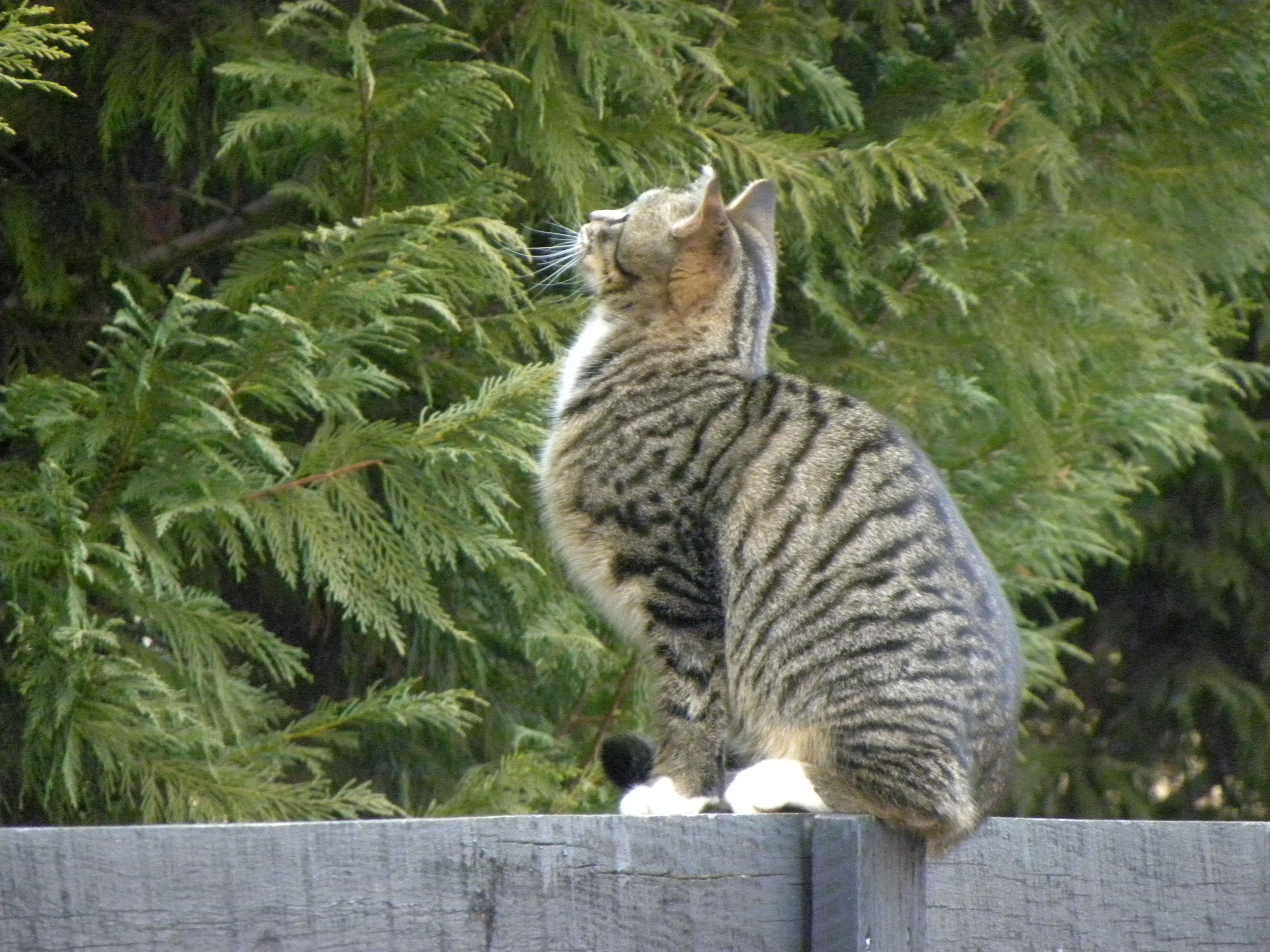 Our cats never get into too much trouble and will rarely harm another animal. They don't express any fear when they're around other animals that visit their home. They really don't mind when Dusty barks at them or gets too close to them. They just seem very intrigued by other animals and love to study them.
Perhaps it's because they're very well taken care of and know we provide them a safe place to live. Or perhaps they just can't be bothered by the other critters around them. Either way, I'm just as fascinated with them as they are with all the other living creatures around them.
Do your cats like watching other animals? What types of animals are they most fascinated with? Let's talk in the comments!
More articles about outdoor cats on Catster:
---
Featured Image Credit: Tatiana Rodriguez, Unsplash