My cat Keith's first vaccinations in the weeks after his adoption were taking longer than expected so I had considerable time in the waiting room, listening as cat parents gushed about the latest addition to their families. There were stories of cats found in locked car trunks, in freezing temperatures, and in apartments unfit for any living creature. It seemed that every cat had an almost magical origin story of beating the odds and finding his or her way into the homes of their once-reluctant families.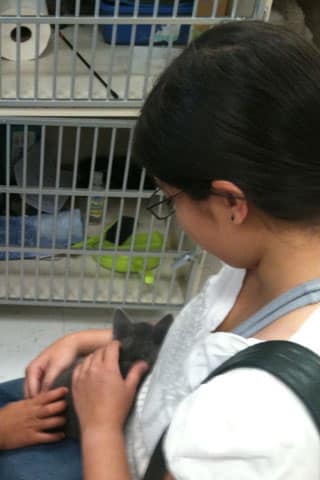 And more often than not, they were brought into homes by people who did not awake on the day of the adoption thinking they would end the day with a new family member. There were hesitations, concerns about costs. There wasn't enough space, there was an impending move. There were moderate allergies and unenthusiastic landlords. There were dozens of reasons to say no to the cat in need, but miraculously they all said yes. Not to be confused with taking on a cat when you're not informed or ready for the commitment, these are stories about overcoming the challenges that make us hesitate and rising to the occasion for a cat in need.
Seeing as it's Christmas (a holiday celebrating the ultimate in surprising children), I thought I would share the stories of a few of the families I know who said yes when they could have justifiably said no.
1. Clare and S├©ren (and Korean TV melodramas!)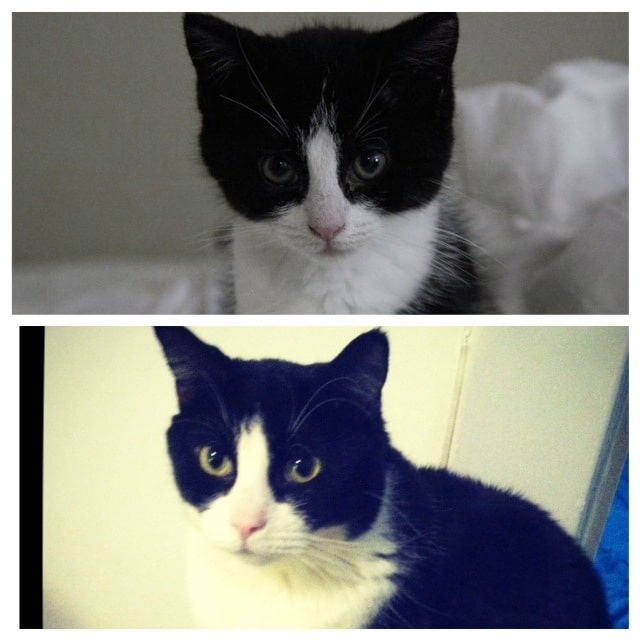 "I don't think that I could have met S├©ren at a more inconvenient time," Clare told me, explaining that she was a dead-broke recent college graduate living in a bedbug and drug-infested apartment building at the time. It would be understandable in that situation to pass up on adoption, but that feeling that so many cat people get, that this cat is meant to be with you, took over.
Clare said, "The last thing that I needed was a sick kitten. But when I saw him squished like a loofa in the corner of a cage, his brothers and sisters smacking at one another and him just trying to get some sleep, that was enough for me." She and S├©ren moved out of the building that same month for bigger and better things at every turn.
"We have since signed leases with two different boyfriends in two different cities, weathered two different graduate programs, stayed up late together for the 24-episode spans of two different Korean melodramas," she joked.
As a side note, the idea of tiny cats as loofas is a mental image that I am going to be returning to over and over again.
2. Rachel and Mary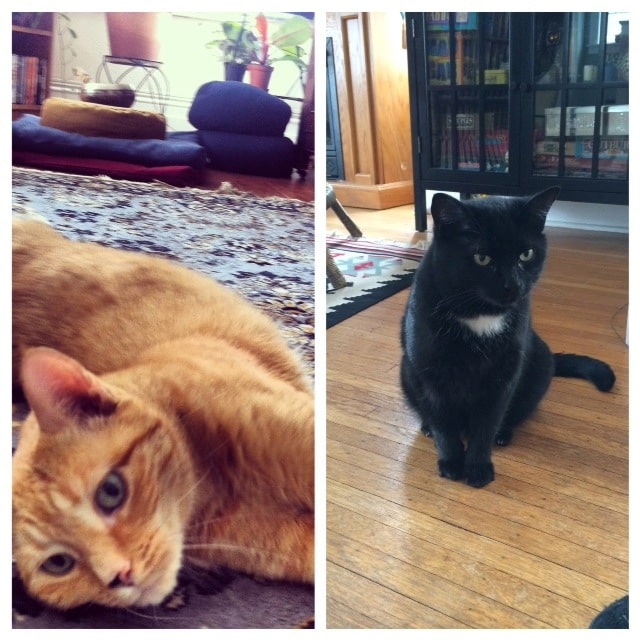 At a summer internship in Florida at a summer camp far away from home and school, Rachel was feeling pretty isolated. There were two five-year-old cats, Mary and Joseph, who lived on the property. "During my internship I was so lonely, so a co-worker suggested I should ask to borrow a cat to take home," Rachel explained, noting that this was a rather bizarre suggestion. The Catch-22 for me would have been that that although no one should just loan out cats willy-nilly and have it encouraged, I would want to get a cat away from a place that just passes cats out.
One does not just borrow cats!
But the program director was eager for her to take Mary, a talkative but nervous cat, home for a while, and the Rent-A-Cat situation turned into an adoption. "When it was time to leave Florida, I asked around to see if anyone was interested in keeping her — I couldn't possibly drive her all the way back up to Rochester, NY! But alas, it was in the stars for Mary and I to be together," Rachel wrote. The next few years were spent between Rochester and the college dorms, where the stealthy Mary successfully avoided detection, as cats were verboten on campus. They eventually settled in Brooklyn with Rachel and her partner, Tim, who considers Mary integral to their lives.
Turns out the cat-love is a family tradition. Rachel also told me the story of how her parents recently adopted a declawed, abandoned cat at Kitten Angels. Despite initial hesitation, the story of how he was fending for himself before he was brought to the rescue broke their hearts and they couldn't bear the thought of leaving the shelter without him.
3. Tristin and Cicero (and Ka Ra, and Crystal, and BG, and Kujo)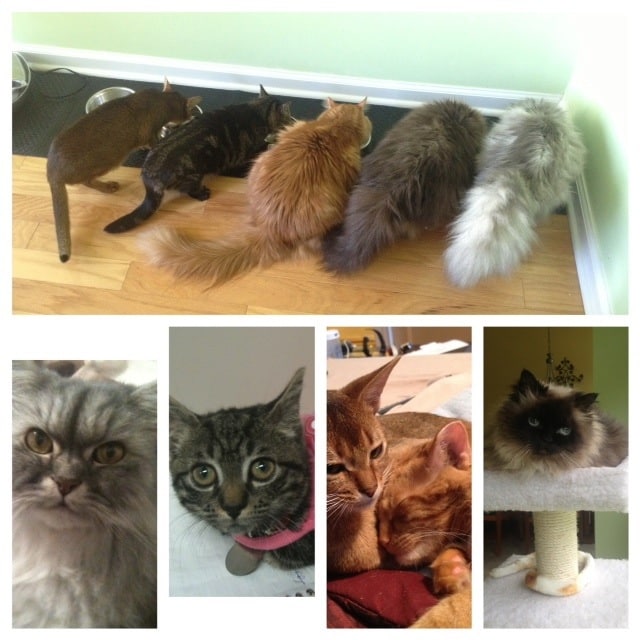 When it comes to saying yes to rescue cats, my friend and former colleague Tristin is no amateur. She and her fianc├®, Travis, are currently parents to five rescued cats. Having worked for years at a busy rescue in New York, she knows the responsibility of cat guardianship and has made a deliberate effort to create room in her life for all of the cats to live comfortable, I would dare say charmed, lives.
The fifth and final addition to their cat family, Cicero, came into her life a mere week after Tristin and her fianc├® were approved to adopt their fourth cat. He was a rescue from her work, with a heart condition, potentially making him difficult to place for adoption. During his initial vet visits, she said, "He purred the whole time he was being poked and prodded, even when they drew his blood. When I took him out of his carrier, he immediately wrapped his little paws around my neck in a blissful hug and fell asleep purring on my shoulder."
But as a military family with enough cats that you could literally try to herd them (and a brand-new one from a week prior!), no one could blame her if she declined to adopt this sick little guy. "But I was looking into this sweet little face and I knew he needed someone who would take care of him properly for the rest of his life," she recalled. After talking with Travis, they ended up taking him home the next day.
I am happy to report that today, he's doing great. "He is a healthy 15-pound bowling ball of love," she said.
Tristin also told me that it's the hesitant parents who often make the best cat parents. "They have thought through every little thing and are so prepared that when they get their little one home, they are blown away by how easy it is to care for them and how much joy they bring. I don't think I have ever seen someone who was hesitant about adopting end up regretting the decision or feeling anything but joy in it, nor have I ever seen a hesitant person be anything but an outstanding cat parent."
So what about you? Were you a "no" turned "yes" when you adopted your cat?
Check out some cuteness with Catster:
Read more by Alana Massey: