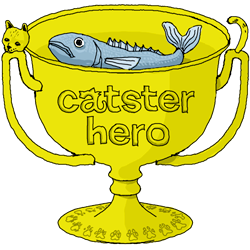 Carmen Bernard and her husband were driving down a country lane just outside of Jacksonville, FL, when they spotted something fuzzy moving in the road. Thinking it was an opossum, Bernard, a senior veterinary technician and wildlife rehabilitator, pulled over to help.
Once she got a closer look, she realized it wasn't an opossum at all, but a tiny Siamese kitten. The baby cat's back legs were twisted in such a way that they looked broken. Bernard thought the kitten had been hit by a car, so she scooped her up and took her home.
The kitten, later named Pretzel by her thousands-strong Facebook family, was only five weeks old when Bernard found her. According to the veterinarian Bernard took Pretzel to see the next morning, the kitten had not been injured but had in fact been born with several severe deformities.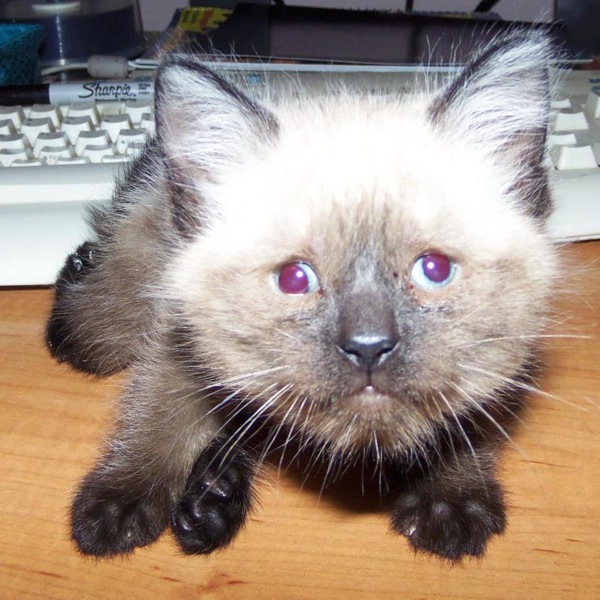 "The vet said she's not broken; she was born that way," Bernard says.
X-rays revealed that the joints in Pretzel's right leg were backwards, and her kneecap was on the back of her leg. As a result, the muscles and tendons in her leg were also reversed, and the pressure was causing her bones to twist. These issues limited her mobility and caused her a significant amount of pain. Her left leg was impacted as well, although not as severely as her right.
In addition to her twisted legs, Pretzel was blind. Her optic nerves were not connected to her retinas, meaning her blindness was permanent. Because of these myriad disabilities and deformities, the sweet kitten was given a deadly label: "unadoptable."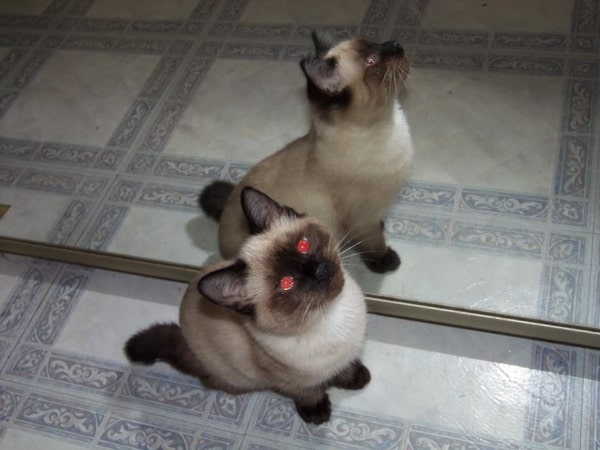 "The vet said, you have two choices: You can either stick in this for the long haul or you can put her to sleep," Bernard says. "And I had to give her a chance."
Pretzel's new lease on life will include several costly, complicated surgeries to repair her twisted legs. Now 14 weeks old, Pretzel has already undergone one surgery to correct her right knee. The procedure involved actually cutting her bones in half and repositioning them so they faced the right direction. Surgeons also constructed a functional kneecap for her and inserted plates to hold her bones in their new positions. Once her knee heals, Pretzel will need to undergo similar procedures on her right ankle and left knee to ensure she has maximum mobility and is pain free.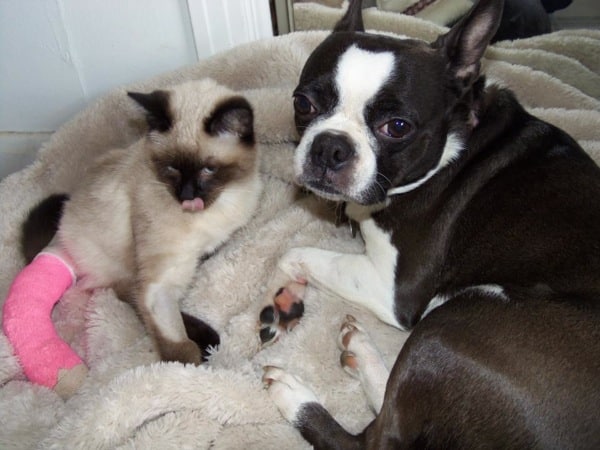 But considering Pretzel was up and walking around on her cast the day after her first surgery, Bernard is not worried about her ability to recover. Bernard also watched Pretzel quickly learn the layout of her home despite her blindness and make friends with her two dogs, a blind Pekingese and a feisty Boston Terrier. This leaves Bernard with no doubt that this kitten wants to make the most of her second chance at life. In fact, Pretzel is so tenacious that sometimes Bernard forgets there's anything different about her.
"Animals are so much better at adapting to situations than people are," Bernard says. "If she wasn't wearing a cast, you wouldn't know that she'd had anything done to her. It hasn't slowed her down a bit."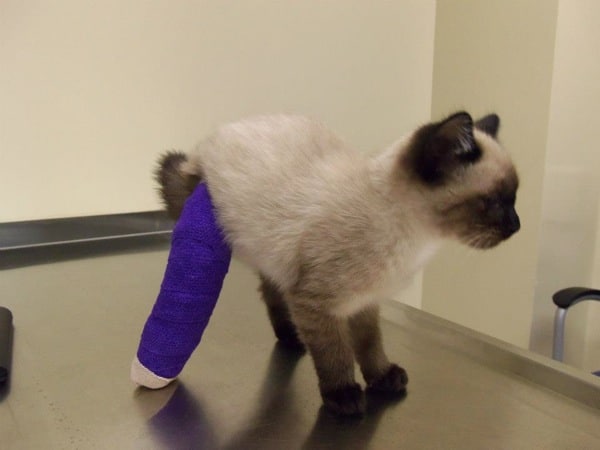 Part of Bernard's unwavering dedication to her unique kitten stems from her own experiences as a child in Guam. When Bernard was born, she had a severe heart defect, and doctors did not expect her to live.
"The doctors said just to take me home and make me comfortable, because there was nothing they could do for me," Bernard says.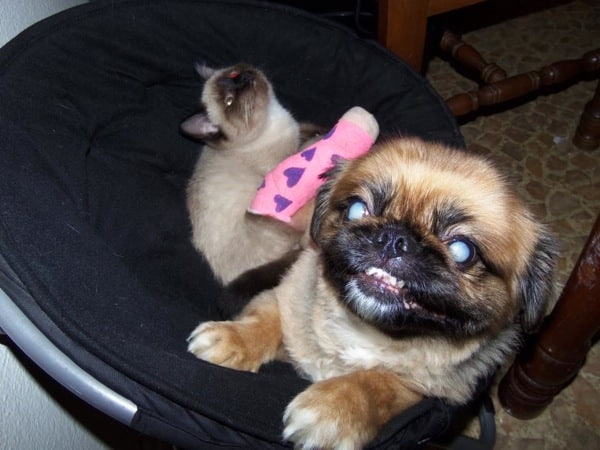 But Bernard's mother would not give up so easily. When Bernard was five years old, her family moved to the United States, and she received the emergency open-heart surgery she needed to save her life.
"I lived, and I'm thriving because of it," Bernard says. "My mom didn't give up on me, so I'm kind of paying it forward."
As Pretzel continues to grow, recover, and thrive, Bernard shares her progress with Pretzel's more than 12,000 Facebook friends (join them here; for obvious reasons, Pretzel's page is called "The Little Kitty That Could"). Bernard says it can be difficult to fully understand a cat's medical history solely via Facebook photos and status updates, so she tries to be as open and detailed as she can when discussing Pretzel's treatment.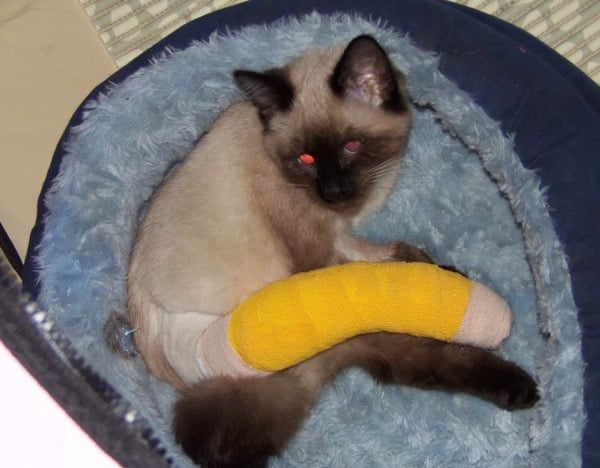 Bernard also says she is grateful she has the opportunity to share her special kitten with people from around the world. She frequently receives notes from people who have been touched or inspired by Pretzel's story.
"I have parents of children with disabilities say their kids are able to identify with the cat," Bernard says. "That really brings a tear to my eye sometimes, when parents say how much they appreciate me sharing the cat with them and their children, to show those kids that they aren't alone."
Do you know of a rescue hero — cat, human, or group — we should profile on Catster? Write us at catsterheroes@catster.com.
Want more inspiring stories of kitties overcoming the odds? Check these out: