One sunny mid-September day, I went to a copy shop and my life changed. No, that's really not melodrama or hyperbole — it's the plain, honest-to-goodness truth. Let me begin at the beginning and maybe you'll see what I mean.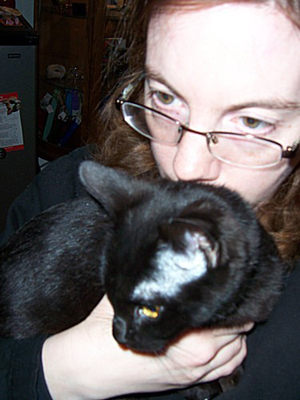 In August 2006, my beautiful Sin├®ad, who had been my feline soulmate for many years, got outside and never came back. I called all the shelters and vet clinics. I put up posters. I searched the ditches by the sides of the road for at least half a mile in each direction. I even wandered through the lowlands of the family homestead, wondering whether she'd been killed by the coyotes that had been howling nearby on the night she'd gone missing.
I never found Sin├®ad or her remains.
Along with my two remaining cats, Thomas and Siouxsie, I gradually picked up the pieces. We all got used to the Sin├®ad-shaped hole in our hearts. I had no plans to adopt any more cats. And if I ever did, I was going to adopt an adult or a special-needs cat.
That's what we always say, isn't it? But I meant it. Really!
Sept. 18, 2006, was an ordinary Monday. I was preparing some handouts for a workshop produced by the nonprofit where I worked, and, as usual, I went to the print shop around the corner to have copies made.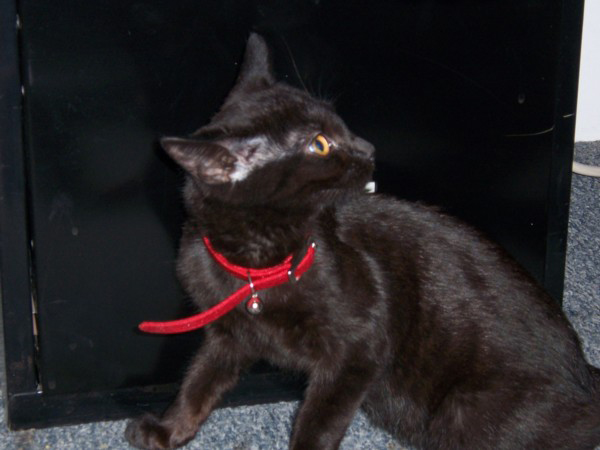 As soon as I walked in the door, I saw them.
As I filled out my order and talked with the copy shop owner, I couldn't keep my eyes off them.
Finally, as I handed over the order form, I stared openly at the cage with three tiny black kittens inside, and I had to ask: "What's the story with those kittens?"
The owner explained that the shop was a satellite adoption location for one of the local humane societies, and these kittens were looking for new homes.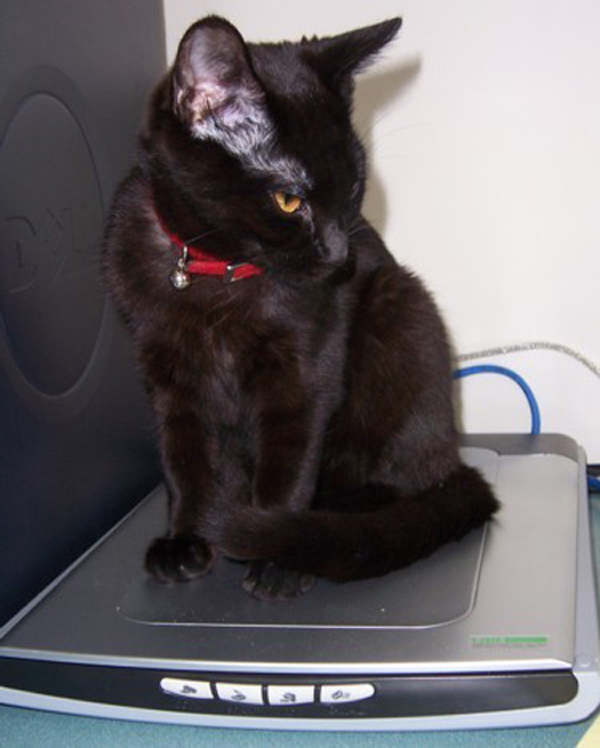 I like to think I'm a kind and compassionate person, and when I saw those poor little kittens in a cage, waiting for someone to take them home, I figured they at least deserved some love and kindness until their adopters arrived.
"Can I come around behind the counter and play with them?" I asked.
"Sure," the owner said, and before I fully knew what was happening I was opening one of the tiny doors and picking up a kitten. I held it close to me and gave it some gentle strokes, but it didn't seem to be all that interested in my ministrations.
I put that one back and picked up another. This one purred when I stroked it, but it got tired of my attention pretty quickly, too.
Thank God, I thought. I'm staying strong.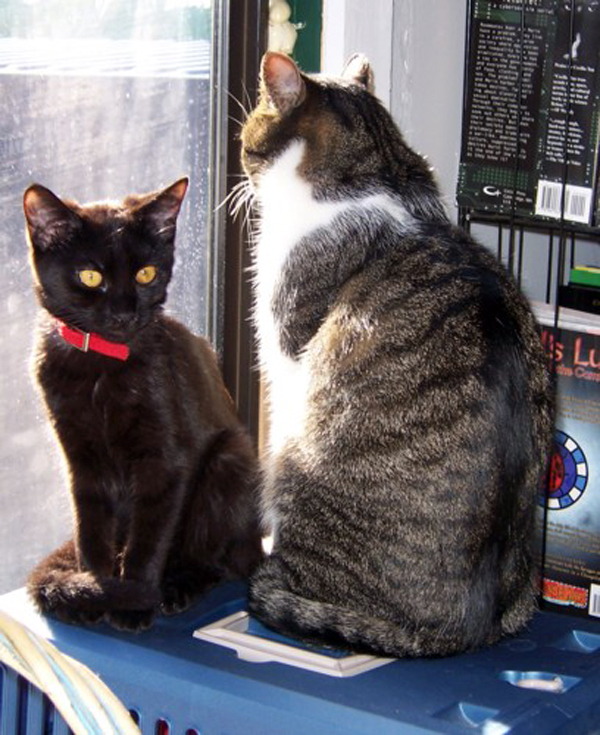 Finally I picked up the third kitten. The red band around its neck said the kitten was a boy named Blackie, and he was 12 weeks old.
No sooner had I gotten Blackie into my arms than he climbed my jacket, threw his front legs around my neck, and started purring for all he was worth.
My willpower was weakening.
When Blackie climbed high enough to start rubbing his head furiously against my chin, it was all over.
"I'm a sucker," I lamented.
That night I went home and asked Siouxsie and Thomas how they felt about welcoming a new kitten friend.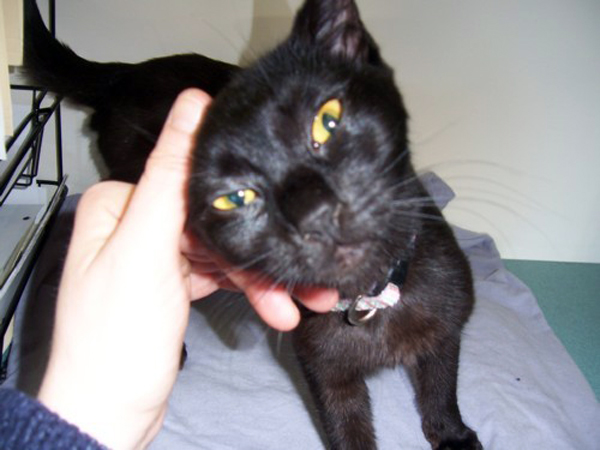 The next morning I filled out an adoption application.
A few hours later, I was approved. I borrowed one of the humane society's cat carriers to bring Blackie home. Thomas fell in love immediately. Siouxsie grumbled.
That weekend I was writing the weekly Paws and Effect column when Blackie stuck his bottom in my face. "Hey," I said. "That's an innie, not an outie!" (Blackie was not a boy after all.) And I changed Blackie's full name from Black Jack Davy to Dahlia P. Kittenface.
She was a star, a drama queen, right from the start. In fact, I even helped her write her own memoir.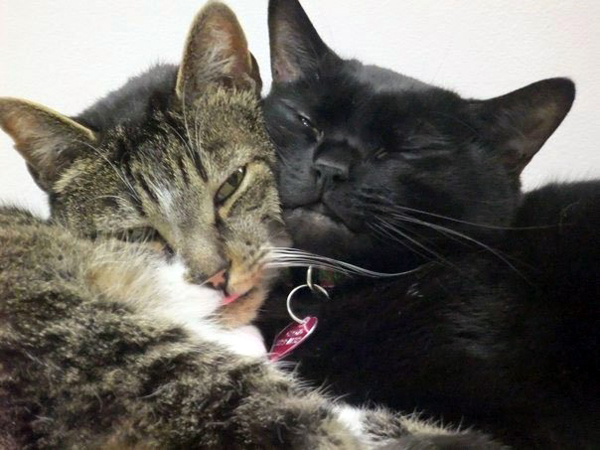 Dahlia shared almost six wonderful years with Thomas, Siouxsie, and me. But shortly after I moved to my new home last year, Dahlia became very ill. The diagnosis was grim — atypical large-cell lymphoma — and the prognosis was very poor. On April 12, 2012, a kind vet released Dahlia from her suffering.
I'll never forget Dahlia, the cat who taught me the truth about cat adoption: It's the cat doing the adopting, not the person!
How about you? Has a cat adopted you? Please share your story in the comments!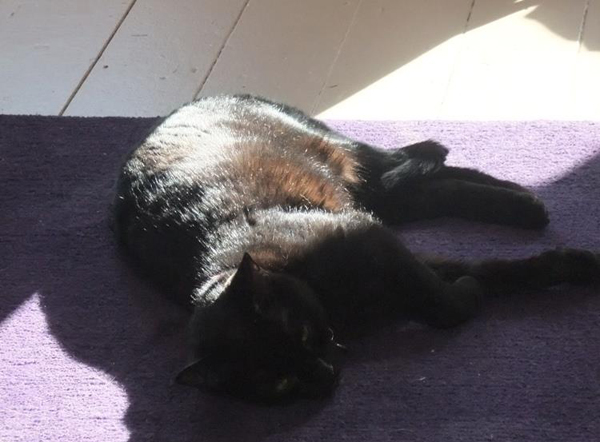 About JaneA Kelley: Punk-rock cat mom, science nerd, animal shelter volunteer, and all-around geek with a passion for bad puns, intelligent conversation, and role-play adventure games. She gratefully and gracefully accepts her status as chief cat slave for her family of feline bloggers, who have been writing their cat advice column, Paws and Effect, since 2003. JaneA dreams of making a great living out of her love for cats.
More on cat adoption: