I love my Rama Dassa dearly. He's my second black cat and he's such an interesting mix of innocent sensitive boy, sexy sultan, sleek panther, and crabby, whiny dude. But there was a time when the rest of his personality hadn't been brought to the surface yet, and he seemed like a very insecure and whiny and nippy boy.
Rama came to us very conflicted. Who knows what had contributed to his past? We adopted him quickly; perhaps too quickly. Our extroverted black cat Target had died suddenly. We had a huge hole in our hearts and went to the shelter to look for a cat. A black cat named Ramah (which I shortened to "Rama") looked exactly like Target, but there is where the similarity ended. Rama wasn't particularly friendly and he had an insecure and uneasy way of moving. I could tell that the shelter employee, a very wise woman, would rather have had us adopt a different cat. But we were totally taken with Rama's looks: the sheen of his black coat, and his intense eyes, so much like Target's. I overlooked some obvious signs of insecurity.
When we drove home, we stopped at a farm supply store. While my husband ran in to get a few things, Rama and I bonded in the car. He purred happily and I stroked him with joy, not believing my luck at being with another black cat so soon after Target's death.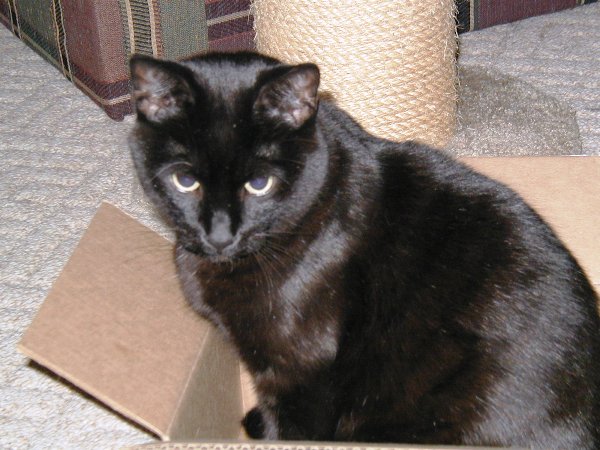 But at home, it soon became apparent that Rama had some issues. One day, he was lying on my arm as I lay in bed reading. I moved my arm and he got annoyed, whined, and tried to nip me. I'm not used to that from my cats and I didn't want it to develop into something worse. And, if possible, I wanted to bring out what I knew was his sweet personality.
Here's what I did:
I worked slowly
I knew I was in this for the long haul, so I got ready to be patient. I was prepared to give him years, or forever, to feel more secure. Fortunately, it didn't take that long.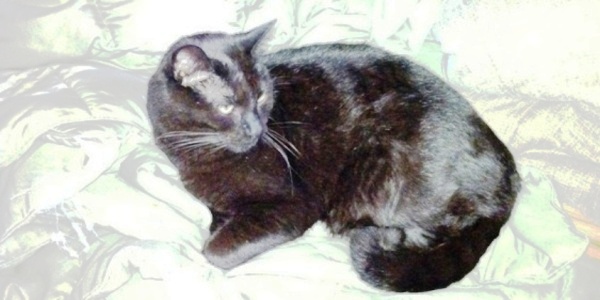 I stayed away from his belly
Cat enthusiasts know that many cats hate to have their belly touched. I figured that Rama was like this (and I was right) — so why annoy him more? I learned where he loved to be touched, and these were the areas I concentrated on. I wanted him to associate handling with pleasure, not irritation. At first, I refrained from picking him up a lot and let him come to me. I got super aware of his sweet spots and not-so-sweet spots, then concentrated on the former and avoided the latter. I quickly figured out, from watching his body language, that he didn't like to be put in a position where he felt insecure. Security and trust were a big deal to him.
I learned how he loved to be approached
Rama has a real thing for the bedroom, and I found out pretty fast that he loved the bed. We were able to make lots of progress with how he handled my handling — as long as we were on the bed. Rama began to communicate with me: he'd give me a look and bound into the bedroom. He wanted me to follow. I did, and I'd shut the door. He'd get jealous or annoyed if another cat leaped up on the bed, and he still gets jealous if this happens. He'll whine at the other cat and chase them off the bed. He's made it clear that he wants his bedtime with me — alone.
I have learned that I can get away with more types of handling with Rama, if he is on the bed, and the door is closed. If he's happy enough, he'll even let me just start to touch his belly. (I don't push it.) He will let me flop him gently on his side and snuggle with him. I think with Rama it was a matter of gaining his trust. He even stuck his butt in the air the other day as I scratched him, something he never would have done in the beginning.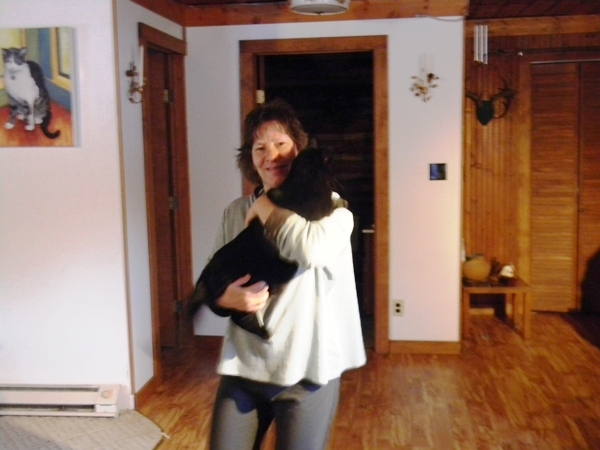 I walked away if he started to get annoyed or bitey
If Rama got annoyed or nippy in the beginning, I didn't scold him. I simply walked away and got myself out of the situation. I hoped I was telling him, in some way, that the bitey and whiny behavior wasn't going to get him anywhere. I didn't want him to continue to get used to nipping me, and I wanted the situation to simply dissolve. It seems to have worked.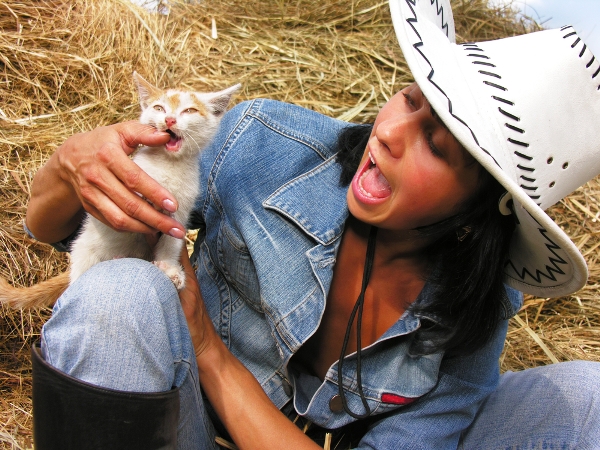 I got used to his mannerisms and learned HIS body language
This is different for each cat, but if you know your cat well enough, you will learn to read their body language. They will tell you when a situation might be escalating, when they might be feeling untrusting, or when they are feeling secure. Observe them lots, over time. This will help you work with them effectively.
Rama still whines, but he doesn't bite. He is much much better with being handled. He loves to snuggle and hold his head against mine. He'll even put up with dancing — although he whines. But if you put him down, he looks at me like he wants to keep dancing. This cat may always have a bit of internal conflict. He's that type of a boy. But his whine has turned into more of a way that he communicates, and he even whines just to talk. Although he will never be Target, I love him dearly just as he is, funny little grumbling noises and all. And I don't think about it often, but perhaps he got a great chance at life with us since he wasn't the most adoptable cat at the shelter.
Have you dealt with a bitey cat? What worked for you? Share your stories in comments!
More about cat behavior and biting cats:
About Catherine Holm: Told that she is funny but doesn't know it, accused of being an unintentional con artist by her husband, quiet, with frequent unannounced bursts into dancing liveliness, Cat Holm loves writing about, working for, and living with cats. She is the author of the cat-themed memoir Driving with Cats: Ours for a Short Time, the creator of Ann Catanzaro cat fantasy story gift books, and the author of a short story collection about people and place. She loves to dance, be outside whenever possible, read, play with cats, make music, do and teach yoga, and write. Cat lives in the woods, which she loves as much as really dark chocolate, and gets regular inspiration shots along with her double espresso shots from the city.