If you've got a child on the way, you probably know that you and your cat are in for some epic life changes. Here's what you can do to help make the transition less stressful for your cat — and less stressful for you, as a result.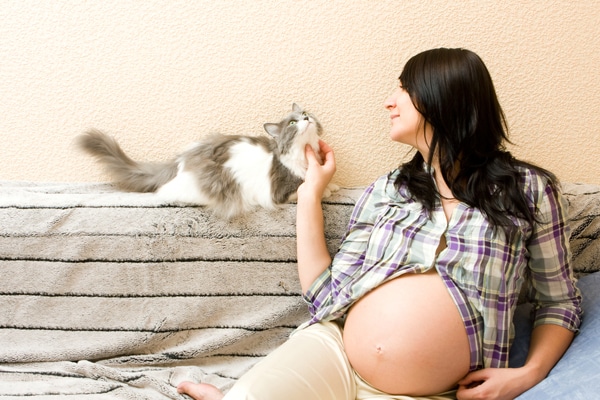 1. Make sure your cat is healthy
Schedule a vet visit before your baby arrives, in order to ensure that your cat is in good health, her vaccinations are up to date, and she doesn't have parasites. While you're there, you can ask your vet if he or she has any tips for helping your cat adapt to her new human sibling.
2. Resolve any behavior issues now
If your cat has issues with inappropriate elimination, scratching or biting, counter surfing, door dashing, or other behaviors that cause you stress, find ways to reduce or eliminate those problems before your child arrives. A consultation with an animal behaviorist could be helpful; also check cat advice books and websites (like ours!).
3. Get her used to having her claws trimmed
Baby skin is very tender, and you'll want to keep your cat's razor-sharp daggers under control in order to avoid injuries. If your cat will tolerate it, you might consider applying nail caps as well.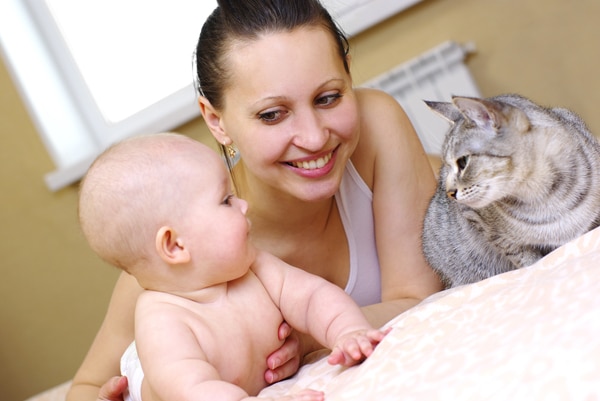 4. Help her bond more closely with other family members
Once your baby arrives, you're going to have to spend a lot of time and energy taking care of him or her, which means you might not have as much of either for your cat. If your cat is especially close to you, encourage your spouse or other family members to spend more time with her and hopefully increase her attachment to them. A good way to start is by having your partner or family member take over chores like feeding and playtime.
5. Get her used to baby smells, sights, and sounds
If you have friends with babies, invite them over to visit so your cat can get used to their cries, coos, and movement style. Make or download recordings of baby noises and play them for five to 10 minutes per day. Start at a very low volume on the first day, then day by day, gradually turn it up until the noise reaches its normal level. Put baby powder on your hands and let your cat sniff them. Once your cat seems comfortable with the scent, give her some love and petting.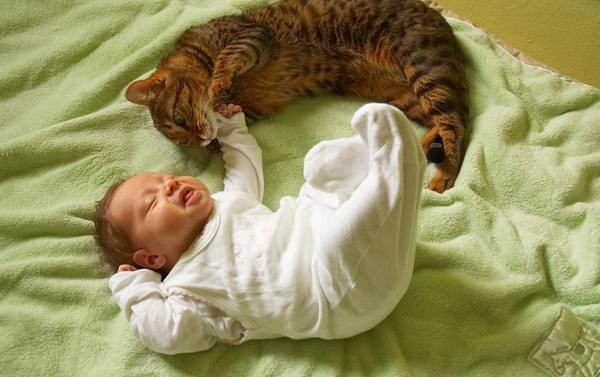 6. Prepare the baby's bedroom ahead of time
Bring your baby's new furniture in as soon as possible, so your cats can get used to it. Train them to avoid jumping on the changing table by using double-sided tape or a small plastic carpet runner with the spiky side up, which will provide an unpleasant experience for feline explorers. An upside-down carpet runner can be a good deterrent for cats wanting to bed down in baby's crib, too. If baby's room is going to be totally off-limits to your cat, prepare her for that, too.
With some support from you, your cat can adapt to the presence of her new human brother or sister, and you can all spend many happy years together.
Do you have tips on preparing a cat for the arrival of a baby? Please share in the comments!