I have trouble falling asleep sitting up. It means I can't really sleep on planes, and can only half-sleep on long car rides. I feel like I need to be horizontal with something very soft underneath me in order to feel safe enough to fall asleep (this is why I suck at camping — the cold, hard ground is not my thing).
However; my two kitties, Ghost Cat and Specter, do not have his problem at all. They will sleep anywhere, anytime, in any position. Lately their sleeping spots have been been getting stranger and stranger, and at times I've even worried for their safety and their sanity.
Here are five crazy places my cats take naps:
1. On top of the dog's crate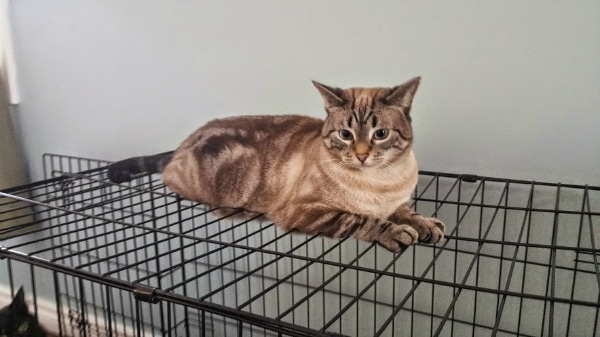 Seriously, how could this possibly be comfortable? I woke Ghost Cat up as I approached to take this picture after watching her snooze on top of the hard wire for about 20 minutes. I can completely understand why she would want to sleep inside the crate — the dogs have some nice, comfortable blankets in there — but the top of the crate seems like it has to be the most uncomfortable spot in the whole house. It's not like she doesn't have plenty of access to couches, human beds, pet beds, and even baskets full of laundry. Even the sink must be more comfortable than this.
2. On precariously stacked chairs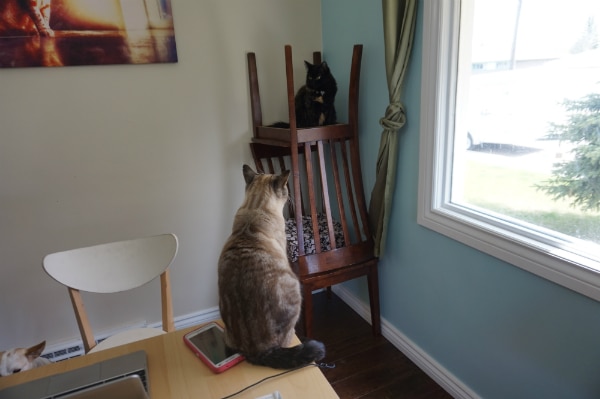 When my husband runs the Roomba he reenacts that scene from Poltergeist where the chairs get piled up on the kitchen table. The difference is, when I come home to find our chairs upside down on top of other pieces of furniture, I know it's the work of my spouse and not some supernatural entity. Still, I hate it and would rather he take the time to put the chairs back on the floor.
My kitten Specter, on the other hand, loves the way her dad rearranges the furniture. She thinks upside down chairs precariously stacked on top of one another make for a great place to sleep. She doesn't realize that all it would take for her little fort to come tumbling down would be a bump from the Roomba or one of our clumsy dogs. My imagination runs away with visions of Specter getting squished when all the chairs come crashing down — and that's more scary than any poltergeist to me.
3. Stretched out on the coffee table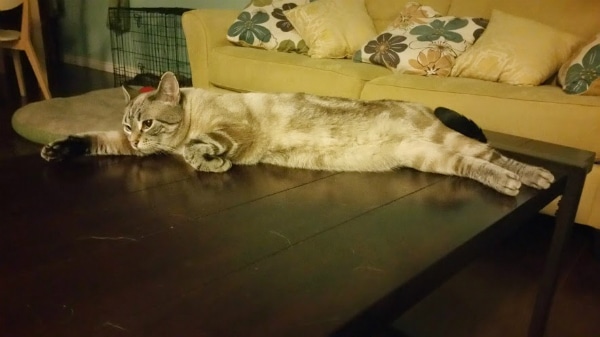 Ghost Cat is older (and perhaps wiser) than Specter, so her favorite napping and lounging spots aren't so much scary as they are inconvenient. The other day I was getting ready to watch Outlander, and I went into the kitchen to fetch myself some snacks. I came back with chips and dip and found I had nowhere to put them, as Ghost Cat was now lazily lounging across the coffee table. I shooed her with no success and ended up sitting on the couch, balancing my snacks on my lap until she decided that she would rather sit on my lap then relax on the hard coffee table. I finally got to put my snacks down, but found I couldn't reach them without disturbing Ghosty.
4. Pressed up against glass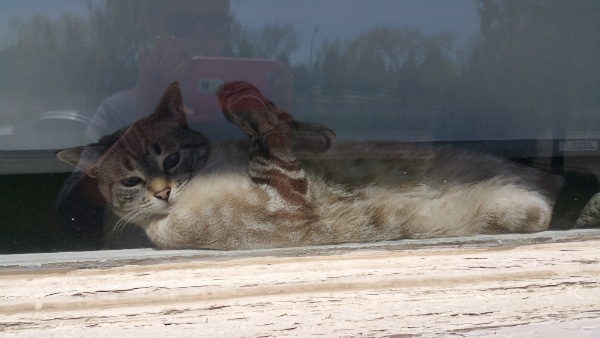 One of Ghost Cat's very favorite sleeping spots is on the back of our couch near the window, where she can lie in the sun. I don't mind her sleeping there at all — it's comfy, cozy and it's nice to have her right over my shoulder when I'm sitting on the couch. Lately though, Ghost Cat has moved off of the back of the couch right onto the tiny window sill behind it. Now, this makes me nervous, because if our couch slid just an inch or two away from the wall, she could fall off the window sill and get stuck between the couch and the wall. I also don't understand how she could possibly be comfortable doing this. She wedges herself onto the window sill in such a way that she's pressed right up against the glass. She reminds me of a microscope slide from a high school science class or a butterfly pinned under glass.
5. Cuddling with criminals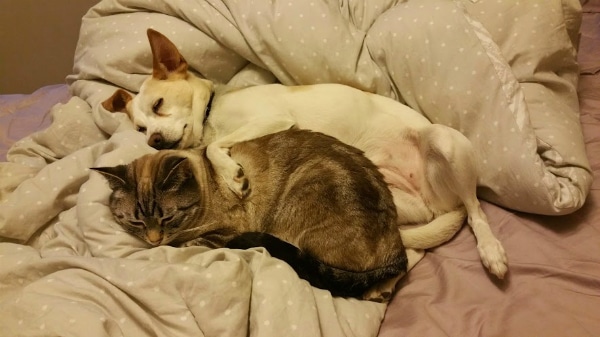 Whenever I find Ghost Cat sleeping in some crazy place, I always tell her to go sleep in my bed. That's the exact opposite of what I tell our little dog, Marshmallow, who is no longer allowed to sleep in the human bed because she ate a hole in our sheets. So I've got two animals, Ghost Cat and Speck, who are allowed in the bed but forego it in favor of sleeping on hard wood and wires, and then I've got another animal, the dog, who would love to be afforded the same bed privileges that the cats ignore. Well, the other day I finally found my Ghost Cat napping in the bed like a normal cat — the only problem was, she'd brought the dog with her.
In the end, I don't know how to coax my kitties back to more comfortable sleeping spots. Specter is also allowed on my bed, but only uses it for about half an hour each morning. I thought she didn't like napping in the bedroom, but the other day I went to get some socks out of the drawers that line the bottom of my bed and I almost had a heart attack when I came face to face with a sleeping Specter. I guess under the bed is almost as good as on top of it — it's certainly better than a unsecured pile of chairs. Next time I'm falling trying to sleep in a claustrophobia-inducing plane cabin, I'm just going to pretend that I'm Specter, nestled in amongst the socks.
Where is the weirdest place your cat likes to nap? Tell us in the comments!
Read more by Heather Marcoux:
About the author: Heather Marcoux is a freelance writer in Alberta, Canada. Her beloved Ghost Cat was once her only animal, but Specter the kitten,GhostBuster the Lab and her newest dog, Marshmallow, make her fur family complete. Heather is also a wife, a bad cook and a former TV journalist. Some of her friends have hidden her feed because of an excess of cat pictures. If you don't mind cat pictures, you can follow her on Twitter; she also posts pet GIFs on Google +