Imagine your food choice being limited to a bowl of cereal with milk at every meal for the rest of your life. Doesn't sound very savory, does it? Yet, that is the fate for millions of indoor cats who eat the same cat food at each and every meal.
Which begs these questions: Are cats truly finicky and prefer one diet, or do they crave the opportunity to expand their palates? And, will varying their diets boost their health or make them prone to food allergies and digestive upsets?
For answers, Catster turned to a pair of top feline experts: Elizabeth Colleran, D.V.M., the former president of the American Academy of Feline Practitioners who operates cat-only practices in Chico, California, and Portland, Oregon, and Jessica Vogelsang, D.V.M., a San Diego, California-based veterinarian, best-selling author and creator of the award-winning Paw Curious website.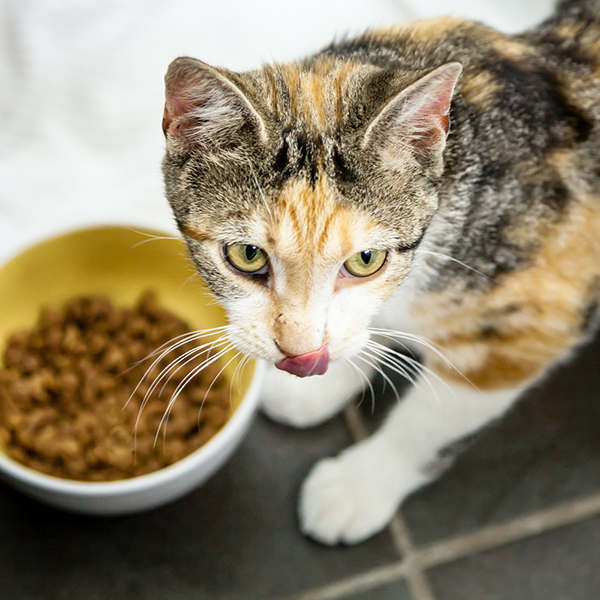 How cats choose what cat food they like to eat
"Cats are drawn to certain foods by three factors: mouth feel, odor and taste," Dr. Colleran said. "They learn [food] preferences from even before birth, so some of what they like is beyond anyone's control. Some variety is helpful, but it is important to look at all factors that can affect appetite, including surroundings, stress, other cats and health issues."
Dr. Vogelsang added, "There are some cats who have strong preferences for flavors, textures and temperatures. For these cats, it can be more challenging to change or expand their diets. But if they learn early on that the food they receive will rotate, they will not have as great a chance to develop bad habits."
What cats need to eat
What is crystal clear is that cats are obligate carnivores, which means their bodies need high-quality protein to operate efficiently. They need a diet containing at least 40 percent protein to maintain lean body condition. Too many carbohydrates and too little protein in their diets can result in muscle loss, dull or itchy skin coats and even obesity.
"Muscle loss over the spine of the back, top of the head or rear limbs is the most important sign that the cat's diet is inadequate," Dr. Colleran pointed out.
How to introduce new cat food into your cat's diet
If you plan to introduce a "rotation diet" to your cat, introduce new quality commercial foods slowly. Dr. Colleran recommended following this formula:
For the first few days: Serve your cat a mixture containing about 75 percent of his current food with 25 percent of the new food.
For the next few days: Dish up a meal consisting of 50 percent current food and 50 percent new food.
After about a week: Provide your cat with meals containing 75 percent new food and 25 percent current food. At each transition, pay close attention to your cat's actions and attitudes.
"Abrupt dietary changes can cause GI upset, diarrhea or loss of appetite," she said. "People should never try serving large varieties of food if a cat suddenly stops liking her food. There is a reflex learning that occurs when a cat eats something and then feels badly. She learns to never want that food again even if that food had nothing to do with why she feels badly."
Dealing with food allergies and cats
Dr. Vogelsang's former cat, Apollo, shared a fate far too common in older cats: He developed food allergies around age 9. His hair fell out, and he had stomach issues. So, she gradually switched him from his chicken- and fish-based food to a novel protein — duck — and his health and appetite improved.
"Blood tests can't identify food allergies," Dr. Vogelsang said, "An elimination diet is the only way to determine if a cat has developed a food allergy. That requires working with your veterinarian and exposing your cat to one protein and one carbohydrate source at a time to identify the allergen." 
Handling a picky-eater cat
Her current cat, Penelope, is pickier about food choices than Apollo and prefers the crunch of dry food over the moisture of canned food. "She is a texture cat — she likes the texture of kibble," Dr. Vogelsang said. "I can put out the same formulation in canned and dry, and she always goes for the dry food."
How to add variety to your cat's diet
If you wish to add variety to your cat's diet, Dr. Colleran offered these parting tips about cat food:
Choose food made from companies with doctorate-level nutritionists on their staff.
Avoid companies that do not publish complete nutrition information on their websites.
Recognize that the term 'gluten- free' may not mean carb-free, but simply may mean that the company adds carbohydrates in a different form, such as potatoes.
Understand that cats cannot go days without eating, so don't be stubborn and insist they eat a new food. If they don't eat the new food, within a few days they could develop a fatal liver disease known as feline hepatic lipidosis.
Thumbnail: Photography by africa studio/shutterstock.
Read more about cats and food on Catster.com:
Arden Moore is a pet behavior consultant, author and master pet first aid instructor who often teaches hands-on classes with her cool cat, Casey and very tolerant dog, Kona. Each week, she hosts the Oh Behave Show on Pet Life Radio. Learn more at four leggedlife.com and follow Arden on Facebook and on Twitter at @ArdenKnowsPets.