I'm completely obsessed with cat jewelry and I can't seem to get enough of it. Now, I don't mean the kind of cat jewelry that your grandma wears; I'm on the lookout for something different, a new generation of stylish accessories that express our love of the feline form. I want to find pieces that are hip and edgy, modern and sleek, maybe even a little sassy.
With my cat jewelry collection growing, I've had to create some rules for myself. On a regular day when I'll be going about my business and interacting with "normal" people (those who just think of cats as pets, rather than worship them as gods, like I do and most of my closest friends do), the rule is that I can only wear one or two pieces of cat jewelry. I don't want to overdo it and scare people; subtlety is important. My goal is to celebrate cats and incorporate them into my style, possibly even striking up a conversation with a stranger about her cat. Little touches of feline finesse are the perfect conversation starter.
Of course, if I'm attending an all-out cat-crazy event, like a cat film festival or a cat show or anything where I know I'll be surrounded by people from my tribe, then there are no cat jewelry rules! No holds barred. Let loose! (Except, I do maintain the rule of one, AND ONLY ONE, animal print allowed per outfit, but that's a different topic, albeit an important one.)
Marketplaces like Etsy are a goldmine for stylish, hip cat jewelry, and I'm finding more and more every day. Even celebrities like Katy Perry are getting in on the cat jewelry action and creating their own lines of stylish feline-themed accessories. Here are some of my current faves.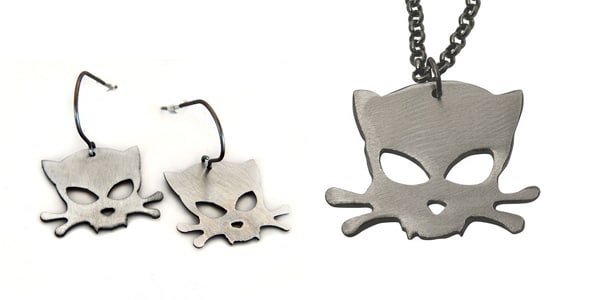 There's no cooler cat than Outlaw Kitty from Watto Distinctive Metal Wear. This bad-to-the-bone kitty is the creation of metal artist Jon WATTO Watson. Each piece is handmade from cut steel and powder coated with a durable high gloss finish. Outlaw Kitty is available as a pendant on a gunmetal chain for $30 and as a pair of earrings for $20.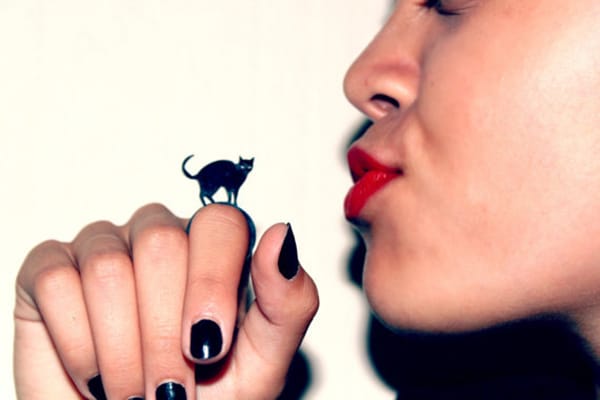 Laura Hunter from the Etsy shop I Love Crafty designs some of the sassiest cat bling, which definitely makes a fashion statement. Her laser cut cat ring is one of my favorites, $11.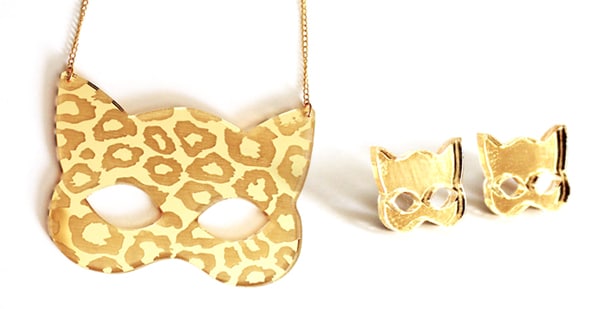 Laura's cat mask collection cut from shimmery gold acrylic is the perfect way to dress up any outfit. Leopard print cat mask necklace, $31; Gold cat mask earrings, $12.20.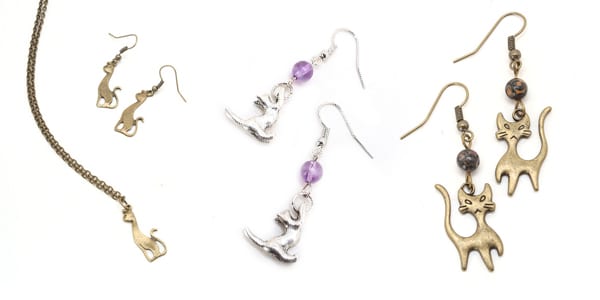 I even jumped on the bandwagon and created some fun cat earrings and necklaces with delicate litte cat charms, available exclusively through the Hauspanther online store. We have an Antique Bronze Sophisticated Kitty Necklace and Earring Set for $15; some adorable Playing Kitty Silver and Amethyst Earrings, $10; and Sassy Cat Antique Bronze Earrings with Leopardskin Jasper, $10.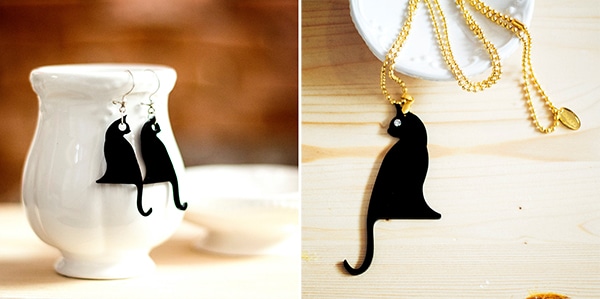 Another favorite Etsy seller who uses cut acrylic to fashion stylish cat silhouette jewelry pieces is Buggadesign from Turkey. Black Cat Earrings hang from delicate silver ear wires, $15; Black Cat Necklace features a little bling for the eye and a gold plated ball chain, $25.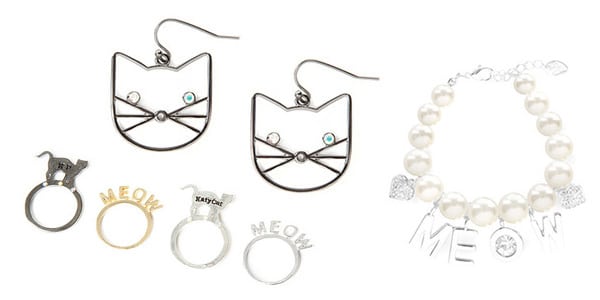 Everyone's favorite singing cat lady, Katy Perry, teamed up with Claire's Boutique to design a whole line of awesome cat jewelry including earrings, necklaces, bracelets, and more. All of these pieces can be found at Claire's Boutique stores and at claires.com, ranging from as low as $3 on sale to $18.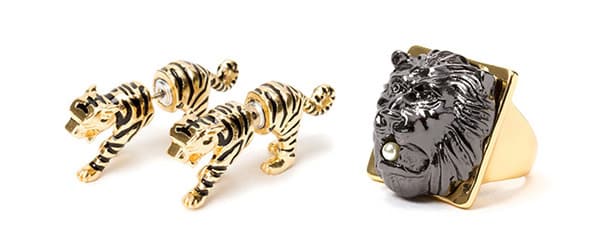 I have all of the Katy Perry pieces pictured above, and I get tons of compliments every time I wear one of them, especially the tiger earrings!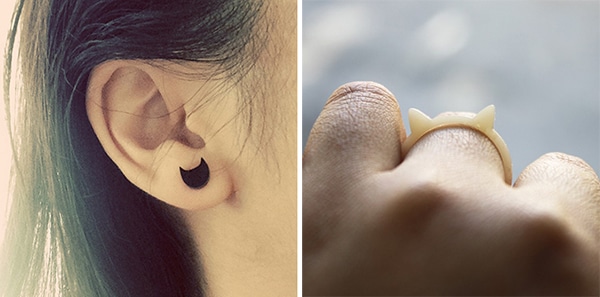 Coming to us from San Francisco, Iluxo handcrafts subtle cat shapes also from cut acrylic. I love her delicate cat face earrings, available in black, red, or ivory, $9.99; pair these with her acrylic cat ear ring, also $9.99, for just of touch of cattiness.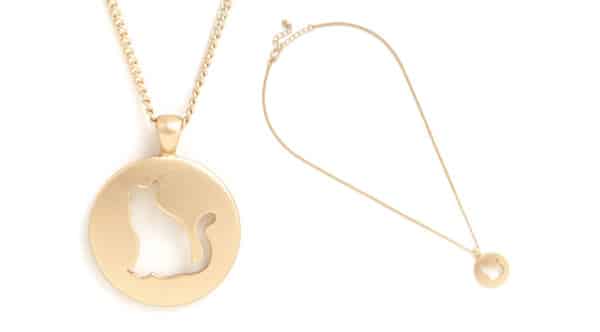 And finally, I recently found this beautiful gold-tone cat silhouette pendant, $14.99, from ModCloth. The cutout shape allows whatever your wearing to peek through. Pair this with a black top and now you have a fabulous black kitty pendant. Love it!
Have you found any great cat pieces? Let us know in the comments!
Read more of Kate's cat style tips:
About the author: Kate Benjamin is the founder of the popular cat style blog Hauspanther.com. She specializes in helping people live stylishly with cats. You may have seen her on Jackson Galaxy's show My Cat From Hell. Make sure to check out Kate and Jackson's new book, Catification: Designing a Happy and Stylish Home for Your Cat (and You!).