About 150 miles south of Seattle lies the small town of Yacolt, Washington. This little burg boasts about 1,500 residents, as of the 2010 census, but I don't know if that figure includes the 500 or so inmates at the Larch Corrections Center.
I'd never even heard of Yacolt or the Larch Corrections Center until I heard about an initiative that unites behaviorally challenged cats with men who have faced similar problems in their own lives — and benefits everybody involved.
This year, the Vancouver, Washington-based animal rescue group Cuddly Catz launched a program that places "death row" cats in foster homes with inmates at Larch, a minimum-security prison.
Inmates are screened very carefully before even being considered as kitty foster parents. First of all, they have to be in jail on nonviolent offenses: no crimes against people or animals. While in prison, they have to have a record of consistent good behavior for at least six months. In addition, the foster carers will need to be in prison for at least a year after the time they receive the cat.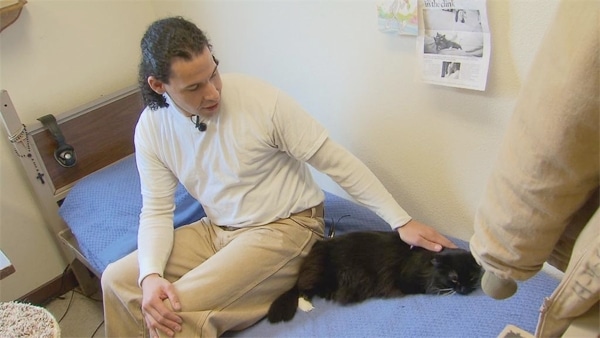 In late March, the first two Cuddly Catz kitties were placed with inmates. Princess Natalie, a long-haired black and white cat with a history of spraying, scratching, and biting, came to live with Joey Contreras and Joseph Walter.
If it hadn't been for the program, she probably would have been put down because her of her behavior. But thanks to Contreras and Walter's loving care, her behavior has improved exponentially. Perhaps Natalie just needed to be the sole object of someone's affection to feel safe and secure.
She's changed the lives of her caretakers, too.
"When you're doing prison time, you get set in certain ways and forget what it's like to have everyday interactions and be compassionate," Contreras said in an interview with The Columbian. "It's a little different when you have an animal depending on you to survive. Animals bring out the best in people."
Clementine, a gorgeous medium-haired kitty with coloring that speaks of the Siamese blood in her heritage, lives with Richard Amaro and William Lozano. She was so shy that program volunteers had been unable to place her with a family outside the prison, so they hoped that a foster home with the inmates could help.
And apparently it has. Not only has Clementine gradually been getting more comfortable and sociable, but so has her caretaker.
"He's had 100 percent more interaction with staff than he did before," said Larch counselor Monique Camacho. "Lozano was so quiet, he wouldn't even look at the staff, let alone talk to them. Now, he's forced to interact with us and other inmates."
Lozano credits his improvement to the fact that Clementine has made him feel more at home.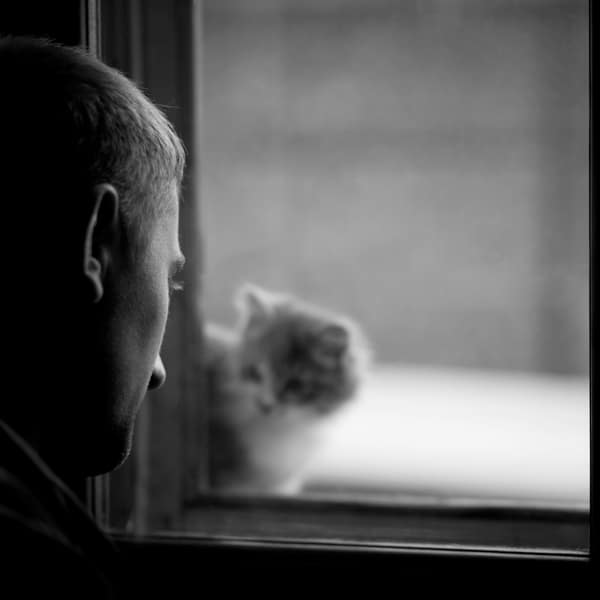 Larch isn't the first prison to match shelter cats with inmates. The first such program in the U.S. began in the late 1970s at Indiana State Prison, and now there are more than 20 programs around the U.S., plus others in Canada, Australia, New Zealand, and Italy.
Just to put a preemptive stop to the inevitable complaints about taxpayer money being used to give prisoners "cushy" lives, let me inform you that the only cost incurred by the Department of Corrections was about $1,200 for an outdoor play area.
The inmates are designated as "cat handlers," and they get paid to leash-train, socialize, and groom the cats. This is no different from any other paid prison job like doing laundry or washing dishes, and like the people who do those jobs, the men earn very little money for their work.
The food, supplies, and vet care are are donated by Cuddly Catz, as well as by a local veterinarian and a man who makes scratching posts. Cuddly Catz volunteers teach the inmates how to take care of their four-legged cellmates.
The prison hopes to get four more cats, and four more pairs of inmates, involved in the program.
I hope to see a lot more cat therapy (or any kind of animal therapy) taking place in prisons. It's a win-win situation: It helps inmates feel human, it gives cats a chance to recover from whatever trauma brought them to the shelter, and it provides valuable work and life skills that inmates can use after they're released from prison. I can't see how any of that is a bad thing!