The weekends, for me, are all about unplugging; rejoining the world that doesn't start with "www" and end with a ".com." Once my laptop clicks shut Friday evening, I'm eager to grab a book (the paper kind), pour myself a glass of wine, and snuggle up with my very real, non-meme, non-gif kitty. I like to keep it simple — stories, a couple of drinks, cats.
But sometimes simplicity can get a little dull. I love my cozy apartment, but after having spent most of the work week confined to its four walls and sputtering air conditioner, I often crave a change of locale. (And my cat, Brandy, often craves some time away from my needy embrace.)
Cheers to Tokyo's cat bar, Neko Bar Akanasu!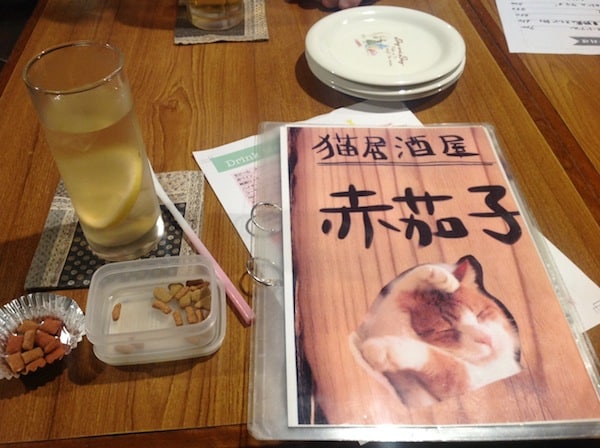 Just six minutes by train from the crowds of Ikebukuro Station, Akanasu is situated in the quiet but appealing neighborhood of Ashigaoka. Upon exiting at Ekoda Station, our cadre of cat bar adventurers — my husband, my pal Chris, myself — found a mix of bright convenience stores and karaoke bars opposite dimly lit side streets packed with little restaurants and shops.
We entered one of those side streets looking for the small, second-floor bar, and soon I saw its kanji signage. Though the izakaya (a small bar that serves food) has gained some fame over the recent years, a hand-written sandwich board on the street with a photo of a cat is the only indication that Akanasu is open for business.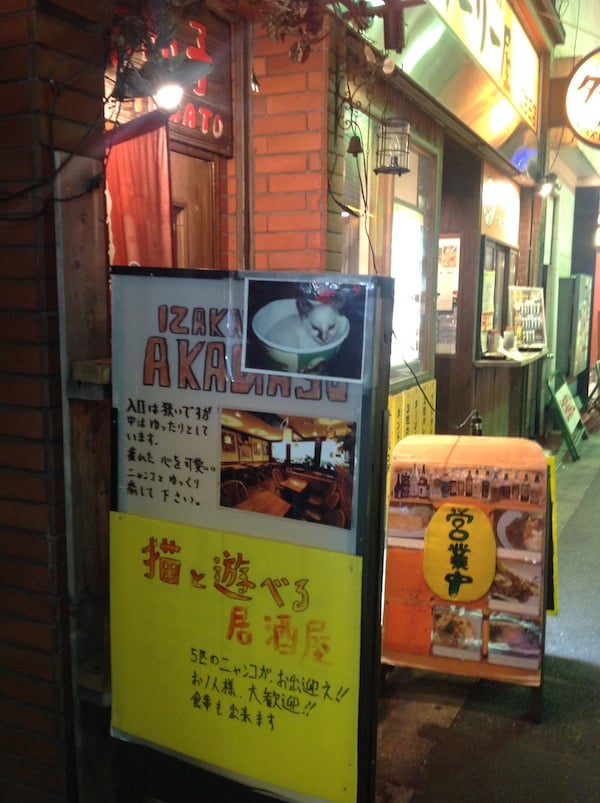 The sign above the bar's door says "tomato" in English. I think this is in reference to the name "Akanasu," which means "red eggplant." Regardless, the exterior doesn't exactly scream "CATS."
But once you step inside, past the "cat gate," you know you're in the right place.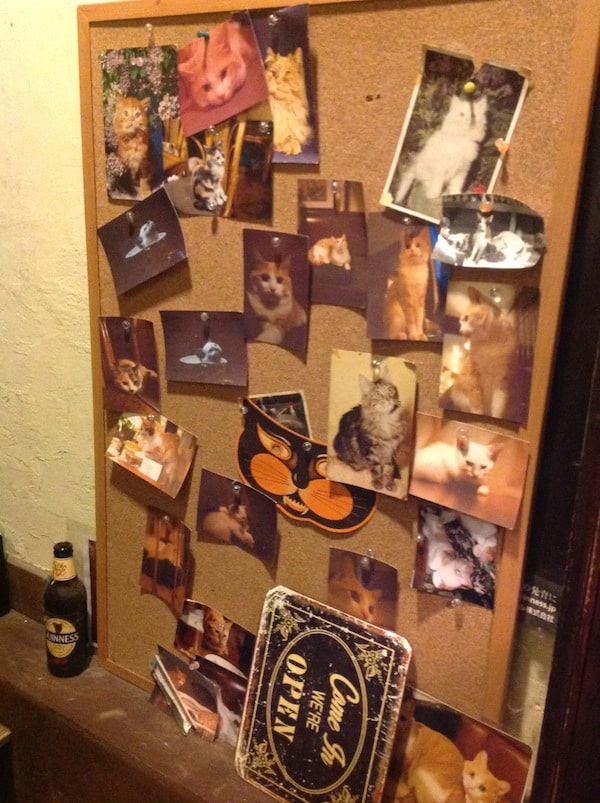 Looking up the dark, steep stairs leading to the bar, we were greeted by this fellow …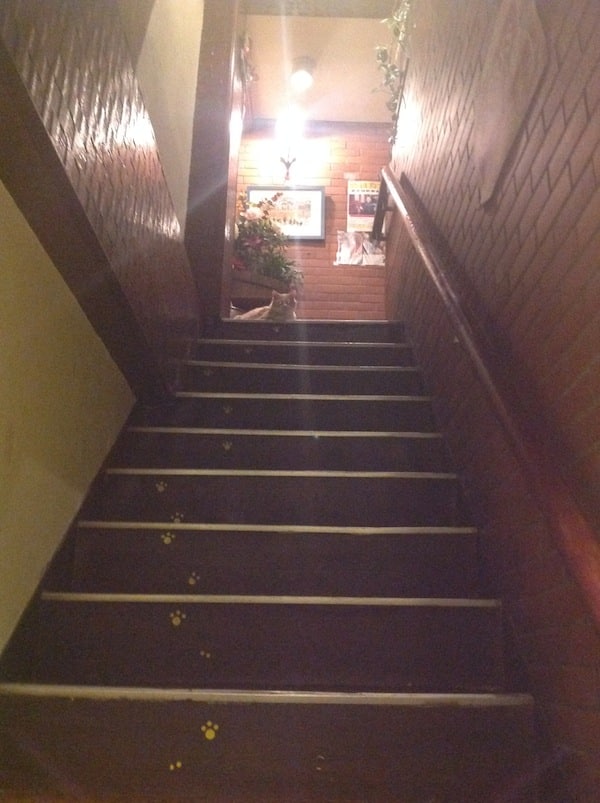 .. who I learned was the "boss" of the joint. Atop the stairs, a smiling server ushered us to a table.
Akanasu, though certainly a cousin of Tokyo cat cafes, was a far cry from more cutesy establishments. We immediately felt at home in the warm, cozy, "dive bar" atmosphere. A short bar with stools (one occupied by a cat) sit in front of the grill where the owner, Mr. Koyonagai, cooks up appetizer-size eats. With brown brick, neutral tones, and wooden tables and chairs, the seating area is simple but inviting.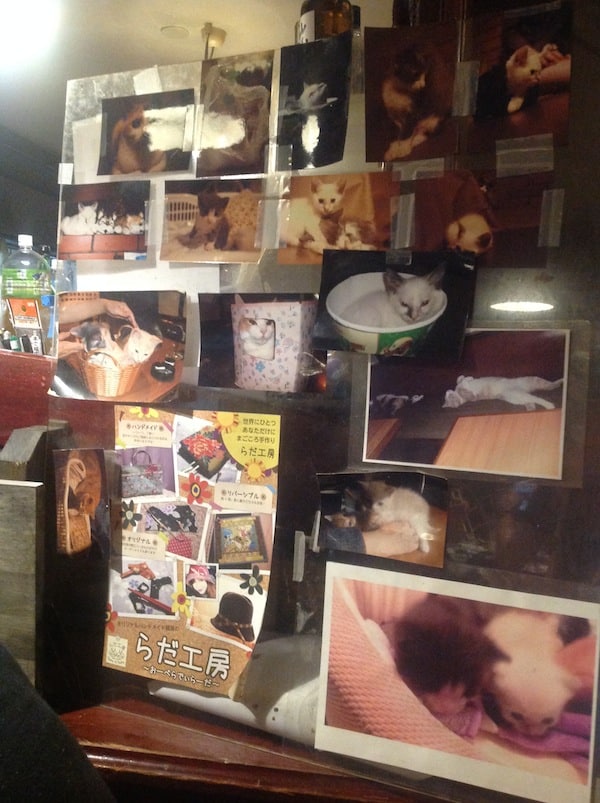 An enclosed "cat sanctuary" looks over the bar, as cats snooze on beds and mini cat condos or tiptoe through elevated kitty walkways. While I spied a couple of litter boxes in the sanctuary, there were no unpleasant odors. In fact it was very tidy and clean.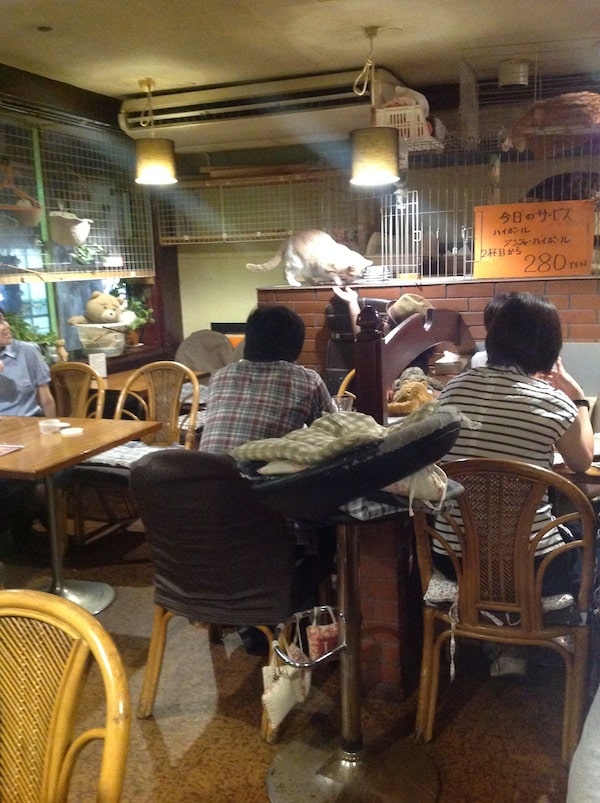 Our server explained in a mix of Japanese and English that the cover charge is 300 yen per hour (less than $3) on top of food and drink. Considering many cat cafes and bars in Tokyo charge at least 1,000 yen ($10) for a cover, this was not a problem.
This is a local bar with a mostly local clientele, but those of us whose Japanese was lacking (me), an English menu. The cats did not require translation.
After we ordered, our friendly server brought us a couple of bowls of "bar snacks." Oh no, not for you, for the cats. That made us a little more interesting to the Akanasu cats.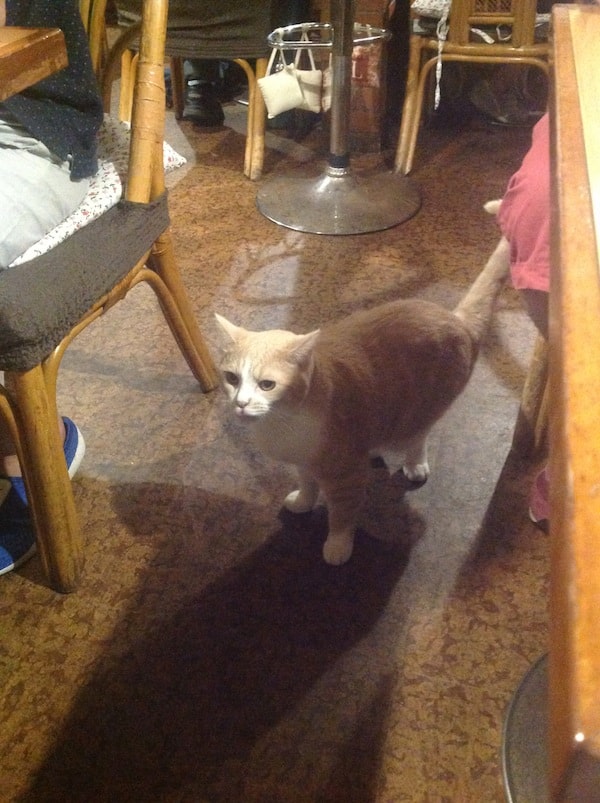 The large orange and white cat who greeted us earlier slinked in and sniffed around to see who was "packing treats." Trying to stay cool and follow the rule of not pestering the cats (also don't pick them up, don't share your human food, and don't bug them while they are in their sanctuary), I nonchalantly shook our plastic snack bowl in the hopes of winning the cat's attention. Our neighbors did the same. He chose them.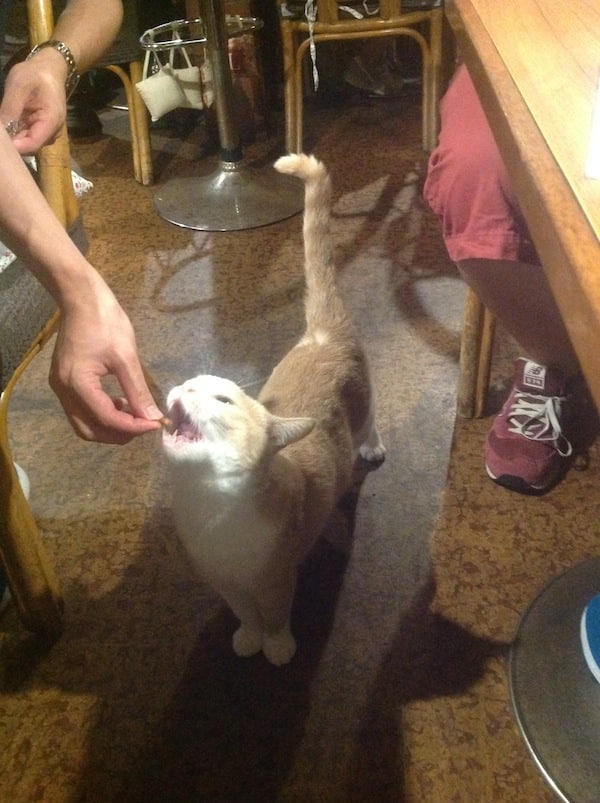 He was friendly but focused. He graced our section with his presence, tolerated some adoration, then got down to the business of asking for treats, which our neighbors gladly accommodated.
The cat, whose name I learned is Chi, snacked with our neighbors, a Japanese couple who gushed over his cuteness with me in the international language of cat fanaticism. Then he checked me out.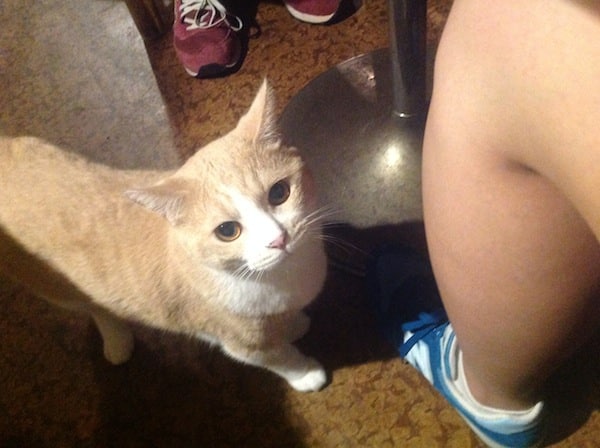 Unimpressed, he excused himself to go mingle with other patrons and tend to cat business.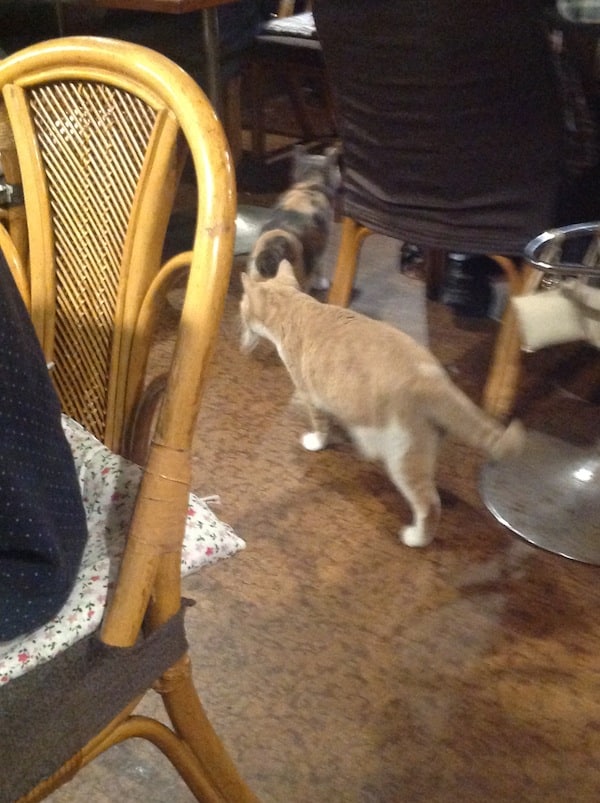 Our server brought our food. I was delighted to find that my husband's "pizza" looked like this: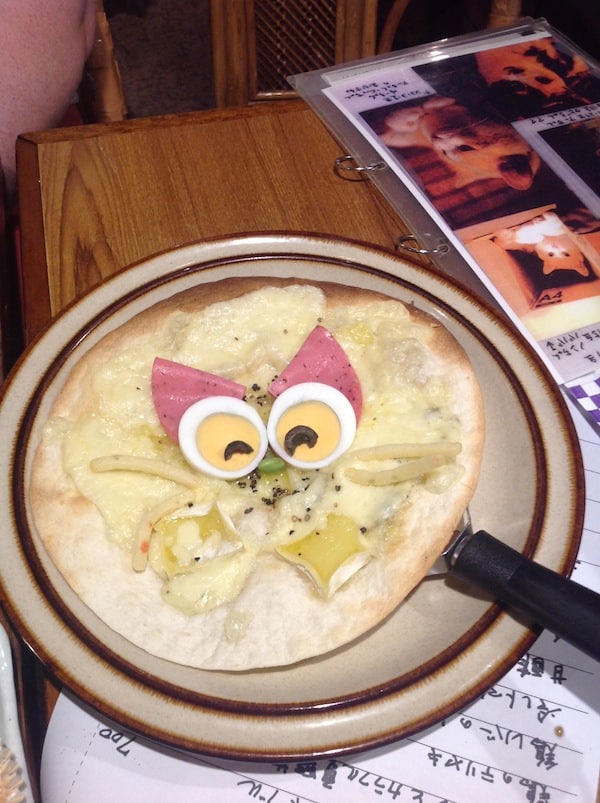 The food was actually quite tasty, but I couldn't help but be distracted by a tricolor cat lounging on a nearby table. She might have been mostly interested in our food (I was amazed by how well behaved the cats were around so much grilled fish), but I'd like to believe she enjoyed our company.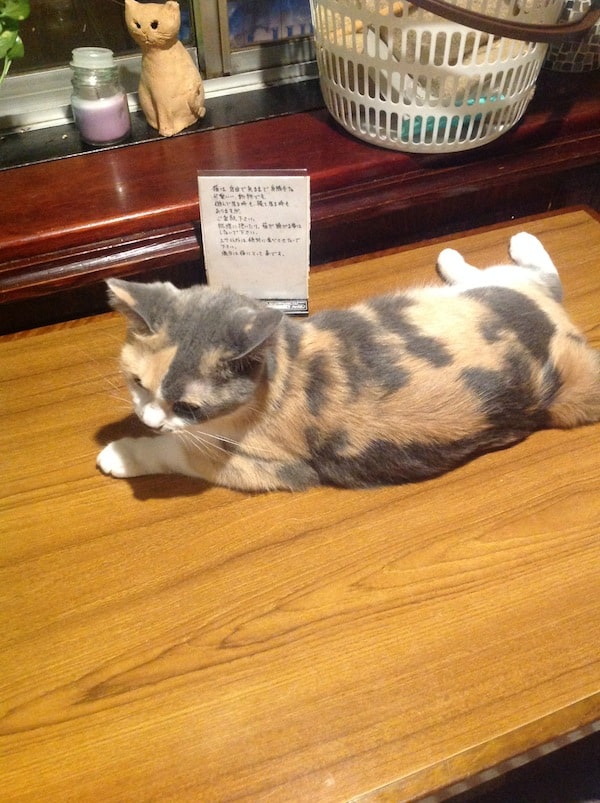 Of course I couldn't help but try and tempt her with treats and — SUCCESS! — she honored me with her snacking.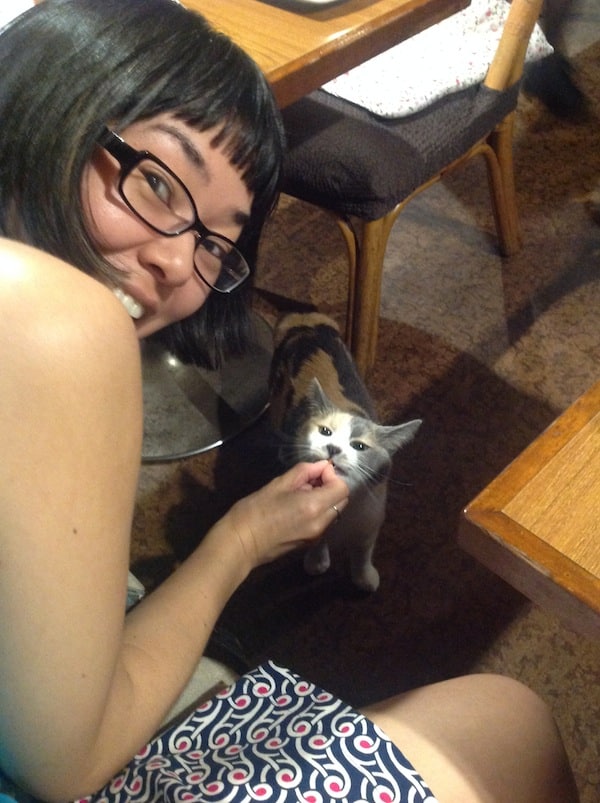 The bar is a labor of love for Mr. Koyonagai. He loves his cats (all rescues), and he loves running his izakaya. While my Japanese is like that of a drunken baby (NOTE: I was not drunk and there were no babies), I was able to exchange a few pleasantries with Mr. Koyonagai as he grilled up an order of chicken skewers.
He especially came to life when I complimented him on his cats, and we shared a good laugh about the tricolor cat who had stubbornly claimed a bar stool for herself. It was such a lovely moment that transcended place and language. Just a couple of cat lovers enjoying kitty quirks.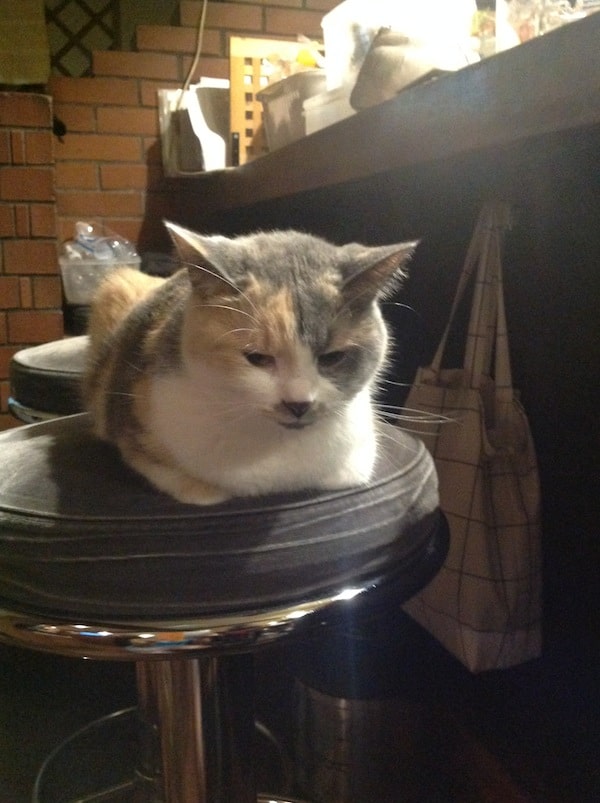 As we headed out, Chi once again guarded the top of the stairs. We all thanked him, and he even allowed me to snap a picture with him.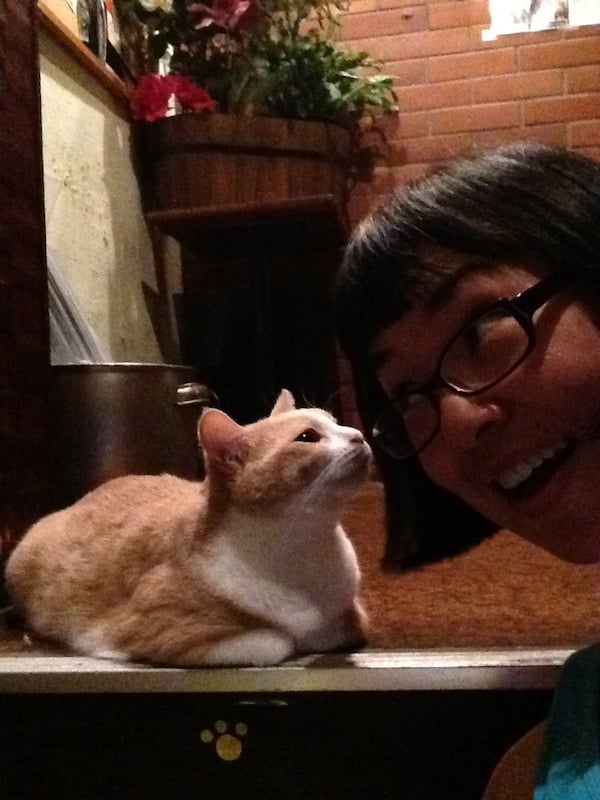 Though most of the approximately six Akanasu cats snoozed during our visit, I have to say that the combination of cat-loving bar patrons, cheery staff, and relaxed but confidant cats made for a great atmosphere. No frills — just good company, good treats (of the human and feline variety), and, of course, good cats.
About the author: Louise Hung is a morbidly inclined cat lady living in Yokohama, Japan, with her cat, her man, and probably a couple ghost cats. She also writes for xoJane. You can follow her on Twitter or drop her a line at IamLouiseMicaela@gmail.com.