Editor's note: This story originally appeared in the March/April 2016 issue of Catster print magazine. Click here to subscribe to Catster magazine.
Do you have a cat who looks like an alien? How about a vampire, then? Okay, maybe your feline has a beard? Or perhaps your bonded kitties are involved in a great bromance for the ages? If so, you're in luck, as these are all physical tics and personality traits that have turned real-life cats into Internet stars. Here's how your own kitty can follow in their paw prints.
Seek social media attention
Once you're convinced your cat has a distinctive look or a hilarious personality, you'll want to hit the social media scene. Forget Facebook, and head to Instagram — it's the hot spot for showcasing cats. According to Ashlee Gonigam, a pet publicist who has worked with Lil BUB, using hashtags such as #catsofinstagram is key to "tapping into the online pet lovers community and letting them find you."
Gary the Bearded Cat proves this. As his name suggests, he looks like he has cultivated facial hair thanks to a black patch of fur around his chin. His owner makes sure to entertain Gary's 200,000 fans with two new pics every day "without fail," adding that writing captions in Gary's voice can take a couple of hours. That's commitment.
Hope to go viral
The next step is to hope one of your pics or videos goes viral. Sometimes serendipity is at play: Legend has it Lil BUB's profile took off only when a random Suicide Girl with her own sizable following began liking pictures on BUB's Tumblr; Gary hit the big time when someone at Instagram posted a pic of the cat drinking water from a bottle on its homepage. He notched up 14,000 followers overnight, with appearances on Animal Planet and overseas newspapers following.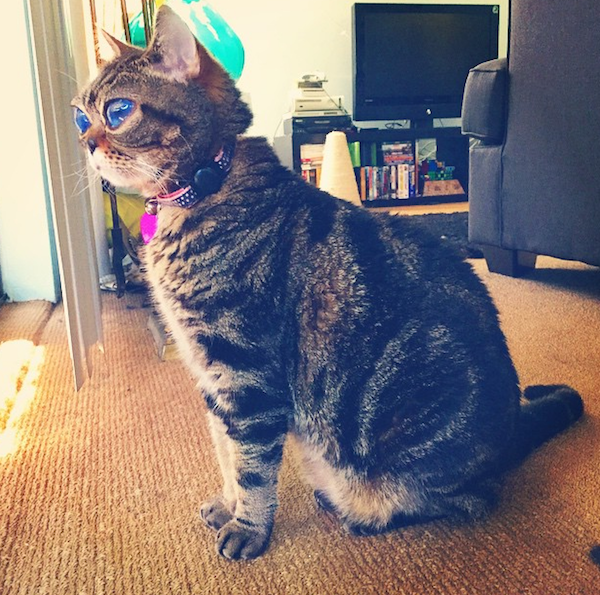 An earnest call for help can also propel your kitty skyward. After the owner of a 2-year-old rescue named Matilda noticed her eyes growing bigger, she posted a picture to the Reddit forum asking whether anyone knew what was going on. Word soon spread about this otherworldly looking kitty and, just like that, she became Matilda the Alien Cat. Some felines are destined to become stars.
Respond to your fans' likes
Once you've built up a big collection of fans, you'll need to keep that audience happy. Work out what fans like and keep serving them the good stuff. The owner of the three-kitty Porkchop, Beans, and TT Pistachio Instagram account realized its 150,000 followers went crazy over throwback snaps of them as kittens, along with "pictures of Pork's eyes bugged out like she is high on catnip."
Targeting a younger crowd can also pay off. Take the case of Seamus and Angus' viral video. During 53 seconds of footage, the two shorthair exotic Persians bathe each other before Seamus decides enough is enough and attacks Angus' kitty face.
One and a half million YouTube viewers became hooked on the flick. According to the cats' owner, things went viral when "teenagers started to relate to it with hashtags of their own, like #myfirstkiss, #thiscouldbeus, and #netflixandchill. I guess that is the secret — finding something young Instagrammers like."
Make profitable deals
Once your photos or videos have gone viral, your kitty is on a fast track to the millionaire's club, right? Well, yes and no. Selling branded merchandise such as T-shirts or snagging a book deal can certainly take you closer to following in Grumpy Cat's commercial steps.
But you don't want to look tacky. The owner of Loki the Vampire Cat, a kitty with two protruding teeth, warns that not every commercial opportunity is gold: "A tooth whitening company wanted my help but that seemed silly." Maintaining your cat's integrity can be worth more than a quick check.
Paw it forward
Using your cat's celebrity status to give back to the community is an honorable use of fame. Matilda's owner is a fan of Lil BUB: "Her story is the most like Matilda's — a rescue with a unique issue who uses her notoriety to raise money for other animals in need."
Porkchop, Beans, and TT Pistachio were rescues from local shelters, so their owner's all about "finding new ways to help [local shelters] out." Along with some other like-minded Instagram cats, they recently organized their first fundraiser, and cross-promoted it to their combined followers.
Fame has its demands and drawbacks
Hold on! Before you scurry off and begin your own cat's jaunt to Internet infamy, there are a couple of warnings to consider. First, managing social media accounts and keeping on message can resemble a job.
"Some days I'm just not feeling it," admitted Gary's owner about the two-a-day posting schedule.
More disturbingly, while the sharing nature of the Internet can bring your cat fame, it can also bite you in the proverbial kitty derriere. After Seamus and Angus' bromance video went viral, it was used by someone in Russia without credit or permission. The new footage hit 20 million views, leaving the cats' owner peeved and having to take the new step of "using a watermark on our videos now." Fame is cool, but your cat's dignity should always come first — even if they're derping it up.