It's a fact: Cats love to play. They love toys we spend our hard-earned cash on and they love found toys they pull from the wastebasket. We, of course, like them to have cute toys that are fun and pleasing to the human as well as cats. If we're going to play with them, we might as well enjoy looking at the toy, right?
Our cats are a valuable part of our families, and every cat lover I know includes kitty on their holiday shopping list. And if they don't place a present for pussycat under the tree, they at least hang a stocking. I have three cats and each one has a stocking that Santa visits on Christmas Eve. Of course, Santa can't put anything catnippy in the stockings until everyone wakes up the next morning, lest we have a premature raid on the holiday stash in the middle of the night. Santa has to visit again while the humans are making coffee or something. At least that's what a retired elf named Vince told me.
And in case you're curious, that thing around Phoebe's neck in the photos is a collar camera she's wearing for a promotional gig. Stay tuned for an upcoming Catster post involving said collar cam!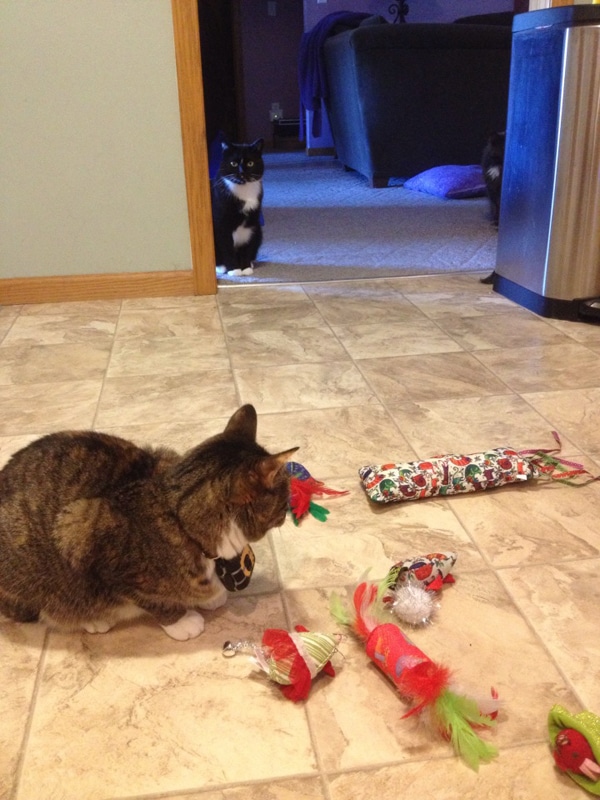 PetSmart sent us some adorable holiday cat goodies and I couldn't wait to share them with my fuzzbutts. I'll start out by telling you that Phoebe is my toy girl. She especially loves batting and chasing balls and going after anything that dangles. Saffy "hunts" toys in the night, Cosmo enjoys a nice kicker, and all three love an enticing wand toy. PetSmart sent us variety of selections from their Martha Stewart Pets and Laurel Burch holiday collections, and here's how it went down.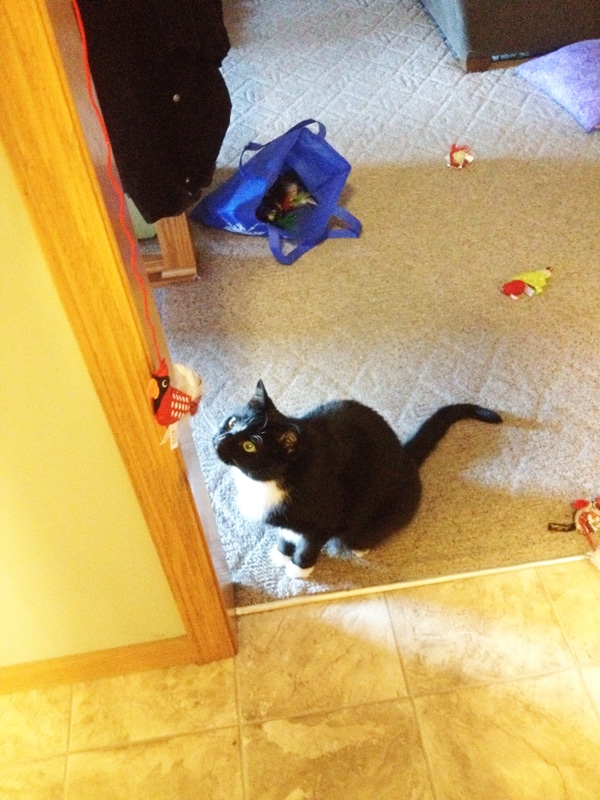 As I mentioned, my cats are fans of the wand toy. I first tried The Laurel Burch PetHoliday Cat Angel Teaser. When I saw this toy, I felt like Bill Haider's Stefon character on Saturday Night Live: "This wand has everything!" Seriously, at the end of the sturdy cord, there's a plush angel kitty, a pom pom, feathers and sparkly fabric. Cosmo and Phoebe went wild over it. Saffy just stared, which wasn't really surprising. She's kind of lazy and only plays when she wants to. Here's a sample of what happened.
Saffy did enjoy the Martha Stewart Pets Patchwork Cardinal Dangler. She's shown an affinity to simple bird toys with feathers so this made sense. She liked "catching" the cardinal and licking it. I wonder if it tasted like Martha Stewart? All three liked the cardinal, but Saffy was the only one who tasted it.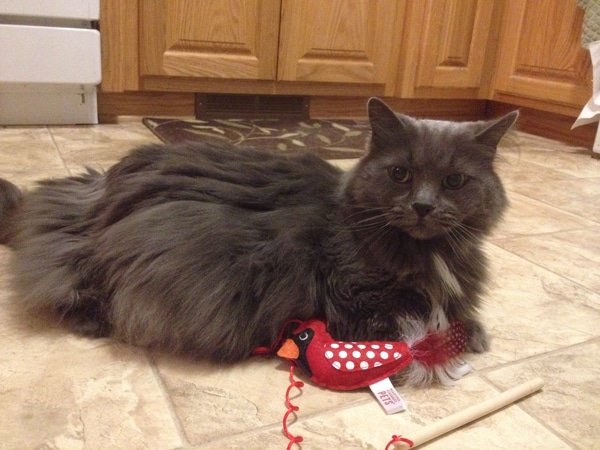 The Laurel Burch PetHoliday Kick Toy with Fringe was a hit with Phoebe, who loves to chase anything dangly. She also goes nuts for the kickers and I later saw her kicking the new toy into next Christmas. Hit!
PetSmart additionally sent a selection of medium to large-sized Christmas mice and feathered and jingly toys. My cats are more interested in smaller toys (the PetSmart Halloween toys were popular with my three), so these didn't really affect them too much. They were super cute though and I'm certain cats who like larger toys would love them.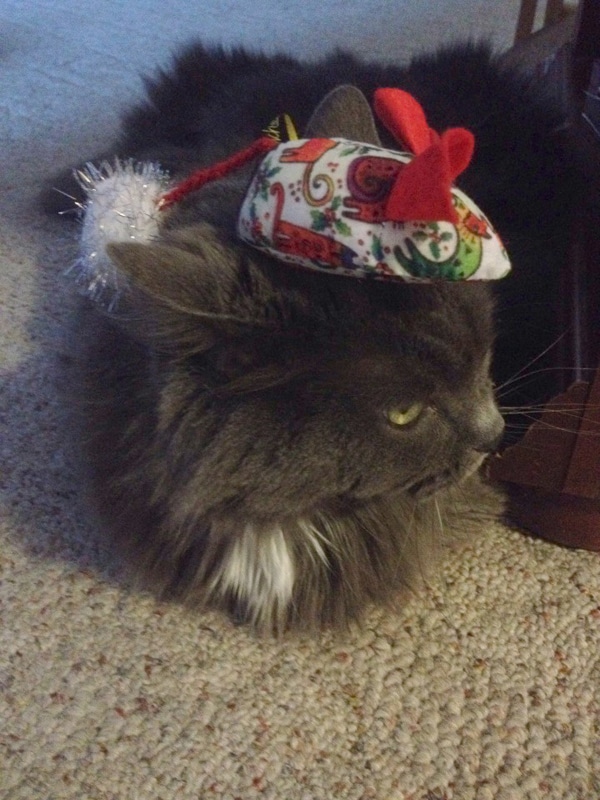 I placed the Martha Stewart Pets Santa Door Dangler on the bathroom doorknob and so far, no one has swatted at it. It's the kind of thing my cats like, so I believe it's only a matter of time. And if they don't paw at Santa's dangles (that just sounds wrong), it's a festive Christmas decoration all on its own.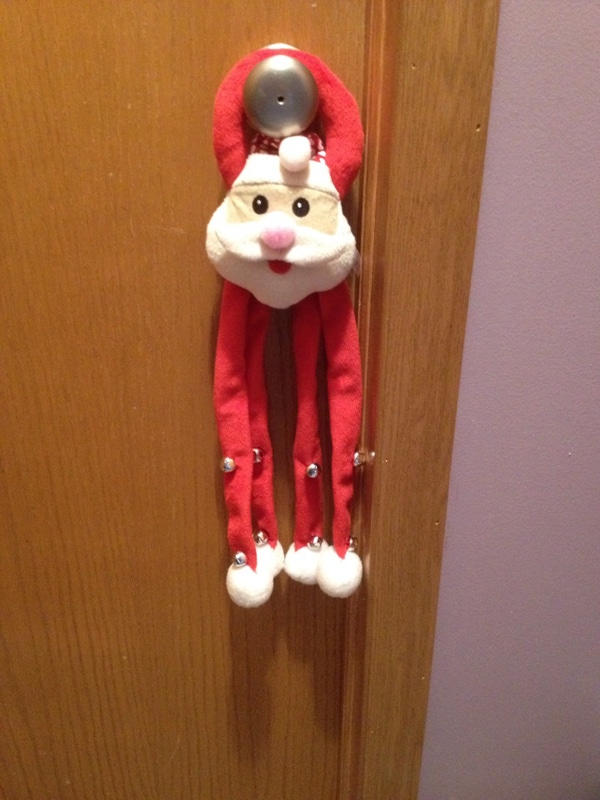 And don't forget that PetSmart donates 10% of the purchase of any of the Luv-a-Pet items to PetSmart Charities in the U.S. and Canada!
Do you give your cat holiday gifts and goodies? Tell us in the comments!
About the Author: Angie Bailey is an eternal optimist with an adoration of all things silly. Loves pre-adolescent boy humor, puns, making up parody songs, thinking about cats doing people things and The Smiths. Writes Catladyland, a cat humor blog, Texts from Mittens (birthed right here on Catster) and authored whiskerslist: the kitty classifieds, a silly book about cats wheeling and dealing online. Partner in a production company and writes and acts in comedy web series that features sketches and mockumentaries. Mother to two humans and three cats, all of which want her to make them food.
Read more by Angie Bailey: