Two of my aunts taught students with moderate to severe disabilities, and from these wonderful women I learned a great deal about adaptive equipment, technology, and accommodating the disabled.
So it comes as no surprise that when Moki, my cat, became disabled, the first thing I thought about after providing medical care was how to adapt his environment to better suit his needs.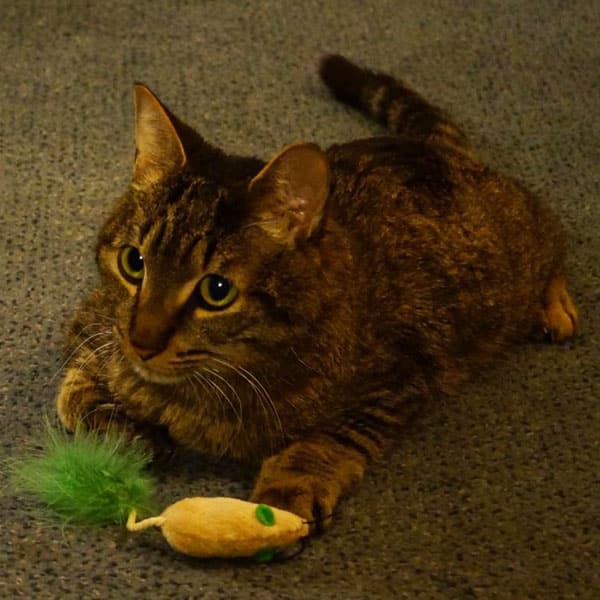 Here are some of the things I've done for Moki that may be useful for your disabled or elderly cat.
1. Use an elevated feeding station
Eating from a low dish can be challenging and painful. Animals with neurological conditions such as Moki's may lose their balance and knock over their bowls.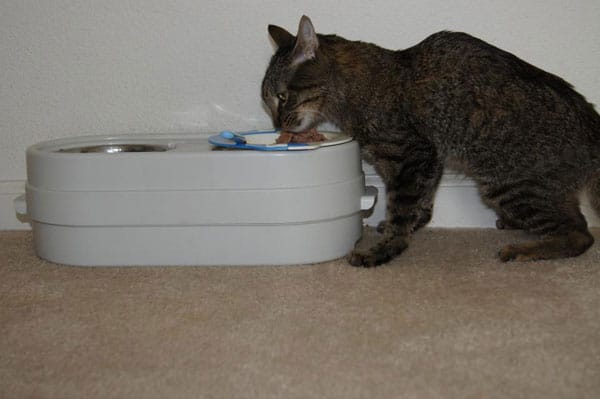 Make sure that the feeding station sits high enough that your pet does not have to bend over to reach it. If your pet is wobbly like Moki, consider a feeding station that also serves as a food storage container. This will add weight and make it more difficult to knock over. You can also get wall-mounted feeding stations that provide even more stability. Finally, look for one with rounded edges so your cat won't bump into anything sharp.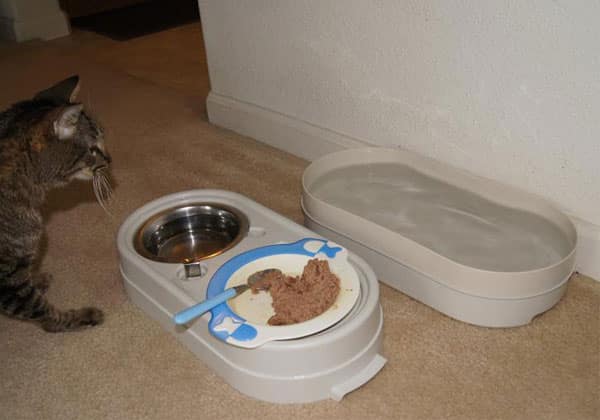 2. Modify your litter box
Many cats with disabilities have a hard time getting in and out of conventional high-sided litter boxes. Try recycling an old plastic cat carrier. Simply disassemble it and fill the bottom half of the carrier with litter. Because of the low-cut lip at the front, disabled cats find it easier to get in and out — and they can brace themselves against the walls if they need to.
For animals who cannot stand while using the bathroom, like Moki, consider using disposable puppy training pads and a holding tray.
Moki knows where his litter box is, but he can't use it without help. He'll let me know when he has to go, so I lift him into the box and steady him while he does his business. When I'm not home, however, Moki will walk to his puppy training pad, lay on his side, and do his business on the pad.
If you have other nondisabled cats, place the pads and tray next to the litter box. Your disabled pet will see your other cats using the box and associate the training pad and holder with being a proper potty area. Bonus tip: If your cat uses her claws for traction while walking, consider reusable cloth pads, because the disposable pads are easy to tear.
3. Consider the shape and size of your cat's bed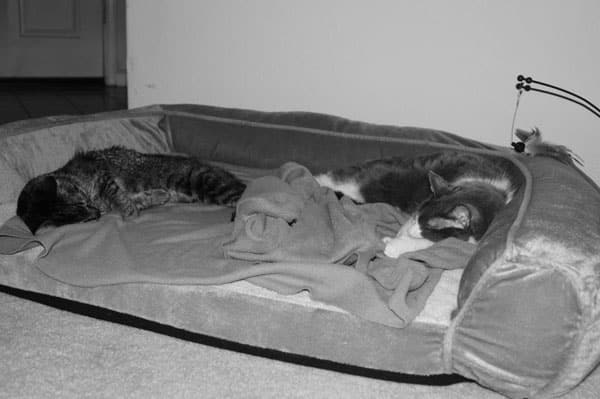 Getting in and out of a traditional cat bed can pose a lot of problems. Look for a bed shaped more like a sofa, with a high back and sides and a low front entrance. The dog section of the pet store has a wide selection of beds that fit this description. The high back and sides will help cushion any blows should your cat tip over, while the low front will make getting in and out of the bed a breeze.
4. Choose the right toys
Moki's neurologist told me that laser toy or wand toys are great to help improve a cat's paw-eye coordination. For blind cats, consider toys which make noise, such as a ball with a bell in it.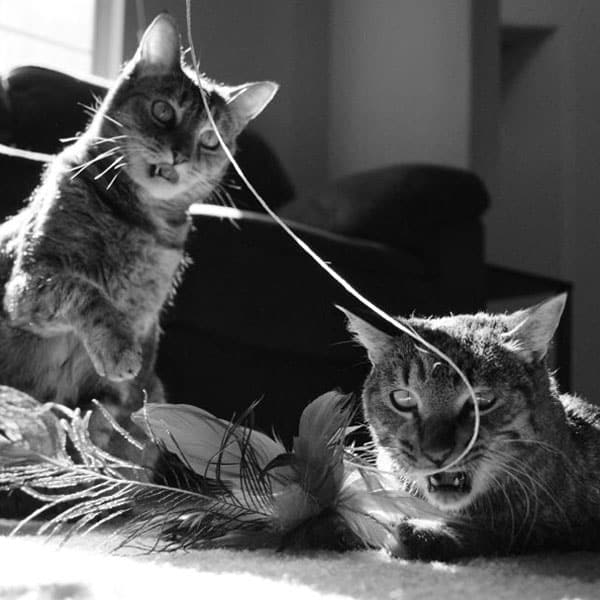 Whenever I play with Moki, I like to find an uncluttered spot on the living room floor to give him room to move. The feather wand toys are his favorite. Moki likes it when I let the string glide slowly across the floor so that he can catch it.
5. Think about flooring
Many disabled pets struggle with walking on slick surfaces such as tile or hardwood floors, so help provide them with a little more traction by using throw rugs. You can also help your pet get a grip with traction boots.
6. Build or invest in stairs and ramps
Older or neurologically damaged cats may still want to jump on and off things, so consider purchasing a set of stairs to provide them with easier access to their favorite places, such as your couch, bed, or window sills. If your cat is in a wheelchair and your home has stairs leading up to the front or out the back door — and your pet is allowed outdoors — then consider a ramp.
Moki is currently unable to use a ramp or set of stairs on his own, so I have to pick him up and place him on the couch or bed. His sister, Little Kitty, who is almost 16, was born with twisted bones in her right front leg, leaving her unable to use that paw. She has gotten around just fine until recently, and is beginning to have some trouble getting on and off the sofa. I put a tiered scratching post next to the sofa, which serves as steps for her.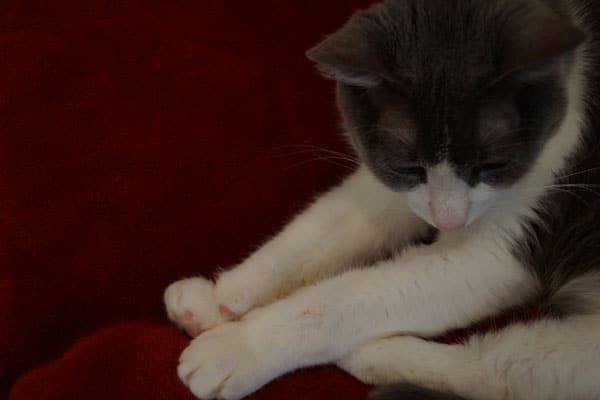 7. Help eliminate pressure sores with a drag bag
When it comes to paralyzed pets, most of us instantly think of pet wheelchairs. While they are a great option, you can't keep your cat in one all day. Once out of the chair, they will often drag themselves around and develop pressure sores.
Over the years I have l helped to care for many disabled pets, including Bella, a cat who briefly stayed with me. She was incontinent and paralyzed in her back legs, and had developed pressure sores as a result of consistently dragging her legs. She didn't take well to a wheelchair, partly because of her legs were deformed, which is how we discovered drag bags.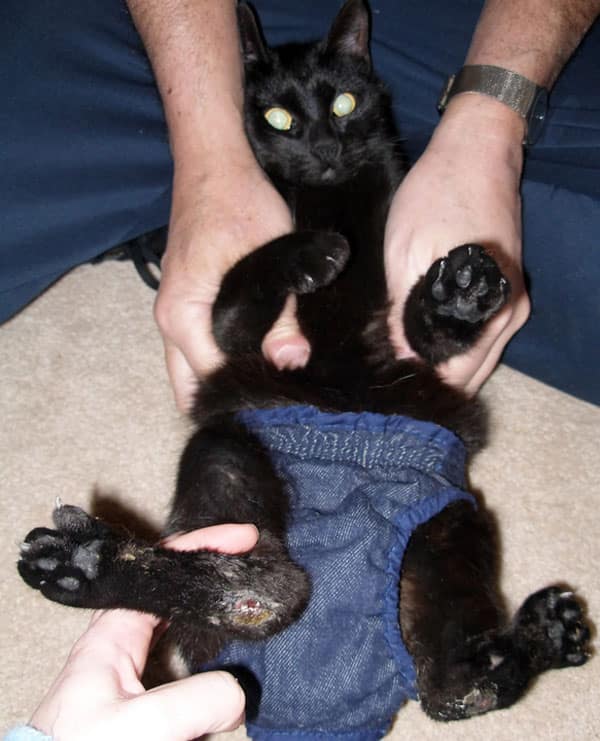 Other cats like Scooter, recently voted the ASPCA's Cat of The Year, adjust quite nicely to wheelchairs. Play around with your options until you see what your cat prefers.
8. Inspect and arrange your furniture accordingly
Owning a disabled pet is a lot like living with a toddler. Most of the furniture in my house was purchased with Moki in mind, so I haven't had to make too many changes. If your pet is prone to falling over or bumping into things, consider padding sharp corners on low tables. If your pet uses a wheelchair, make sure you clear paths through the house.
Moki likes to chew on power cords, so I've had to block off areas of the house and tape the cords to the walls out of Moki's reach.
Do you own a disabled pet and have other tips you'd like to share? Let us know in the comments!