The moment I saw Atchoum's face, I felt exposed. The nine-month-old kitty's piercing eyes shot right through my pretenses, calling me out for eating peanut butter and watching Netflix when I was supposed to be studying. He knew I wasn't just taking a break. I was not going to do anything productive for the rest of the night — and Atchoum was extremely disappointed in me for being so lazy.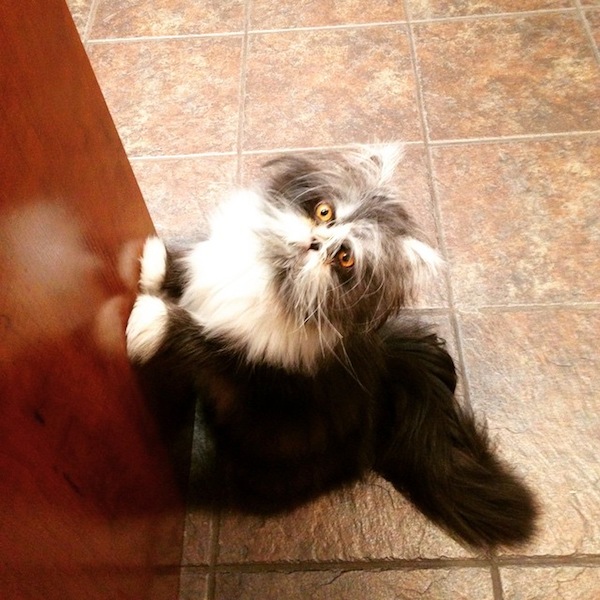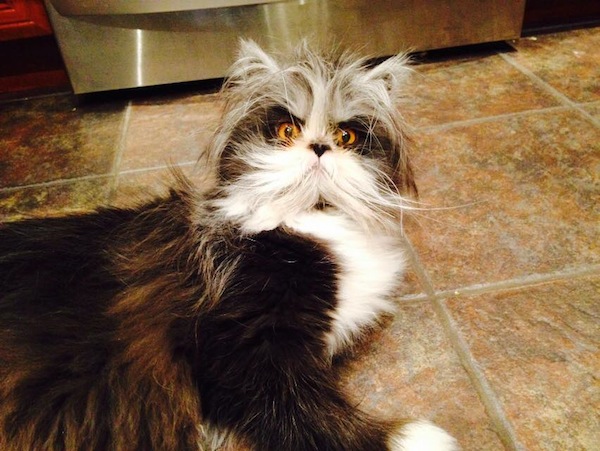 After that moment of uncomfortable vulnerability, I knew I needed to learn more about this handsome, hairy kitty who knew all my secrets. Here are five things I found out.
1. He can look right through your soul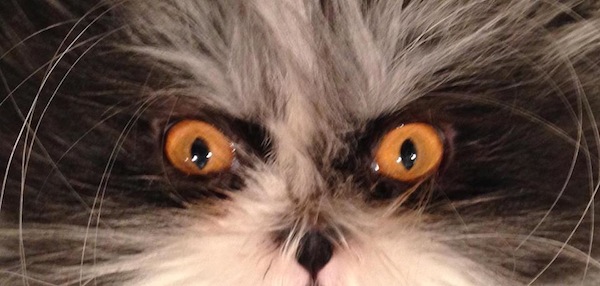 A quick scan of Atchoum's Facebook page shows a happy, healthy, well-adjusted kitty enjoying life to the fullest. I have absolutely every reason to believe Atchoum is a friendly, loving creature who enjoys treats, chin scritchies, and long naps in the sun. But there's something about his round, amber eyes that makes me fairly certain he can look right through my soul — and sometimes, he doesn't like what he sees.
2. He has a straight-up facial hair SITUATION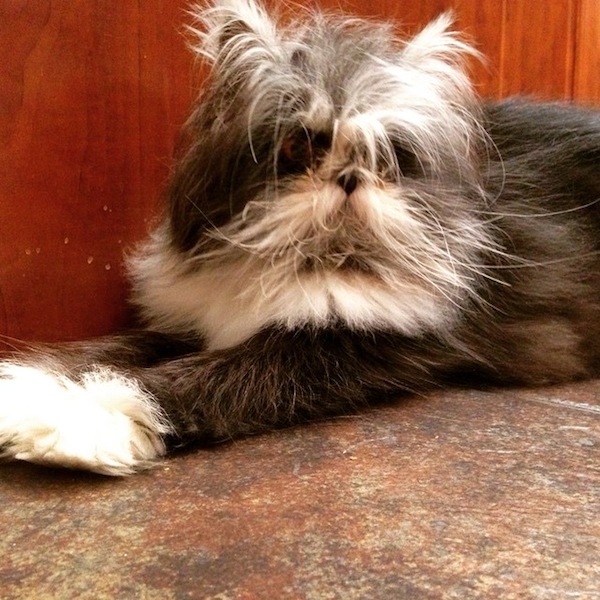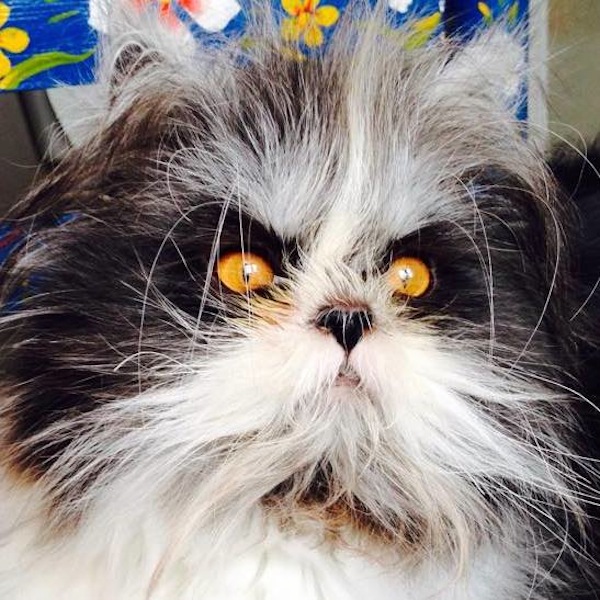 With white tufts of fur blooming from either side of his nose, Atchoum has cultivated a mustache that will be the envy of hipsters everywhere. And don't forget his crazy old-man eyebrows and the fact that he has more ear hair than most grandpas. Put it all together and you've got a cat who looks like a cross between an Ewok and Animal from the Muppets.
3. He has hypertrichosis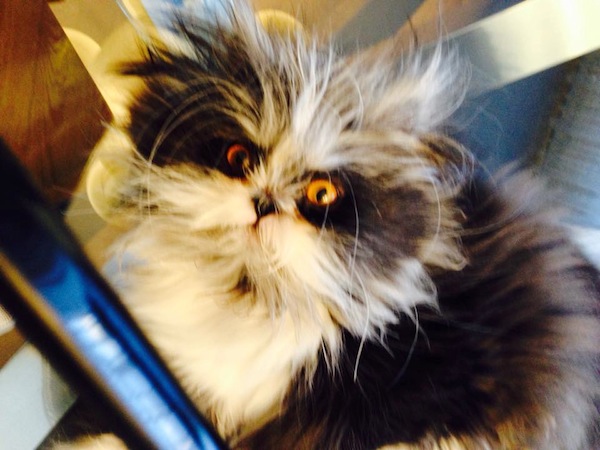 The reason for Atchoum's intense fluffiness is a rare medical condition called hypertrichosis, also known as "werewolf syndrome" (when it occurs in humans). The disorder causes abnormal hair growth all over the body — or, in Atchoum's case, primarily on his face and paws. (He's a Persian, so he's naturally a fluffy guy.)
4. He's a rising star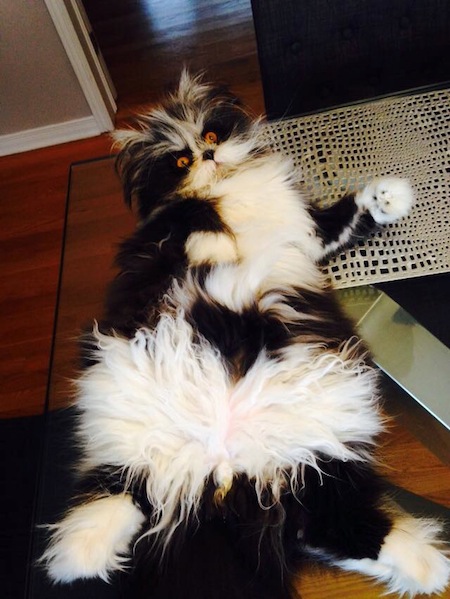 Atchoum's name is French for "achoo!" He lives in Montreal, Quebec, with his owner, Nathalie. Since his triumphant social media emergence in December, Atchoum has gained more than 25,000 followers on Facebook and more than 19,000 on Instagram. He's kind of a big deal.
5. He's not a weird-looking dog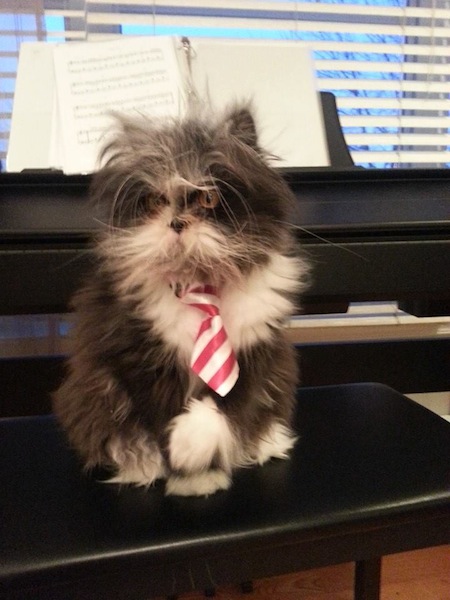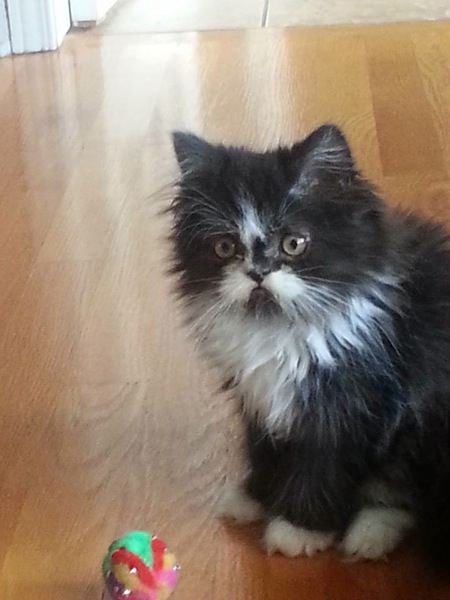 When I shared one of Atchoum's photos to my Facebook page, I got a mixed bag of reactions. One person compared him to a vampire; someone else thought he looked like a werewolf. Another friend simply said, "THOSE EYES." Someone else asked if I was sure Atchoum wasn't "an evil-looking dog." Short answer: No. He's the most amazing kitty I've ever seen.
Follow Atchoum on Facebook and Instagram.
Read more by Angela Lutz:
About Angela: This not-crazy-at-all cat lady loves to lint-roll her favorite dress and go out dancing. She also frequents the gym, the vegan coffee joint, and the warm patch of sunlight on the living room floor. She enjoys a good cat rescue story about kindness and decency overcoming the odds, and she's an enthusiastic recipient of headbutts and purrs from her two cats, Bubba Lee Kinsey and Phoenix.