These three words do not belong in the same sentence: wine for cats. But don't tell that to B&H Lifes, the Japanese inventors of Nyan Nyan Nouveau. Before you panic: This feline "wine" contains no actual alcohol, only unfermented cabernet grape juice, catnip, and the dull, aching loneliness of spending another Saturday night getting hammered with Bubba and Fifi.
But my cats don't need wine, real or fake, because they already act like unrepentant drunkards when they're stone sober. Here's why.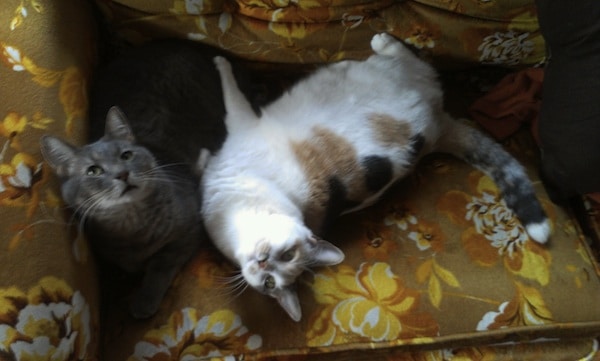 1. They are total freeloaders.
Plenty of smart, well-meaning, hardworking individuals are unemployed through no fault of their own — but a lot of unrepentant drunks are also unemployed because they are too hammered to get up off the couch and put on pants. My cats fall into the latter category. They lie around the house all day, sometimes not moving for hours, stirring only to holler at me to feed them. They are freeloaders who haven't paid rent in more than a decade.
When I come home after a long day of staring at a computer for money, sometimes I tell them to get damn jobs already. They look at me indifferently and go back to sleep.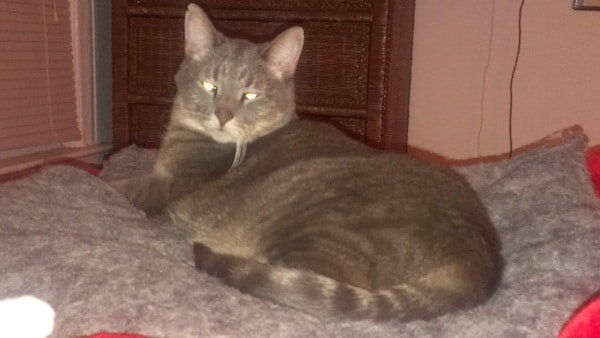 2. They eat until they throw up.
Drunks are notorious for painting the floor with the contents of their stomachs, whether it's that pregame pizza or the breakfast burrito you thought would assuage your hangover the next morning. Perhaps most notorious of all: The rally puke, in which you throw up, feel better, and continue drinking into the wee hours of the morning.
Naturally my cats vomit everywhere — seriously, nothing is sacred. They are especially adept at the rally puke. I've seen Phoenix throw up on the windowsill, take a moment to collect herself, and go waddling back to her dish for another bite or ten. Her indifference toward her own gluttony reminds me of myself three years ago, holding my breath and slugging wine straight from the bottle to cure the hiccups.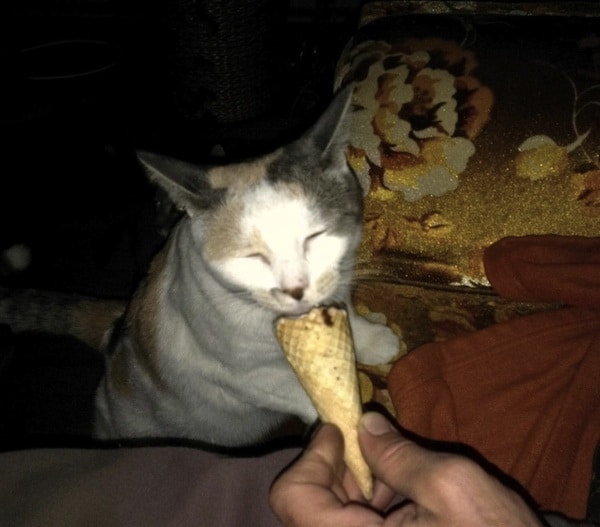 3. They are moody and disrespectful of my feelings.
We've all had that drunk friend who comes over late at night, eats all of our leftover spaghetti (and doesn't clean up after herself), uses our ironic devotional candle as an ashtray, and insists on listening to the same Regina Spektor song over and over again even though we've told her a million times that it reminds us of our douchebag ex-boyfriend.
My cats behave that way every day. I am subject to their whims, and I must comply or I will be overruled by the sheer force of their wills, which are much greater than mine. Maybe I want to sleep later than 6 a.m. or use the restroom in private? "Too bad," my drunk cats say. "Now feed me."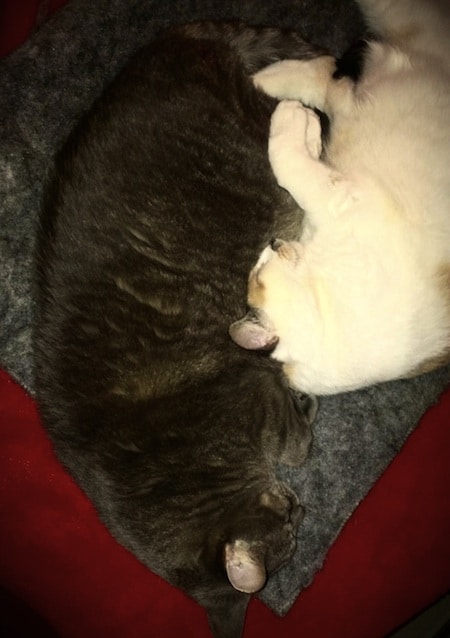 4. They sleep 24/7.
When I was hungover, I could sleep all day. I would wake up, take a shower, eat some enchiladas, and go back to bed, where I would stay until evening. My post-bender sleeping habits mirror my cats' daily naps, with one key difference: I would usually feel guilty for my laziness.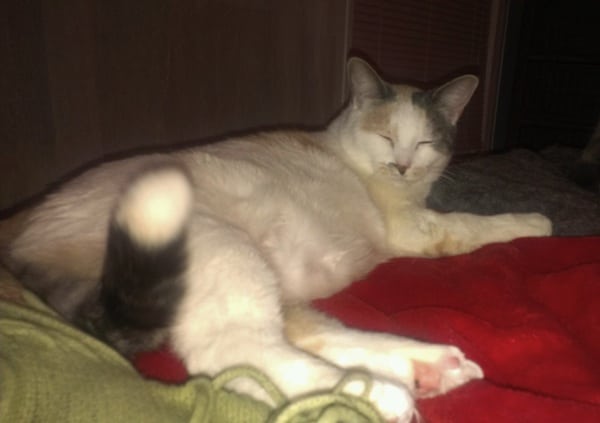 5. Sometimes they beat me up for no reason.
Know how that really nice drunk guy you've been talking to over shots of whiskey will suddenly turn on you? One minute you're chatting about baseball and your favorite subjects in high school, and the next he's all, "Hey, what do you think you're looking at? You think you're better than me?"
I've said before that Bubba Lee Kinsey would be in prison for aggravated assault if he were a human, and there's good reason for that. He'll frequently ruin a perfectly good snuggle by sinking his fangs into my arm for no reason. Bubba might need an anger management class, but he certainly does not need that Nyan Nyan Nouveau nightcap.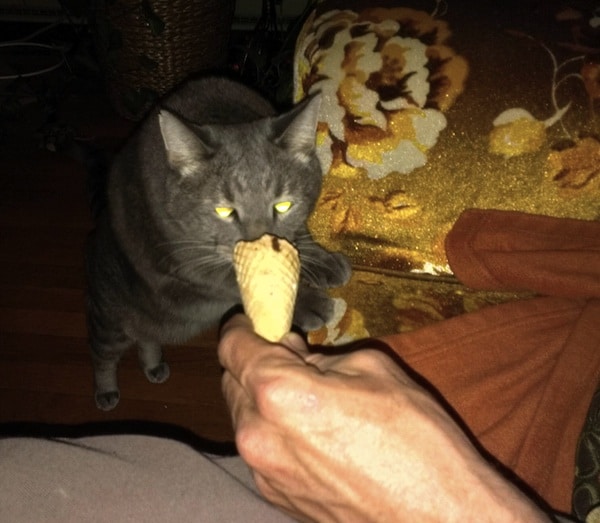 About Angela: This not-crazy-at-all cat lady loves to lint-roll her favorite dress and go out dancing. She also frequents the gym, the vegan coffee joint, and the warm patch of sunlight on the living room floor. She enjoys a good cat rescue story about kindness and decency overcoming the odds, and she's an enthusiastic recipient of headbutts and purrs from her two cats, Bubba Lee Kinsey and Phoenix.
More by Angela Lutz: