So, I recently splurged just a little bit on my cats for Christmas. We're taking them away with us for the holidays to the in-laws for a week, so I had to give them their presents early. Once they got over being totally overwhelmed by all the new stuff, their favorites quickly became clear! So with the help of my cats Lucipurr and Freyja, I give you this little Christmas gift guide!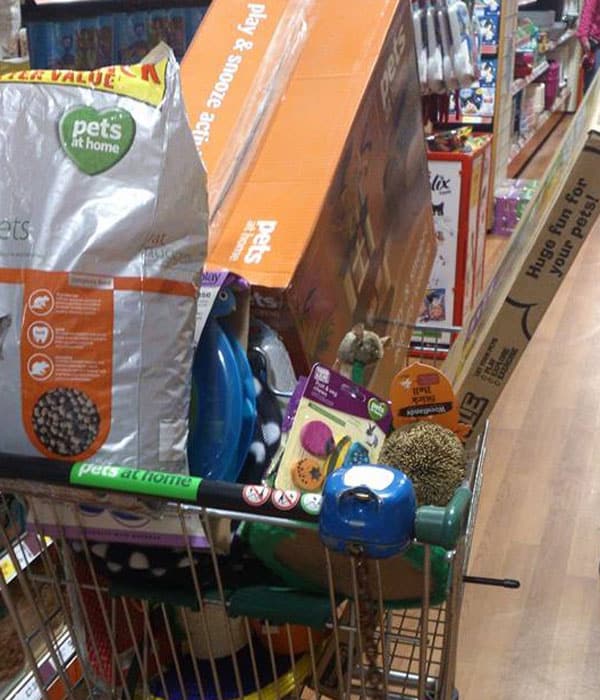 1. Deluxe rustle tunnel: 1 out of 5 paws
I'm really disappointed about this one. My girls love shopping bags and rustling things, like most cats, so I wanted a rustle bag but thought an upgraded version, a tunnel with a dangly, feathered squeaking ball, would be even better. I should have gone with the bag.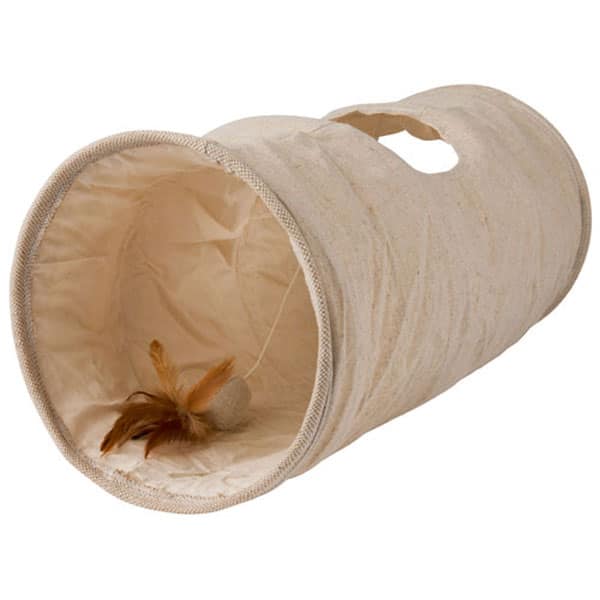 The tunnel I got didn't have a hole in the top and was much shorter. It said to pull out a tab to activate sounds in the ball — I couldn't find a tab but did manage to accidentally pull out the feathers. Grrrr. I went ahead and set it up for them anyway. They really WANT to play in it, but it collapses on itself constantly. Pictured tunnel is probably a better option — it's by Willow's — and I might give it a shot before I give up on tunnels completely. You can find rustle tunnels at any major pet store or online.
2. Whack Attack by Play N' Squeak: 2 out of 5 paws
There was only one of these left when I was shopping, and I snatched it up right away. Realistic mouse noises and a detachable "catnip rock," as well as the cute design, made it a winner in my eyes. The cats, however, seem to disagree. They've shown little to no interest in this cute play center.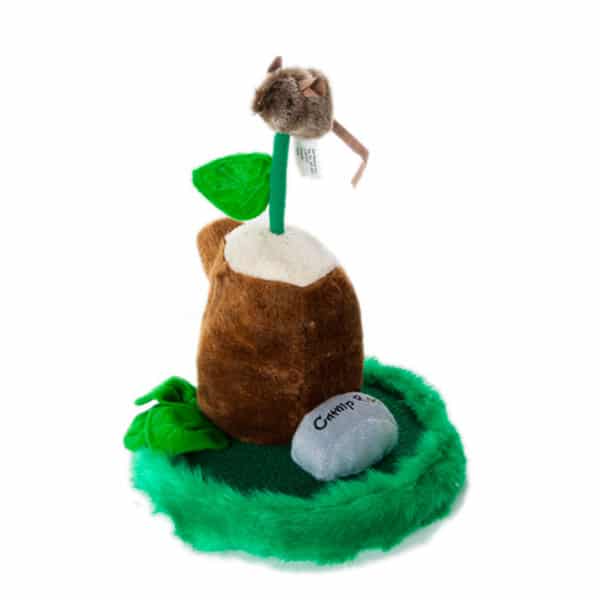 If I activate the mouse noises by tapping it, they might whack it for two seconds before wandering off again. Even the catnip rock has been woefully neglected. I've only heard them beating at it once so far when I wasn't there to demonstrate for them. I'm gonna stick with two paws only because it's aesthetically pleasing and cute enough to keep around. You can find Play N' Squeak toys, including Whack Attack, at any major pet store chain or directly from the source at www.playnsqueak.com.
3. A fancy scratching post: 2 out of 5 paws
I can't find the specific make I picked up, but the picture is very similar. You can find these guys everywhere.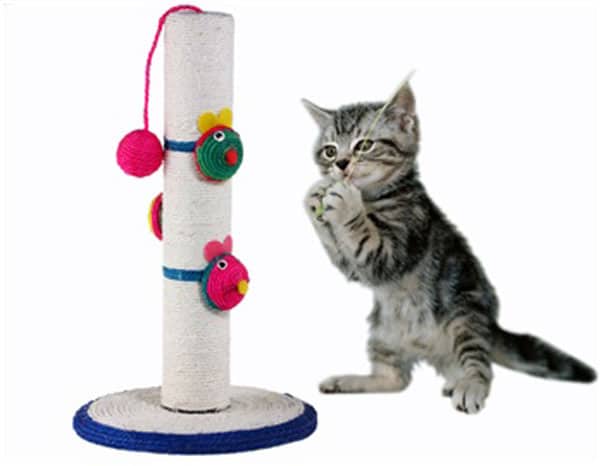 All my cats had before was one big, basic scratching post. Our younger kitten Lucipurr was using it with no problem, but our older kitten Freyja was ignoring it to scratch on door frames.
I remembered Jackson Galaxy's tips on having plenty of posts, and was on the hunt for one with lots of stuff on it. I'm giving it two paws though, because no one is really scratching this baby. Luci loves to attack the mice (ours have feather tails) and bat the ball, but scratching has been reserved for the old post and the (upcoming in this list) new cat tree. Freyja has stopped scratching the walls at least. And it IS a really cute-looking scratching post. But I have a feeling they are going to outgrow it once they leave kittenhood behind. These style of scratching posts should be easy to find at any major pet store or online.
4. Gone Fishing Teaser by Pets at Home: 3 out of 5 paws
This caught my eye because it was pretty and looked like something they would definitely love. Freyja especially loves wands and teasers. I think I had the fleeting thought that multiple strings were a bad idea, but I got it anyway. And, boy oh boy, I am never going to be able to untangle these three strings.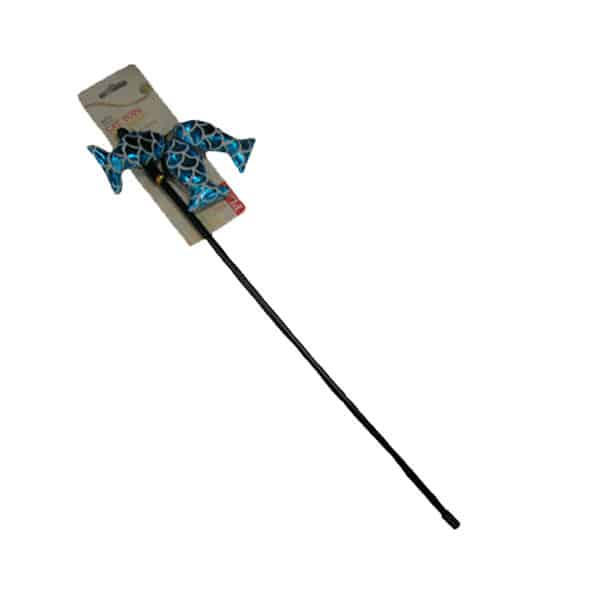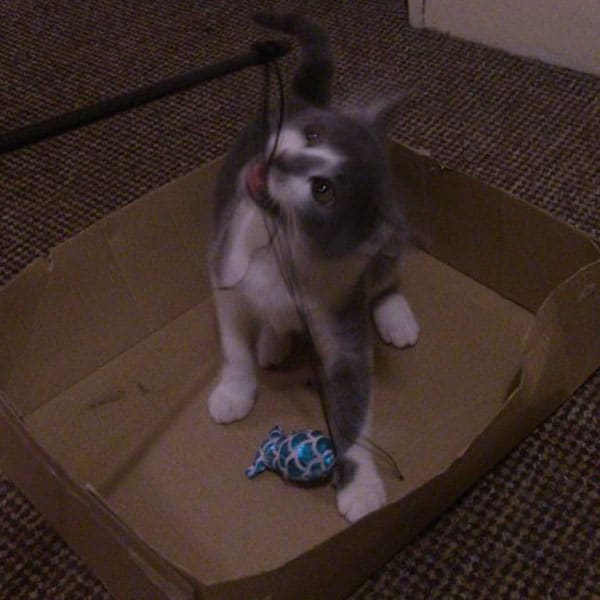 Any attempt to sort this wand out is met by two tackling kittens! After a couple of weeks, they have now destroyed it down to only one fish! Three paws because they love it so much, but losing some points for being the opposite of functionally designed. This teaser can be found across the UK in Pets at Home shops or from its website. Similar teasers can be found in any major pet store and online.
5. Play N' Snooze Activity Center by Pets at Home: 4 out of 5 paws
This is the only picture I have of the cat tree in its newly assembled glory. The girls absolutely love it, it was the perfect choice for our first big cat furniture investment. The abundance of scratching posts has saved our walls and door frames, and they love the little top seat and the tunnel. They enjoy chasing each other up and down the tree. However, I have one pretty big problem with this baby …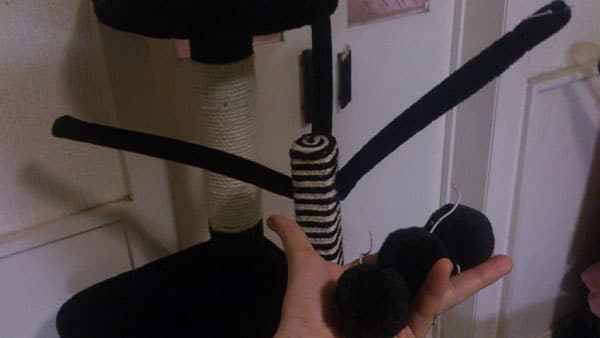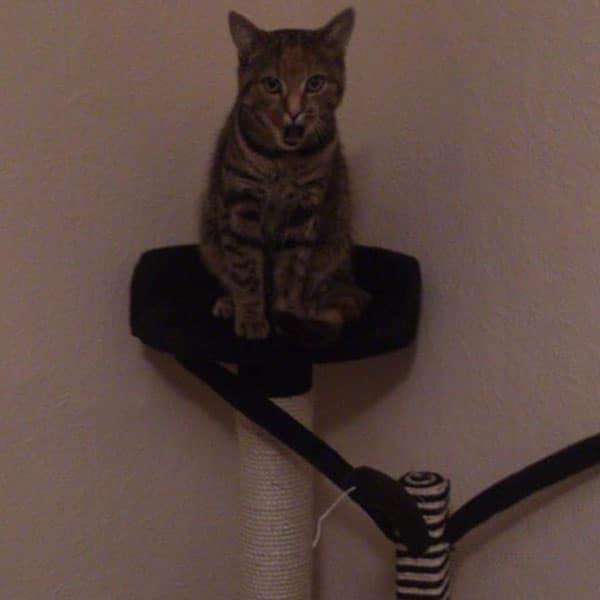 They destroyed all three ball teasers within 24 hours. Minus a paw for that. They still chase the disconnected balls are over the house and whack at the wands, which are giant springs, so it's not ruined per se, but I was certainly miffed after carting it home and assembling it (not to mention spending close to $100 on it). Unfortunately, this exact product is only available in the UK, but similar cat trees can be found online or at any major pet store.
6. Cardboard Pet Castle by SmartKitz: 5 out of 5 paws
Don't let the bunnies fool you — the cats absolutely LOVE this cardboard castle. Assembly didn't take too long and they were in it straightaway. And it was super cheap! About $20. It has two levels with holes pre-cut that they can zip between, which gives it a total of three levels when you include the floor it sits on. They absolutely love playing "whack a mole"-esque games through all the doors and windows. And they do battle sometimes for castle dominance! I can hardly get them out of this thing.
The only drawback is they will both eventually outgrow it, but if you also have any small animals (I have two rats) they can inherit the castle and chew it to shreds when the cats get too big! It's also such a cute idea that all my friends have fallen in love with the castle! I'm very sad to say I can't find anywhere this castle is available in the US, but searches for "cardboard castle" on Amazon.com show similar cat-designed structures. I'd say, though, that this product is totally worth the shipping — try contacting the folks at smartkitz.co.uk to get any American kitties their own cardboard castle!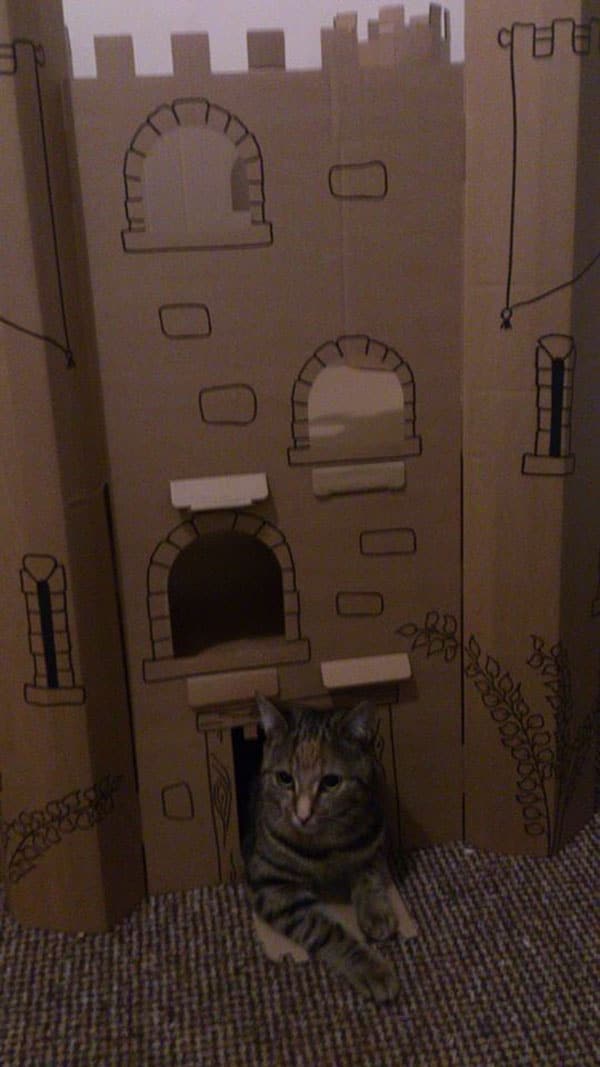 7. Cheese Chase by Petstages: 6 out of 5 paws!
Oh. My. Gosh. We have a winner. I now believe every cat needs one of these. As soon as this was set up the girls were in love. They play with this constantly. And they play with it together! It's refreshing to see them play together in a non-wrestling way! The sound of the balls being constantly shot around the rings can get annoying, so we keep this one downstairs for them, but it's still totally worth it.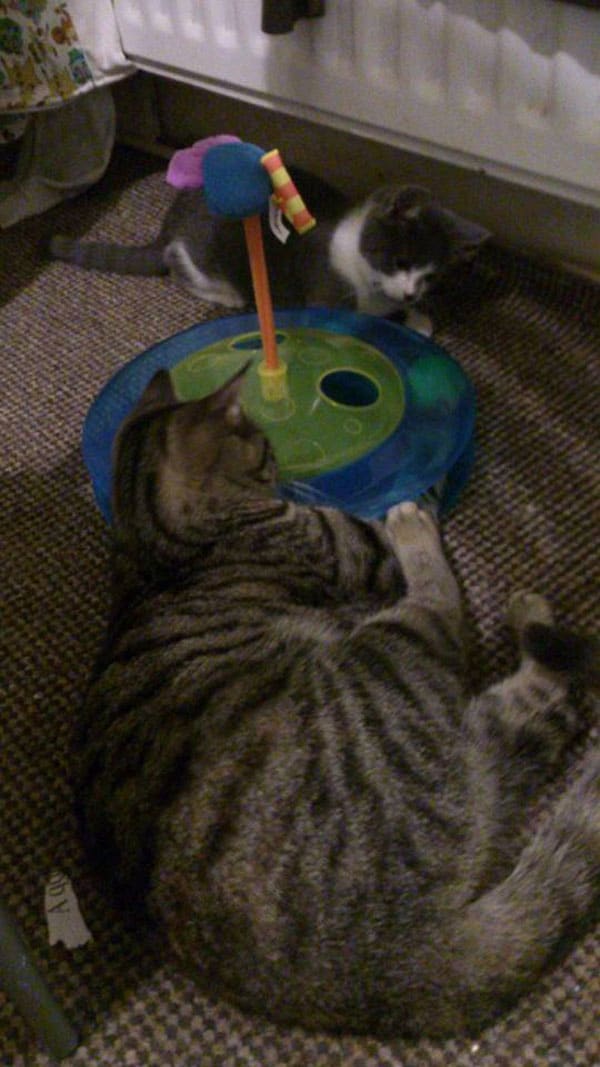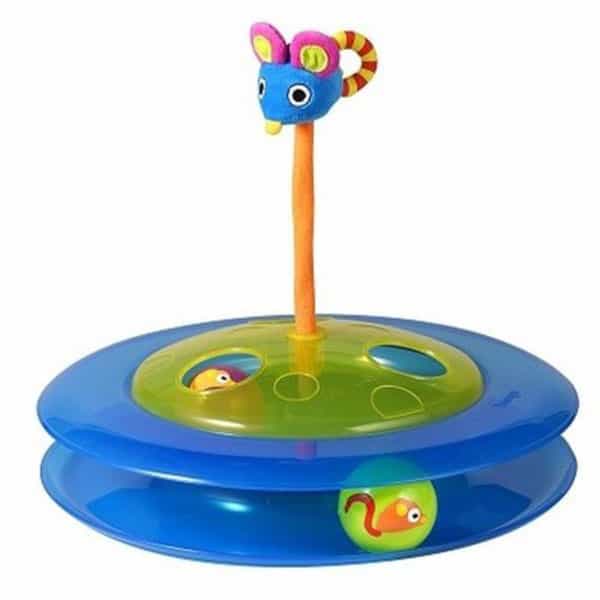 Freyja has largely ignored the springy mouse on top, but Luci has been known to tackle it midair while flopping wildly around the entire cheese chase to chase the balls! Now, my cats are pretty smart, but they are totally consumed with whacking these balls in circles. When I put up pictures of it, several friends remarked their cats are equally in love with this toy! There are many knockoffs about, but this one has the best ratings and reviews that I can find. I highly highly recommend this to entertain your kitties Christmas morning! Might even keep them out of the Christmas tree! Cheese Chase and other Petstages products are widely available worldwide at any major pet stores or online.
Are you getting your cats toys this holiday? Let us know which ones in the comments!
Read more gift guides and cat-toy reviews:
About the author: Hana lives in Belfast after moving from the U.S. of A. with her two spoiled kittens, two chubby rats, and one cheeky husband. Hana works in admin but occasionally goes on tour working for an Austrian death metal band. When she's not putting up road-weary punk rockers and metallers, you can find her taking the cats around town in their stroller, whipping up new recipes, or playing way too many video games. She writes at Mommyish and Catster. Follow her on Twitter and Tumblr.