For "the 12 Cats of Christmas," each day we pluck one notable furball who has made a huge and lasting impression on our hearts over the last 12 months and revisit his or her story. Consider it your daily festive feline gift.
Today we brave the floods with …
7. Momo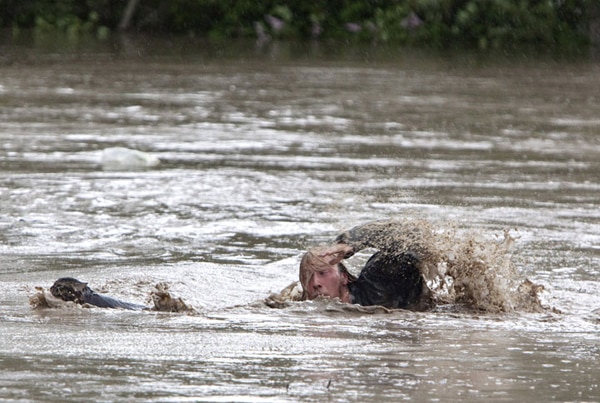 The summer month of June saw floods hit the Canadian province of Alberta. One of the most heart-warming pictures to come out of the tragedy involved a blond-haired man escaping through the back window of his slowly submerging truck with his cat in his hand. The two of them swam to safety through the murky waters. That man was Kevan Yaets and his cat, an eight-month-old part-Maine Coon female, goes by the name of Momo.
Images of Kevan and Momo, which were captured by Canadian photographer Jordan Verlage, soon began to captivate hearts across the world. The British broadsheet The Times even called them "a symbol of hope." The aftermath of the escape also brought up the detail that Kevan and Momo were actually trapped inside of the pick-up truck when the windows wouldn't open underwater — he had to smash open the back window with his elbow.
It also came to light that Momo had something of an infatuation with water, as Kevan's mother revealed that the cat would often hop into the bath with Kevan. Perhaps it was in those tub sessions that Momo developed her swimming trick of "using her tail like an alligator does," as Kevan's mom put it. "He said he couldn't keep up with her, she was doing so well swimming in the water," she added. A future in the cat Olympics must surely beckon.
Revisit the rest of the 12 Cats of Christmas here:
About Phillip Mlynar: The self-appointed world's foremost expert on rappers' cats. When not penning posts on rap music, he can be found building DIY cat towers for his adopted domestic shorthair, Mimosa, and collecting Le Creuset cookware (in red). He has also invented cat sushi, but it's not quite what you think it is.