Mr. Magoo is a special-needs cat with a "goofy little attitude" and a permanently messy face. That's according to his human, Natalie Giles, and it's meant as a compliment. You see, this three-year-old feline was born with a curious condition that means his tongue is always hanging out of his mouth. Naturally, this also ensures that mealtimes are grubby times.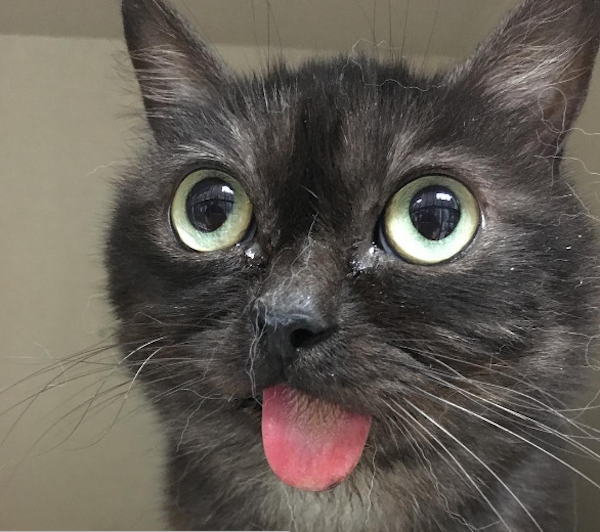 The story of Mr. Magoo — who shouldn't be confused with the deceased, blind artist cat of the same name — begins in the city of Port Coquitlam, British Columbia. Natalie was at the Westwood Heights Pet Hospital, where she works as a registered veterinary technician.
She received a call alerting her to a family of cats living under a residential deck. After the clowder was rounded up and brought into the animal hospital, she immediately gravitated toward a 14-ounce scamp who seemed intent on sticking his tongue out her.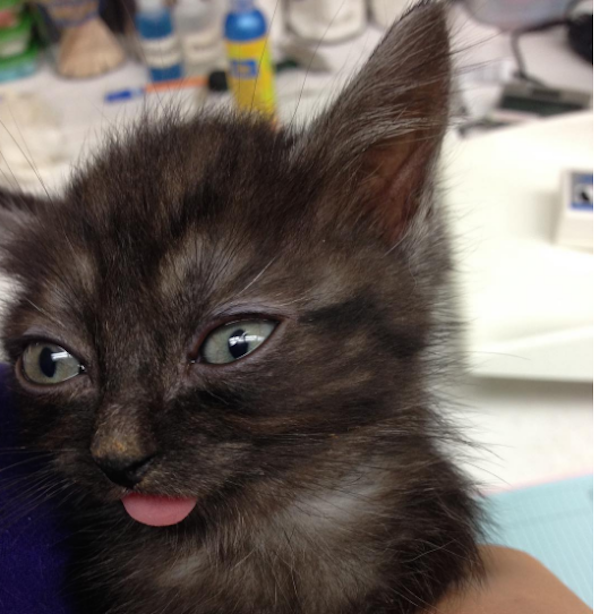 She was smitten.
Looking back, Natalie describes it as "seriously the best day of my life."
A medical exam determined that Mr. Magoo was "born with his lower jaw off to one side, causing his tongue to stick out 24/7." The exam also revealed he suffered from a moderately deformed skull, but other than this he was deemed to be in fine fettle.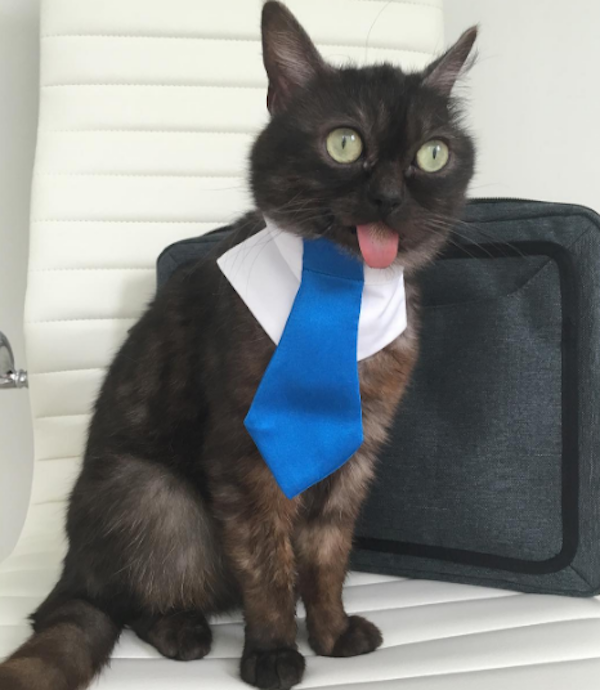 At this point, Natalie offered Mr. Magoo a forever home. It wasn't long before she realized that, because of his jaw situation, Mr. Magoo would need a very specific feeding regime.
"The only issues he seems to have is that he is the world's messiest eater," Natalie says. "Because of his jaw, he can't eat kibble so he can only eat soft food. He also likes to use his paw to bring food up to his mouth to eat, and when he is done he shakes his paw to get the left over food off."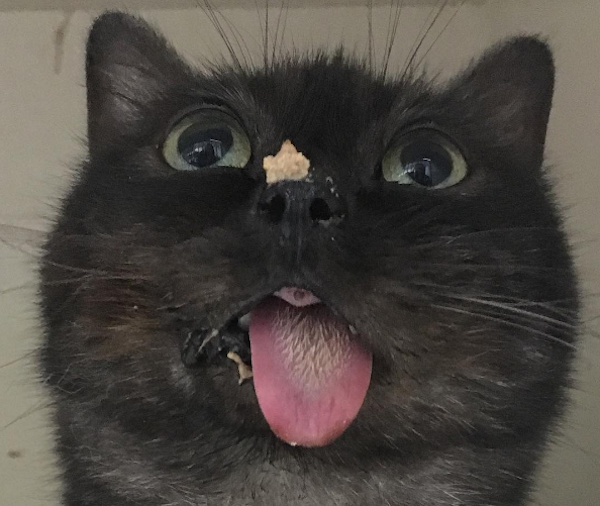 The result? A cat rarely found without at least some morsels of grub on his face. His protruding tongue also requires a little day-to-day maintenance. As Natalie says, "Unfortunately, the tongue does get a little dry around the edges, so whenever I see that happening I'll add more water to his diet and that seems to do the trick to keep it hydrated."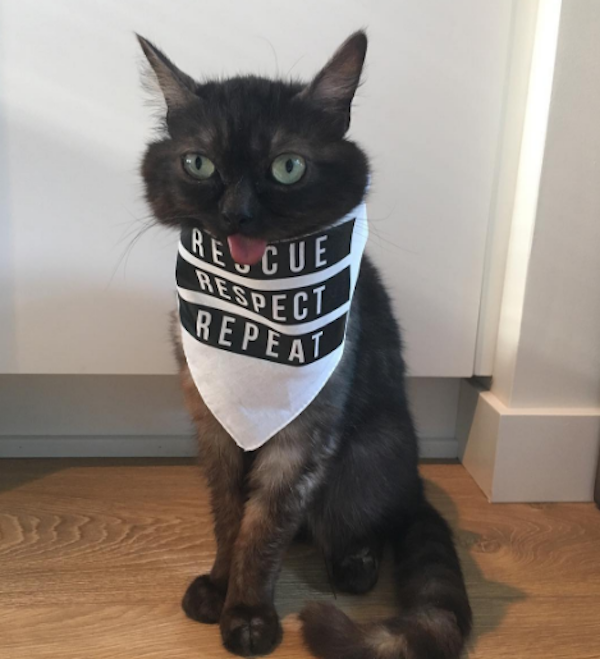 Beyond these food and water issues, Mr. Magoo is proving himself to be a well adjusted and loving feline.
"Magoo's personality is like no other cat I have ever met," explains Natalie. "He is the best companion, and he constantly shows me how much he loves me with his cuddles and goofy little attitude. I've never met such a loyal cat either — it's like he knows he was meant to be my little buddy."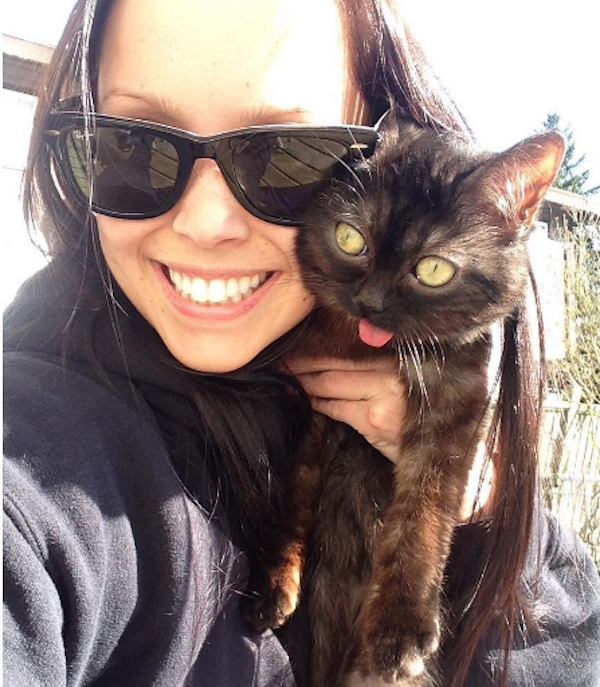 These days, Mr. Magoo has also become a personality on the social media scene, with his Instagram account amassing more than 30,000 fans. It's a safe bet that his faithful tongue is a significant part of his appeal — but shortly after relocating to his forever home, discussions were held with the West Coast Dental Specialists about measures to literally try and put his tongue back in his mouth.
The method of operation?
Breaking Mr. Magoo's jaw.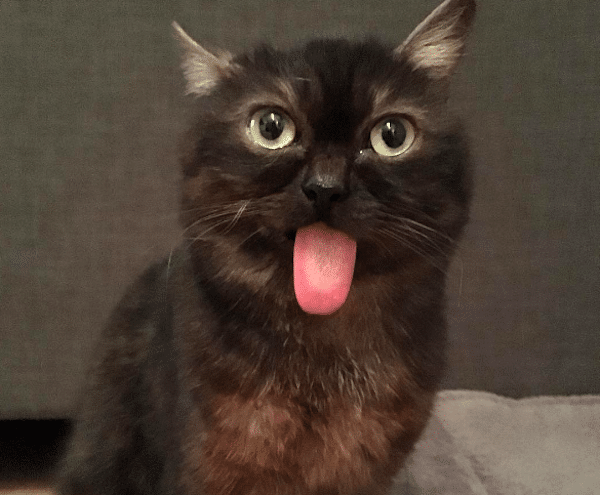 Natalie says that at first she was prepared to go through with the icky sounding operation: "I felt really sad because I knew that it was going to be a long painful recovery, but knowing that there was a chance to help fix him to be more comfortable in the long run would totally be worth it."
But issues arose with administering the anesthetic. So Mr. Magoo got to keep his constantly probing tongue — and he's proudly kept the endearingly goofy look ever since.
Check out more of Mr. Magoo at his Instagram page and website.