Do you believe you have a right to keep and bear arms and use said weapons to shoot cats? Well, that appears to be the bilious line of thinking that at least one resident of Waycross, Georgia, subscribes to after a two-year-old gray-and-white Domestic Shorthair was found peppered with 25 — yep, that's not a typo — bullet wounds. Miraculously, the cat, who has been named Oliver, survived.
At first, Oliver was discovered hobbling around and dragging his left hind limb by a lady named Abbie Wheeler, News4 in Jacksonville, Florida, reported. She assumed that perhaps he had been attacked by another animal — but when Oliver was eventually taken to the First Coast No More Homeless Pets organization in Jacksonville, the horrific extent of his injuries was soon discovered.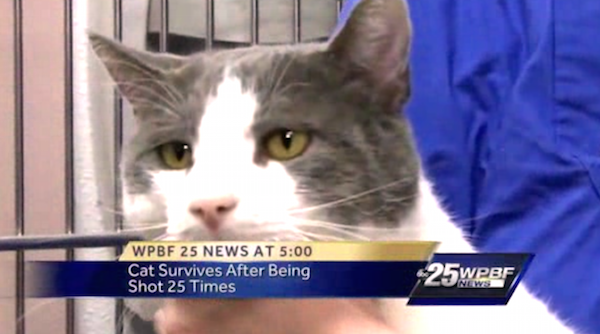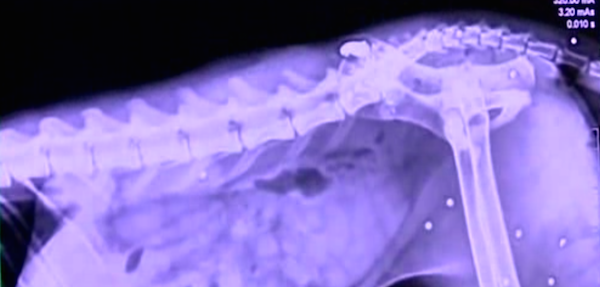 "He should not be alive — he should be a dead cat," Dr. Alana Canupp told the Orlando Sentinel when she reviewed an X-ray of Oliver's body. She found that he had been shot 25 times by a combination of two BB guns and at least one high-powered firearm. Vets operated to amputate Oliver's back leg.
Now having come through the operation, it's said that Oliver is on his way to completing a successful recovery. Most remarkable, despite the fact that he was used as target practice, Oliver is characterized as being a well-mannered and loving cat who likes to seek affection and petting from humans, while also getting on well with other cats and dogs.
Oliver is living at the First Coast No More Homeless Pets facility and a number of applications to adopt him are in the process of being reviewed. While he waits on his forever home, you can still donate to his medical fund and keep up to date with his progress via the First Coast Facebook Page.
Read more Monday Miracles on Catster:
About Phillip Mlynar: The self-appointed world's foremost expert on rappers' cats. When not penning posts on rap music, he can be found building DIY cat towers for his adopted domestic shorthair, Mimosa, and collecting Le Creuset cookware (in red). He has also invented cat sushi, but it's not quite what you think it is.