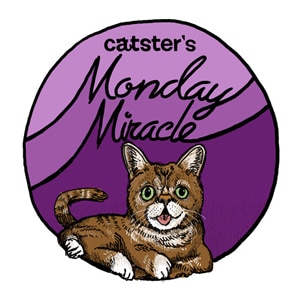 For this week's Monday Miracle, let's all stand up and salute a true blue homegrown hero. His name is Lieutenant Dan, he's a kitten who has battled against the cruel forces of life to overcome a physical difficulty, and while he might not be officially accredited by the United States Army and may technically be guilty of impersonating a public servant, he does indeed seem like leadership material. Here is a picture of the little Lieutenant to behold:
The story of this plucky kitty begins in the suburbs of New Orleans. According to martial myth, "Lieutenant Dan was born a seemingly happy, healthy feral New Orleans suburb street kitten in mid-December 2013." Unfortunately, he was ambushed by a cruel turn of events that left him unmoving and almost frozen under a fence when he was but five weeks old.
A municipal ally found Dan, assumed he was about to perish, and zipped him away to the nearest emergency vet. There he was brought back from the brink and given vital rations to chow down on. But then the vets noticed that the kitten's back legs did not seem to be functioning. (There were also bladder and bowel issues, but let's gloss over those.)
Thankfully, news of Lieutenant Dan's fighting spirit spread quickly, and an animal activist who was at the time out on another mission agreed to take him in as a foster. Obviously that foster situation quickly turned permanent.
These days, Lieutenant Dan might be signed up for "endless physical therapy," but his spirit shines through. "His motto is #whatdisability, because he lives his life not knowing or caring that he is disabled," relays a missive on his Facebook page. "He doesn't let anything stop him from getting what he wants. He seems to believe that no matter what life throws at you, you should just keep on going [and] head towards your goal."
To that end, Lieutenant Dan has been kitted out with a particularly spiffy set of wheels. (Aside: With all these superstar special needs cats scooting around in wheeled devices, I think it's about time someone organized a grand prix-styled showdown to find the champion cat racer.)
Summing up Lieutenant Dan's journey in life so far, his mom says, "We would like to let everyone know that most pet disabilities take no extra work over a 'normal' pet. Lt. Dan is a special case — but even he isn't too much to handle." Salute!
You can march on over to Lieutenant Dan's Facebook and Instagram pages to keep track of his latest missions.
Read about more Monday Miracles on Catster: 
About Phillip Mlynar: The self-appointed world's foremost expert on rappers' cats. When not penning posts on rap music, he can be found building DIY cat towers for his adopted domestic shorthair, Mimosa, and collecting Le Creuset cookware (in red). He has also invented cat sushi, but it's not quite what you think it is.