Cats love cardboard, it's a fact. This versatile material offers our feline friends many pleasures, from scratching and lounging to hiding and playing. Cardboard is great for making cat products because it can take most any form, it's relatively inexpensive, and to top things off, cardboard is eco-friendly. Most cardboard cat products can be recycled once kitty has used the life out of them.
But why is cardboard so attractive to cats? I can't say that there's any scientific research on the topic, but I have a few theories. First, cardboard has the ability to absorb scent, an important attribute for cats because they like to mark their territory by rubbing their scent glands (some of which are located along their jawline and between the paw pads) on any surface that will retain this olfactory imprint. It's their way of saying "I own this!"
In addition to leaving a scent mark, cats also like to leave a visual mark with their claws to show ownership of territory. Cardboard is a perfect scratching surface because it has just the right texture. Kitty will get to leave her mark, while she gives herself a manicure at the same time.
I'm constantly scouring the Internet for the coolest cardboard creations for cats to showcase on Hauspanther.com, the cat-style blog I founded, so I've seen a lot of different designs over the years. I've gathered some of my favorites here to show you that these primarily paper pieces can actually be both functional and quite beautiful.
Cardboard scratchers
Let's start with scratching, one of the most obvious uses of cardboard for cats. Every cat guardian is, no doubt, familiar with the basic cardboard cat scratcher, a plain flat chunk of cardboard that's not particularly exciting. Well, if that's not something you want to step over every day as you walk through your living room, then feast your eyes on these attractive alternatives.

First, we have a brilliant idea from the folks over at Cat Above. This is the ScratchPal Table with a built-in, heavy-duty cardboard cat scratcher in the base of a solid wood table. This multifunction piece does double duty as a side table for you and a scratching spot for your cat.
Next up is the Longboard scratcher from yours truly at Hauspanther, providing a more stylish take on the basic cardboard cat scratcher. The Longboard scratcher comes with your choice of hip graphics on both ends to add a splash of color to your d├®cor, plus it's extra long so kitty can practice her balance beam routine while she scratches.
Pet Fusion makes a variety of awesome cardboard cat products, and this is one of my favorites. It's the three-sided Vertical Cat Scratcher, a sleek and stable triangle featuring multiple surfaces for kitty to scratch on.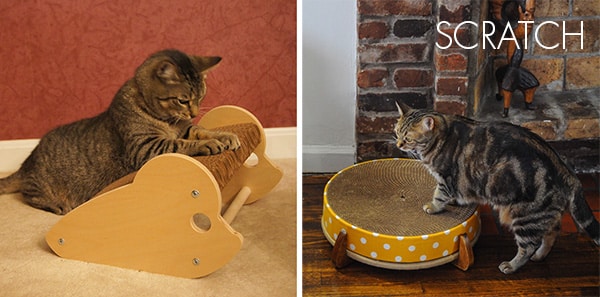 A couple of my other favorite handcrafted cat scratchers are Rattino, an adorable mouse-shaped cardboard scratcher with the perfect incline for digging in claws, and this lovely round scratcher on a raised base from Catnap Workshop, available in a variety of designer fabrics.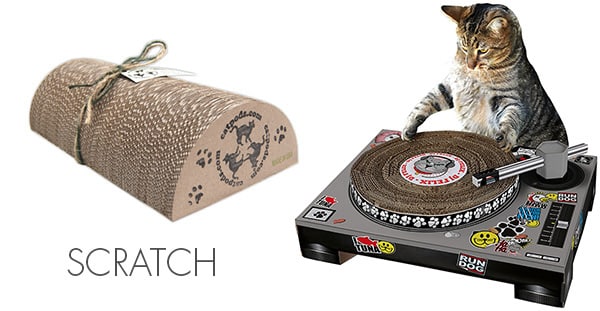 And finally in the scratching category, we have the Kitty Speed Bump from Catpods, a great scratcher and kitty bolster, and the DJ Kitty Scratcher from SUK UK, definitely for hip kitties!
Carboard Loungers
Now let's take that cardboard scratcher to the next level! It's time for some serious lounging on these beautiful cardboard cat creations. These pieces are more like fine furniture, and, although kitty may scratch on them, she will definitely enjoy lounging around on them, too.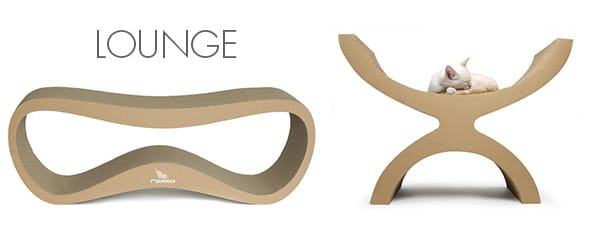 Here we have the Lui Cat Scratcher, handmade in Poland and available in the U.S. through modko.com. This elegant design allows your cat to scratch and lounge on top as well as inside. Pair the Lui Scratcher with the spectacular design of Elizabeth Paige Smith's classic Kittypod Couchette and your cat's furniture just might be nicer than your own!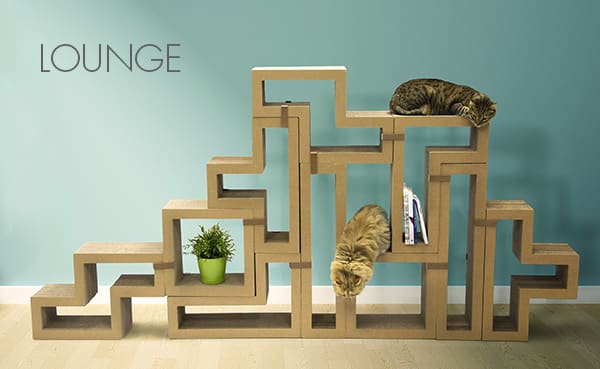 The Katris cardboard cat-climbing system from Papercut Lab is one of the most exciting things to happen to cardboard in years! These geometric cardboard pieces fit together like the shapes in the game Tetris, allowing you to create a completely customized cat-climbing habitat. Build up and out in any direction and add on to your heart's content.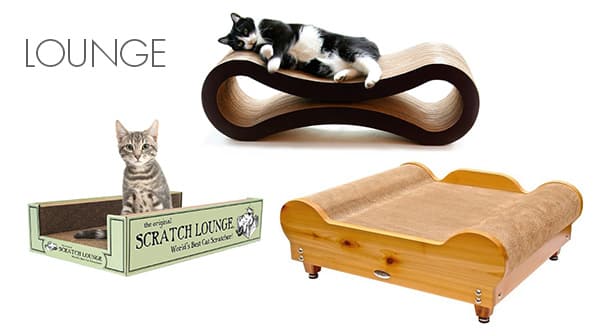 Cats love curves and edges on their cardboard lounges and these three pieces are perfect examples of those features. The Scratch Lounge is a nice wide corrugated cardboard scratcher with raised sides, which give kitty something to rest against when lounging. This one is great because you can flip over the bottom and the sides to get twice the use out for the cardboard.
The PetFusion Cat Scratcher Lounge is another favorite with my cats. It has an irresistibly curved shape on top, which the cats melt into. I have cats who will spend all day on this lounge.
And finally, the ultimate cardboard throne for your beloved cat, behold the Big Baby Comfort Lounge from Brawny Cat. The extra large and ultra-durable scratch pad sits on a raised wooden base with a comfy backrest. The curved bolsters on each side give even the biggest kitties the support they need to really settle in for a good nap, plus the scratch pad can be flipped over for extended use, and there's even a hidden storage compartment under the scratch pad.
Cardboard hideaways
Cardboard kitty hideaways are a popular trend right now. These little cocoons give kitty a place to get away from the commotion and chill out. Position one or two strategically around your home and your cat will be sure to find them.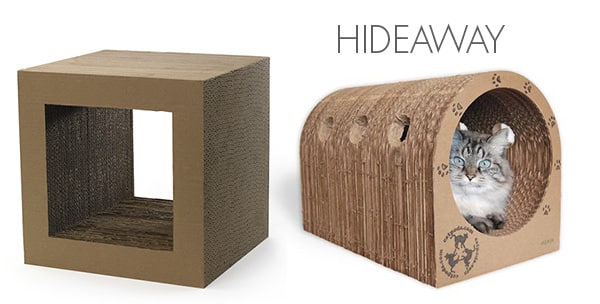 The Kittyblock is a great cardboard cocoon for your cat. You can also stack these on top of each other to create a custom kitty climber with lots of nooks for scratching and hiding. The Original Catpod is a fun, tunnel-shaped cardboard cocoon with little portholes on the side for peeking noses and poking paws through. The perfect cozy getaway.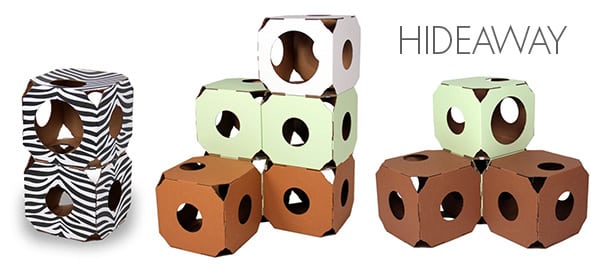 Here's another way to create a custom kitty habitat. It's Catty Stacks, easy-to-assemble cardboard cubes, which fit together to create passageways and climbing towers. Customize your Catty Stacks to create any size and shape you want. Available in several colors and two fun animal prints!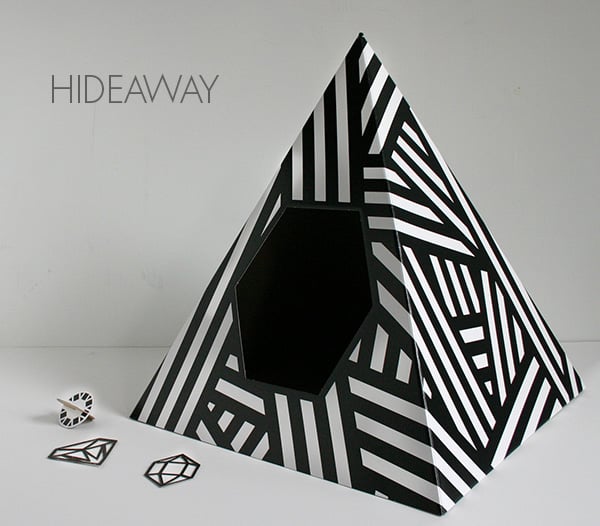 Let kitty recharge in the Energy Pyramid from Love Thy Beast. This stylish little cardboard hut has a nice large opening for watching the world go by, plus the graphic black-and-white pattern will look great in your home.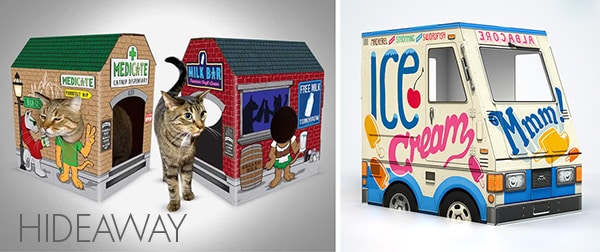 And now for some fun! These adorable cardboard playhouses for cats not only create excellent hideaways, but you're guaranteed to have some amazing photo ops! Meowses Cat Houses feature two hilarious designs, the Catnip Dispensary and the Milk Bar, so kitty can enjoy a night on the town. And for a tasty treat, check out the Ice Cream Truck for Cats from Famous OTO, with all kinds of little details, right down to the windshield wipers.
Cardboard playing
And last but not least, let's not forget that cardboard makes great cat toy. It's the perfect texture for biting and grabbing, plus it's light so cardboard cat toys are easy for cats to toss around and bat across the floor. Here are some of my favorite cardboard cat toys:
Flips Eco Friendly Flying Disc Cat Toys from Urban Pet Haus are fun flying rings and little cardboard balls that kitty will chase around for hours, before retiring to her cardboard hideaway for a nap. Flips come in a sheet with 12 discs and three balls.
We've got several fun cardboard cat toys from Hauspanther (cardboard is one of our favorite materials to work with!) Check out our Eco Splats, Eco Stacks, and Eco Flyers, all designed for tossing, chasing and chewing.
And for more complex play, you'll love the Cat Amazing cardboard puzzle box for cats, with beginning, intermediate and advanced levels of play.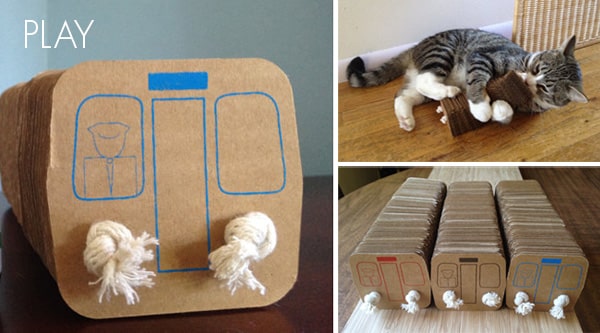 And don't forget to give your cat a little something to kick the snot out of! The Subway Train Hug & Kick from the Sky Scratcher is just the ticket. This cute little cardboard train car will stand up to kitty's best beating, and when she's destroyed it completely, just toss the remnants in the recycle bin.
Did I miss a cardboard creation you love? Tell me what it is in the comments!
Read related stories on Catster:
About the author: Kate Benjamin is the founder of the popular cat style blog Hauspanther.com. She specializes in helping people live stylishly with cats. You may have seen her on Jackson Galaxy's show My Cat From Hell. Make sure to check out Kate and Jackson's new book, Catification: Designing a Happy and Stylish Home for Your Cat (and You!).