Not all cat cafes are the same. I'm learning that real fast. Having been to three cat cafes in the past six months (and more before that), I find that while the basic recipe is the same, the "vibe" of every cat cafe is different.
Lady Dinah's Cat Emporium in London was casual English elegance. While the atmosphere was certainly playful, I felt like I was visiting my cool aunt's "cat wing" in her English cottage.
Cat Cafe Miysis, in Yokohama, Japan, was like visiting a friend's much nicer, much larger apartment. The cats of Miysis were laid-back, confident but casual, seemingly viewing humans as merely "necessary" for food and play.
I thought I pretty much knew what to expect at my recent visit to Cat Cafe Leon, or Neko Cafe Leon ("neko" is "cat" in Japanese). But from start to finish, I was delighted by the unexpected at this "little cat cafe that could" in the Ishikawacho area of Yokohama.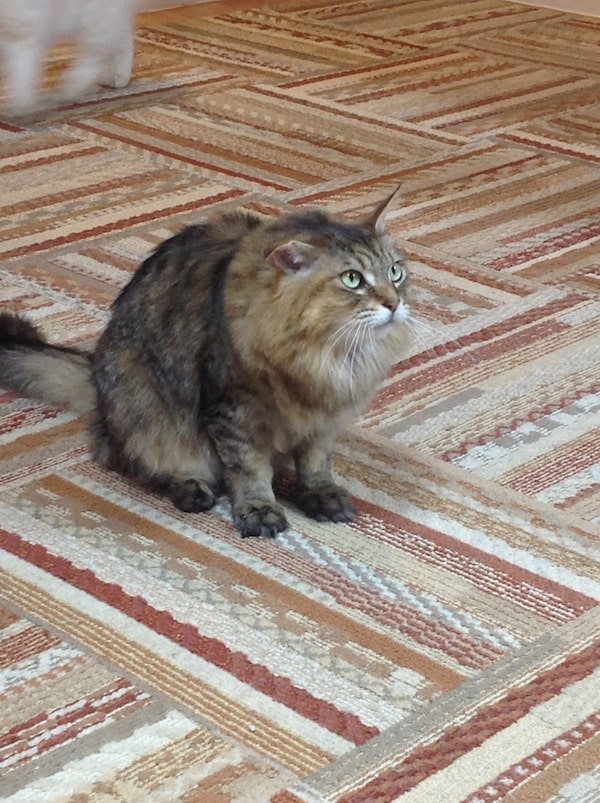 But blink and you might miss it.
The entrance was an unremarkable door on a gray-brick building. The only indication of a cat cafe was a sandwich board with a printout tacked to it. Peering into the dim hallway, metal mailboxes lining one wall, I was dubious.
Until I wasn't.
A few feet into the hallway, we stepped into the light!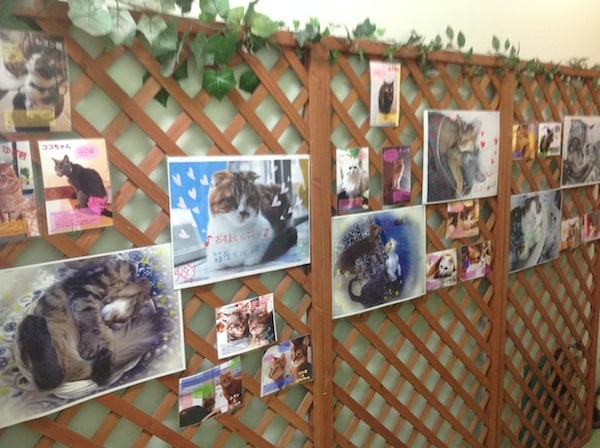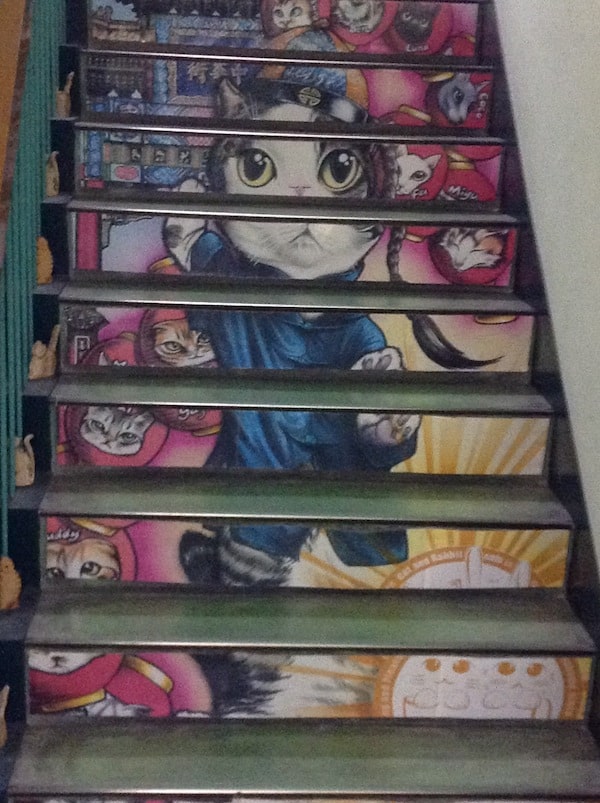 The stairs sold me. Follow the "kitty brick road" — stairs! — to cat bliss.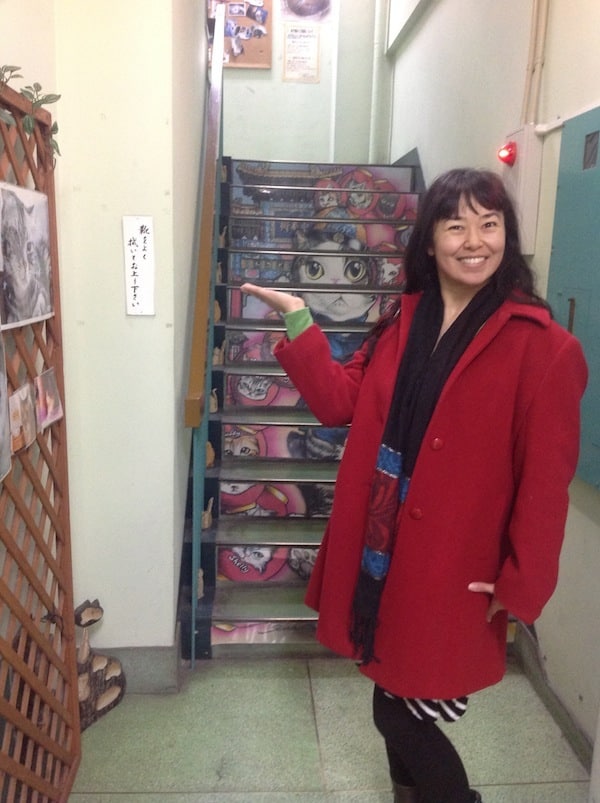 On the second floor, my husband and I were confronted with this: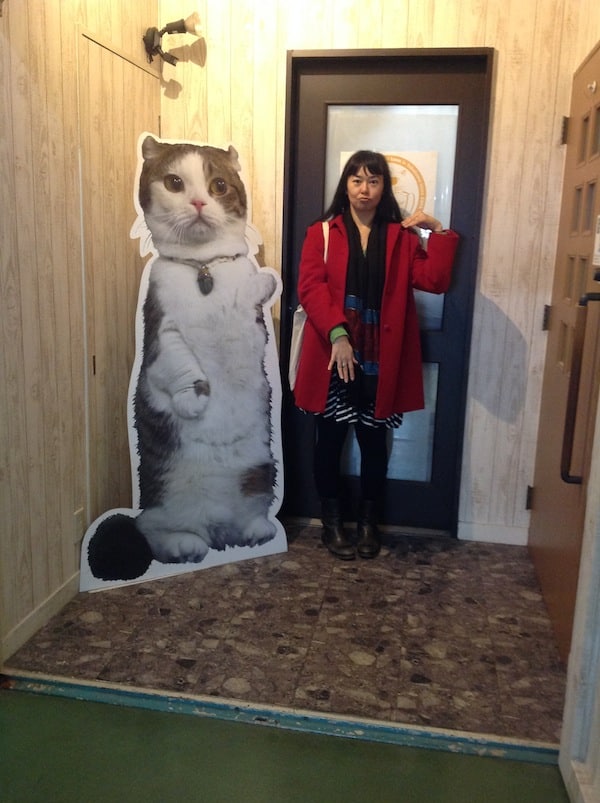 A giant cardboard cutout of Leon himself!
Stepping into the cozy lobby of the cafe, we were greeted by an enthusiastic Japanese man with a clipboard. He informed us that there was a short wait (there often is, especially on weekends) and that if we would leave our phone number, he'd call us when there was space available. If you decide to visit Neko Cafe Leon, know that some waits can be as long as an hour, so plan on exploring the surrounding shopping and restaurant district.
Luckily, our wait was very short. We were in in 10 minutes.
Entering the cafe again, we took off our shoes (as is the custom in many more traditional Japanese establishments) and placed them in the little cubby holes provided. We were then asked to throughly wash our hands at a sink in the lobby, then apply hand sanitizer. Washing your hands before interacting with the cats in a cat cafe is pretty standard.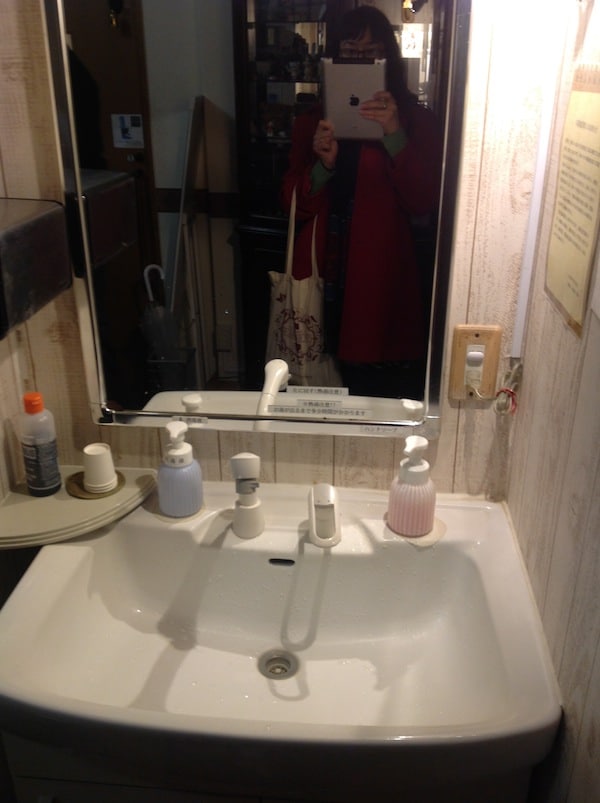 We were escorted to a seating area where our cat cafe worker explained our options to us. If Lady Dinah's was my aunt's cottage, and Miysis was my friend's cool urban apartment, Neko Cafe Leon is my uncle's rec room. My cool uncle — the nostalgic one who plays guitar and misses road trips from the '70s, man. There's definitely a retro family-room vibe to the place.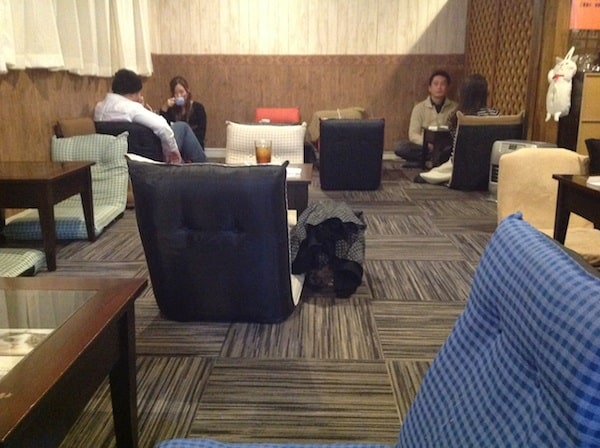 The cost is around $6 per 30 minutes, plus you have to purchase at least one beverage. They have a surprisingly extensive menu, and you can even get set courses. The Mr. Ben Course gets you three hours with the cats, two drinks, and a "chewy cookie," all for about $22.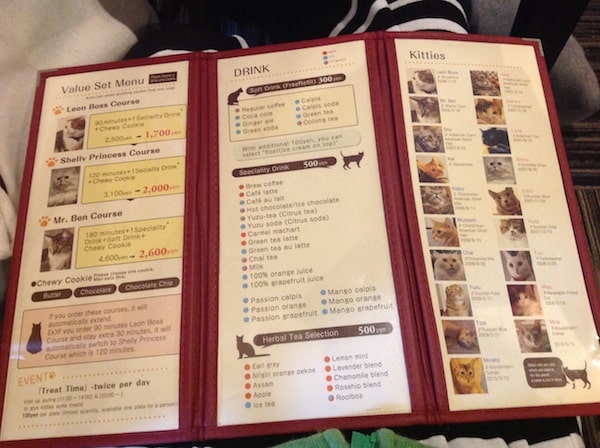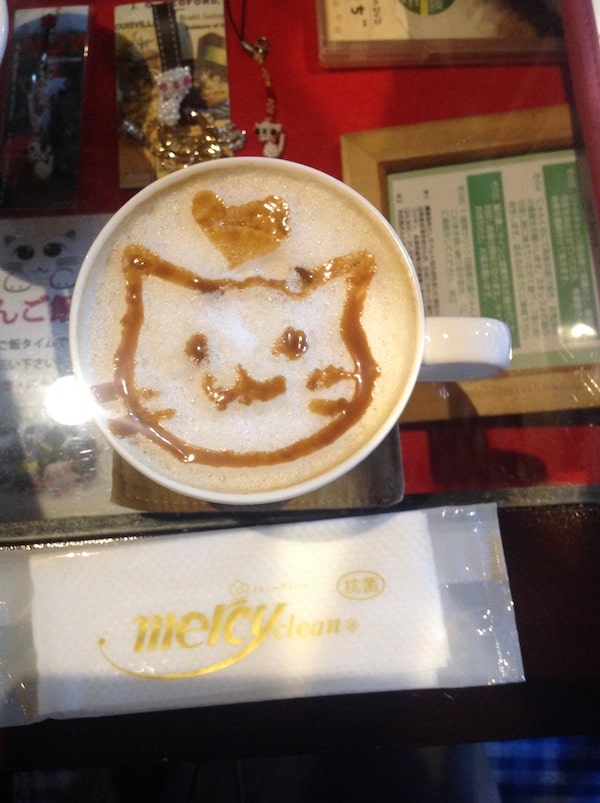 Of course, the usual cat cafe rules applied: No picking up the cats, no taunting the cats, and no feeding the cats anything other than the cat food the cafe provides. The cats run the show — period.
But on to the cats!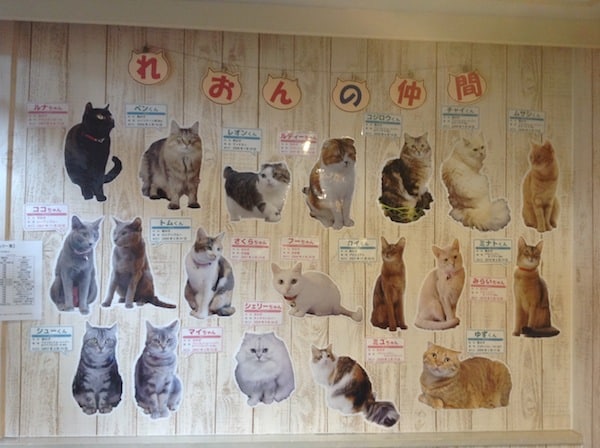 Upon entering the rec room-style cat room, we were greeted by 10 of the 19 cats, in various states of frolic and repose. I should note that despite the groovy-uncle decor, the cat room was very clean and almost odorless.
The first cat I struck up a conversation with was Yuzu.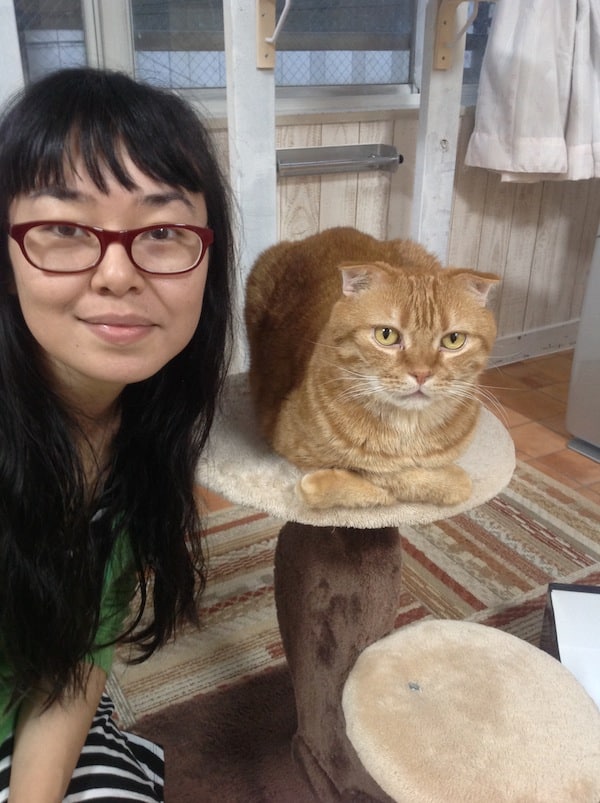 He was large and in charge. He stalked around the small, uncluttered room like a boss. What I noticed within 10 minutes of plopping down on the heated rug in the middle of the floor (only two small couches that I could see; all Japan-style floor sitting for humans) was that the cats of Neko Cafe Leon really had their own little society. They just allowed us to be in it.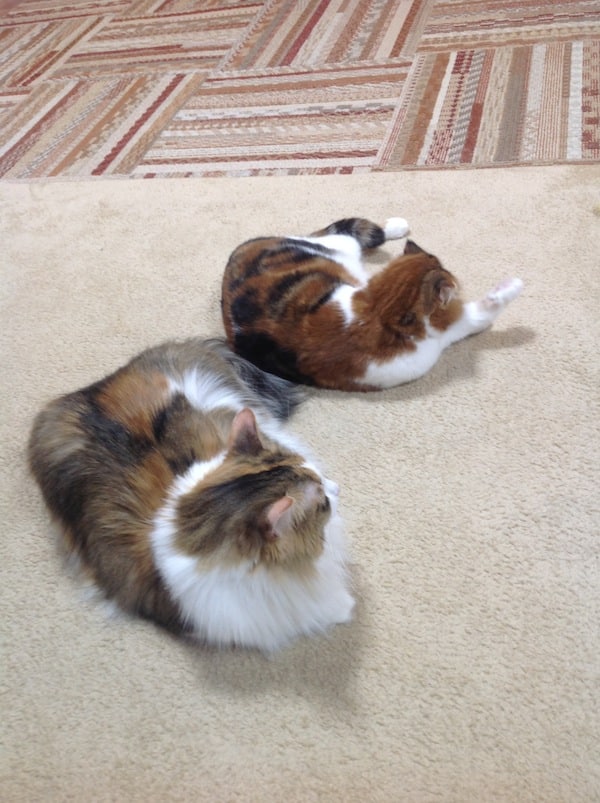 The cats were not unfriendly — on the contrary, they seemed to enjoy playing with us humans — they just also had their own cat business to attend to.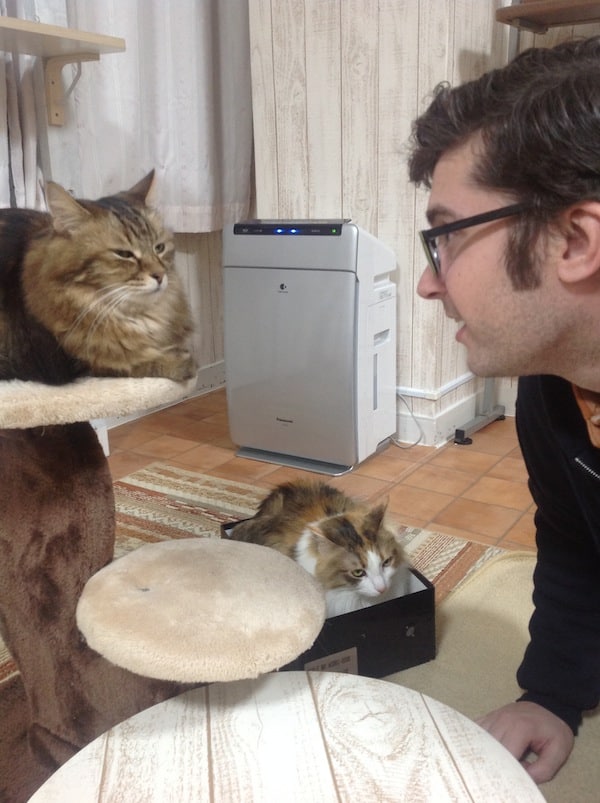 And when human interaction just gets to be too much, the cats aren't above, well, rising above it all.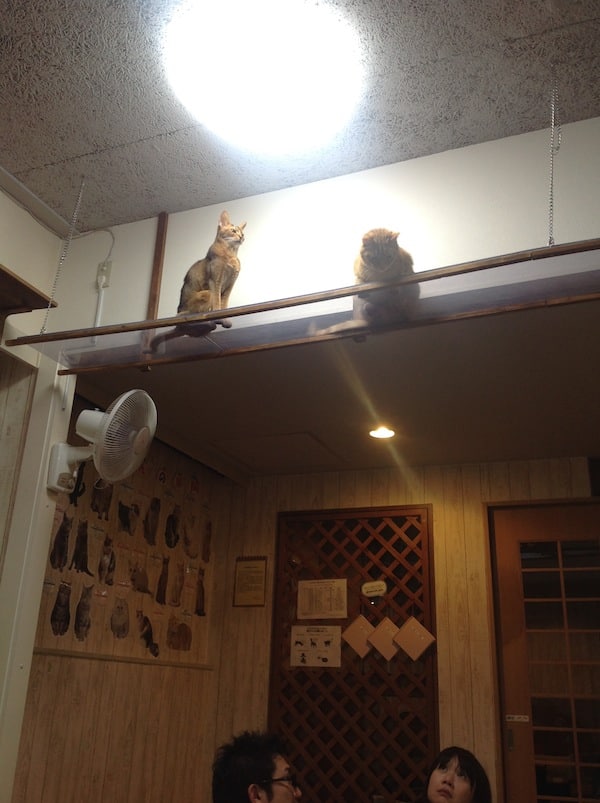 However, kitty society snapped to attention when LEON himself entered the room.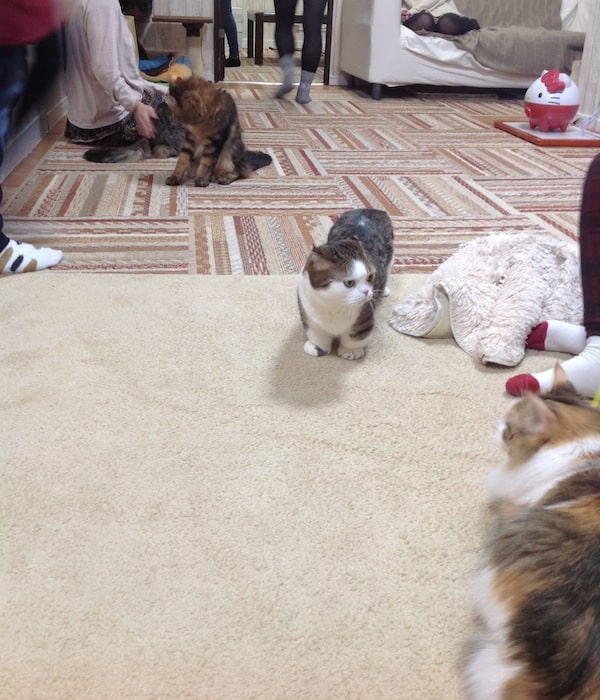 The cats weren't the only ones who sat up a little taller when Leon entered. From what I gather, Leon is something of a minor celebrity.
Neko Cafe Leon's "poster cat," Leon, is a Munchkin Cat who stands up on his hind legs like people (witness the cardboard cutout by the entrance) and has been the subject of various blogs, articles, and media coverage. Women literally squealed when he came out of hiding. Swoon!
Unlike most of the cats who can be adopted if a potential adopter goes through an interview process (I love that cat cafes here treat adopting a cat like a job interview), Leon's forever home is his namesake cafe. Maybe that's why, despite being the smallest cat in the house, Leon exudes confidence. He swaggers.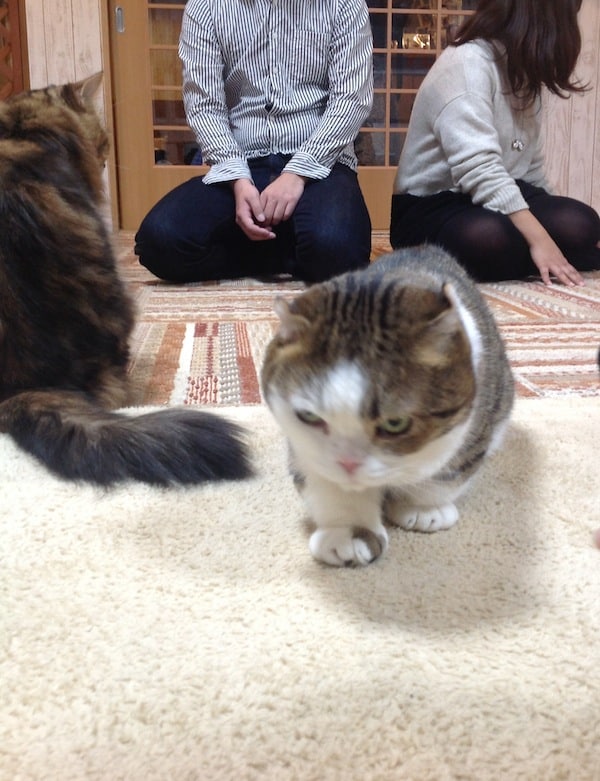 Leon made his rounds — checking in with the other cats, breaking up skirmishes, doing his duty of swatting a mouse toy or two. But when Leon wanted to be somewhere, it was remarkable how other cats deferred to him.
Here's Leon putting Yuzu in his place.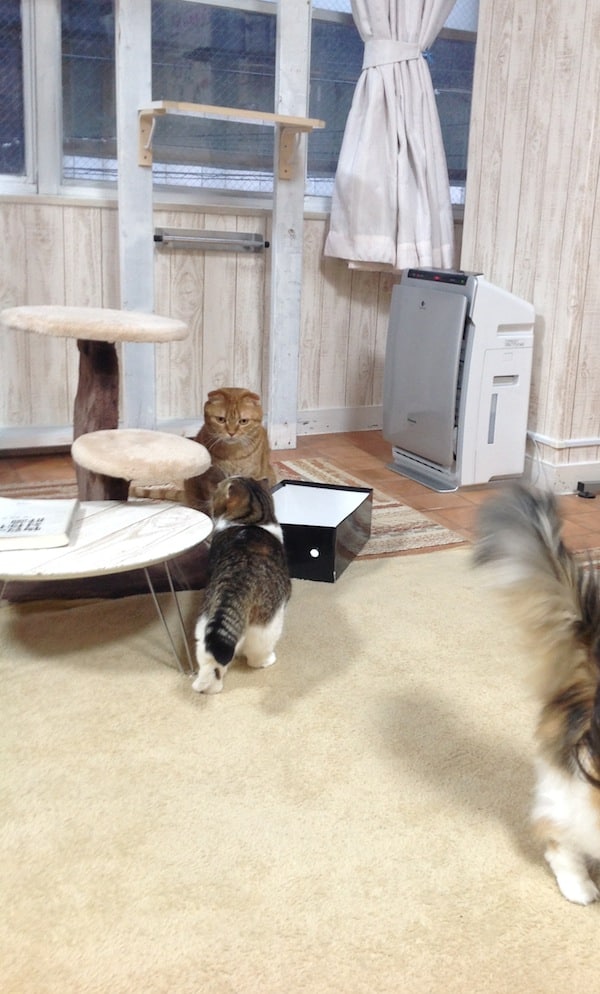 Of course, there was the epic drama of THE CARDBOARD BOX.
Fuu had the cardboard box.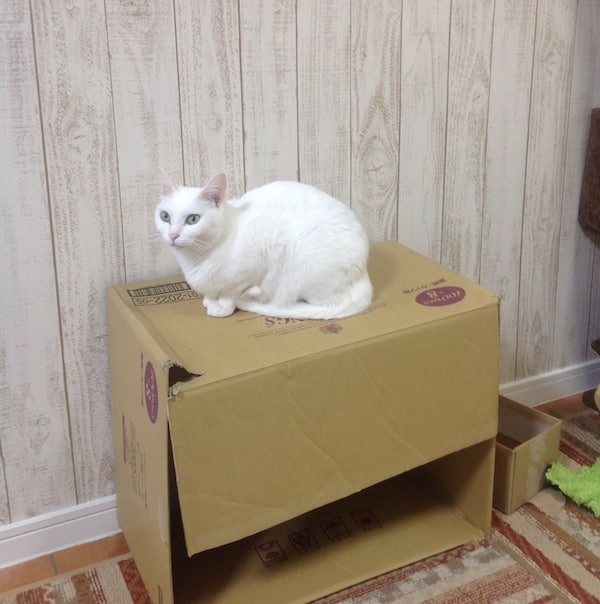 Leon wanted the cardboard box.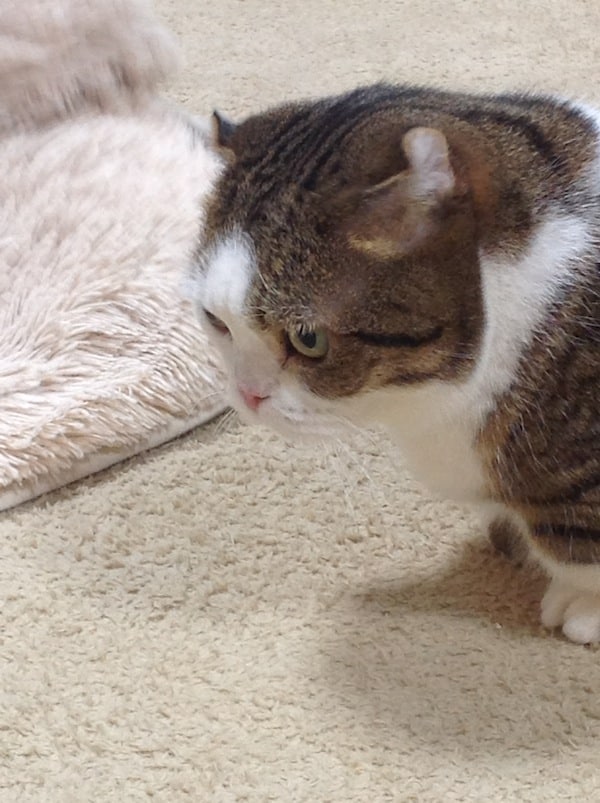 So Leon chased Fuu away.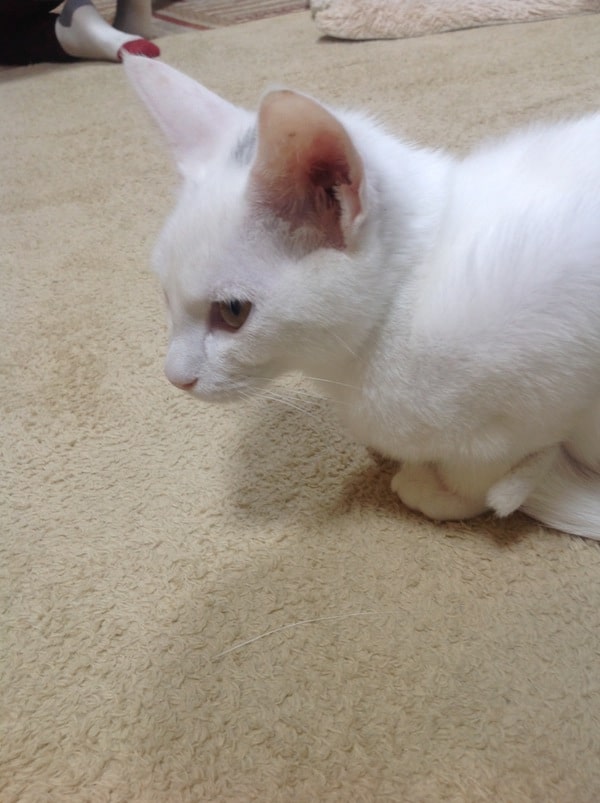 And Leon claimed …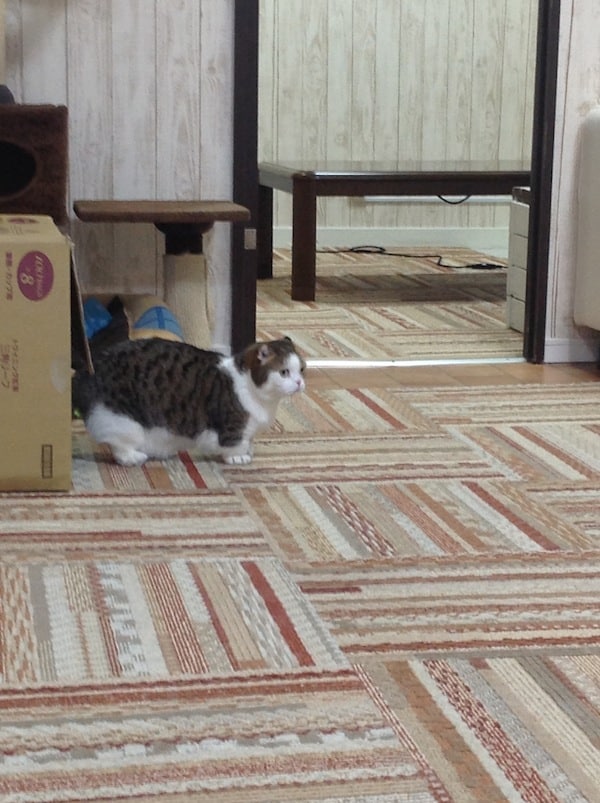 his …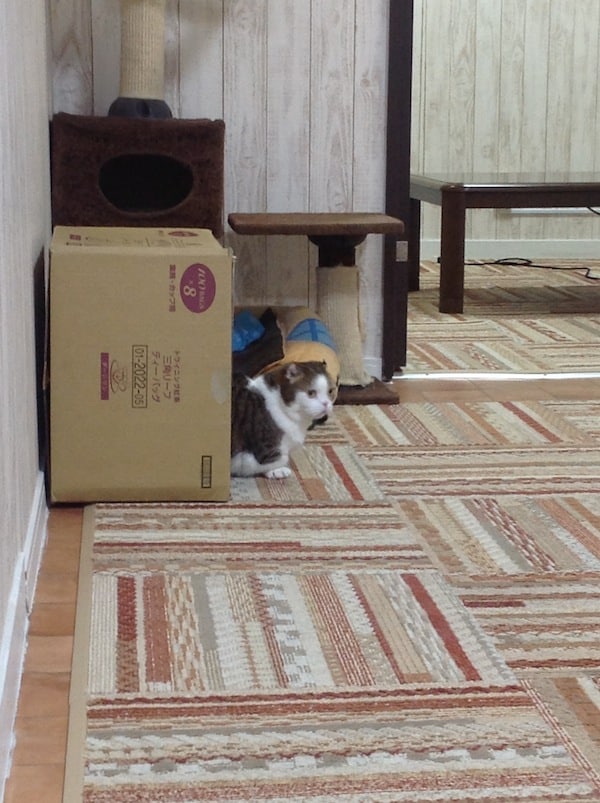 box.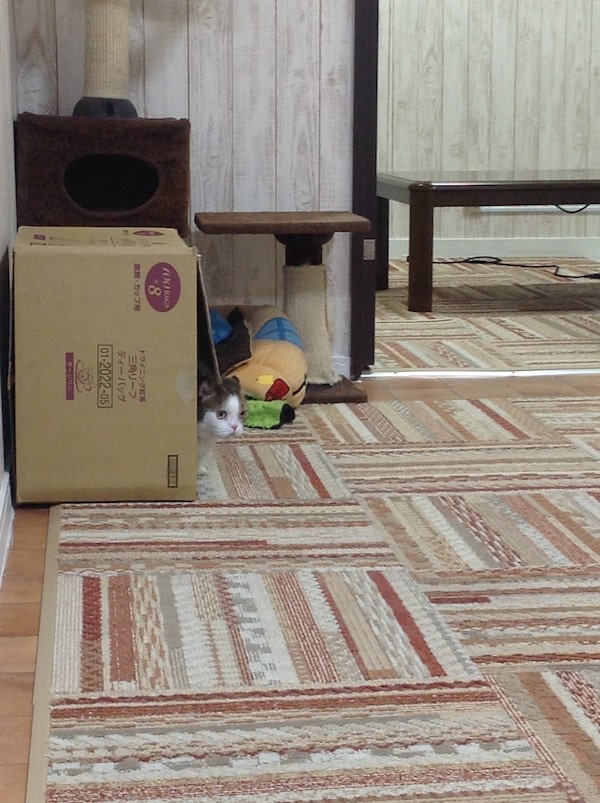 Finally, it was snack time. A cafe worker came out holding a tray with many bowls of kibble. She explained that she would pass out the bowls, then tell us when we could put them down for the cats.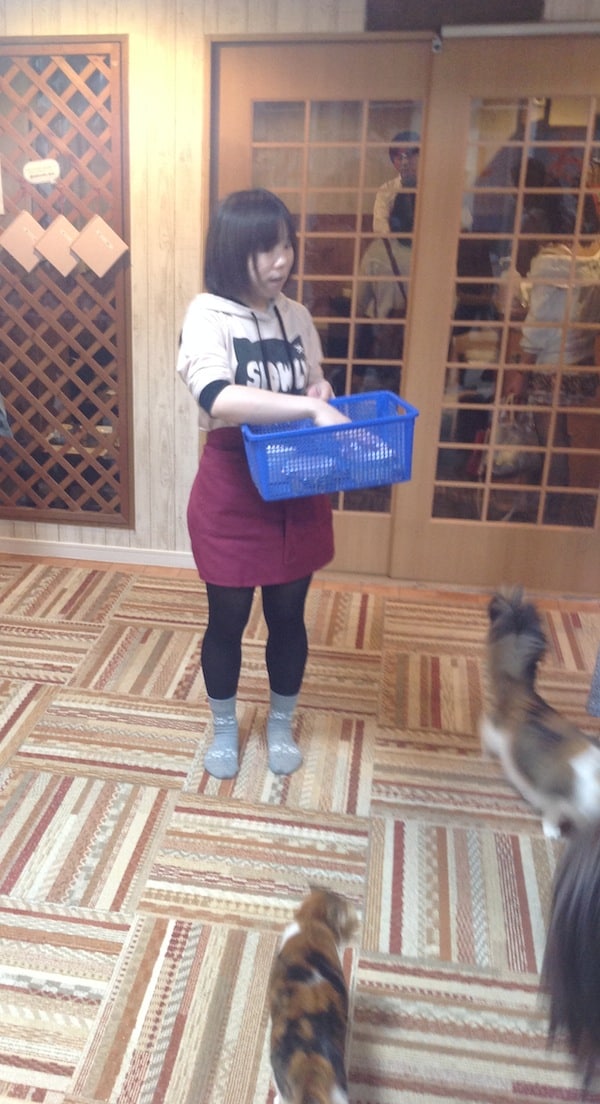 After she handed out the bowls and the cats were drooling at our feet, she held up Leon's SPECIAL BOWL and said, "ITADAKI-MEOW!"
In Japan, before eating a meal, it is polite to say itadakimasu or "I humbly receive." It expresses gratitude to those who prepared the meal. Itadaki-MEOW was in keeping with the Japanese love of wordplay.
We all said, "ITADAKI-MEOW!" and put the bowls down for our hungry friends.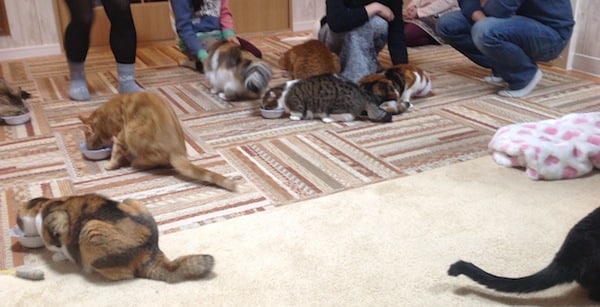 Mr. Ben snacking, me looking loony.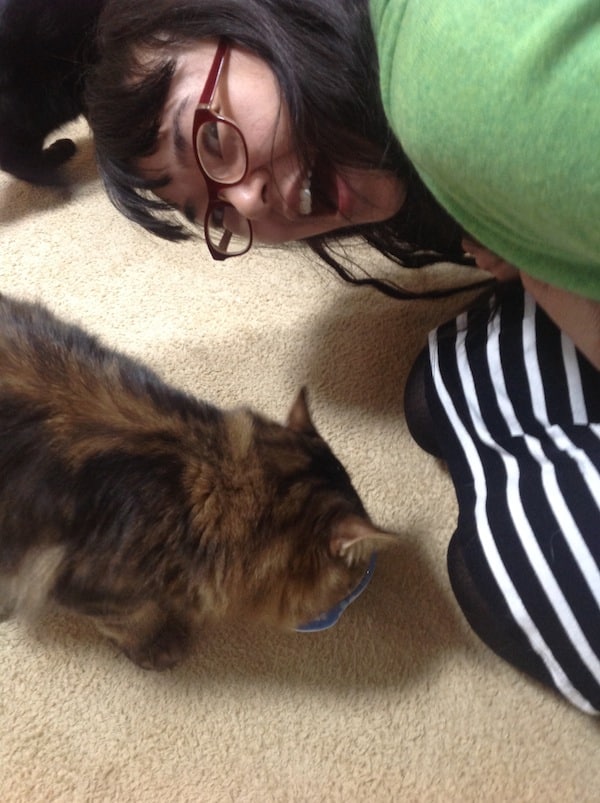 And, of course, what dignified cat doesn't clean up after eating.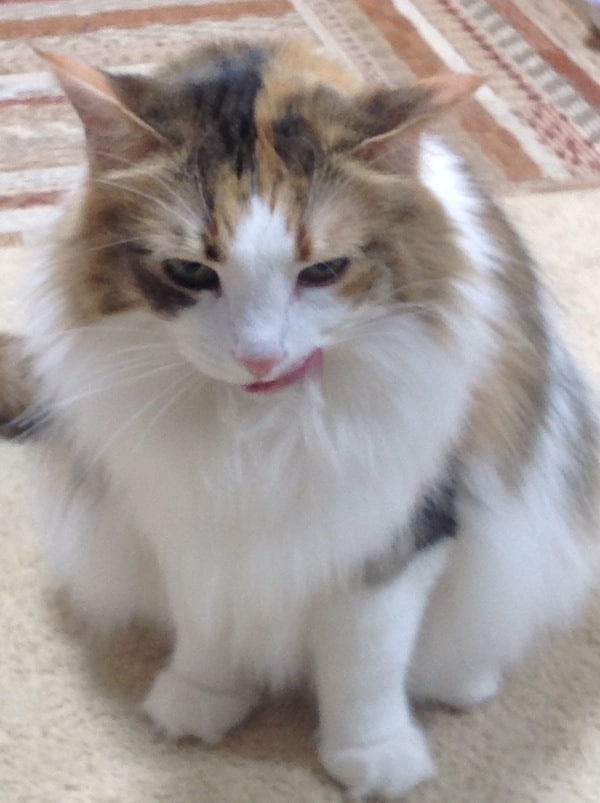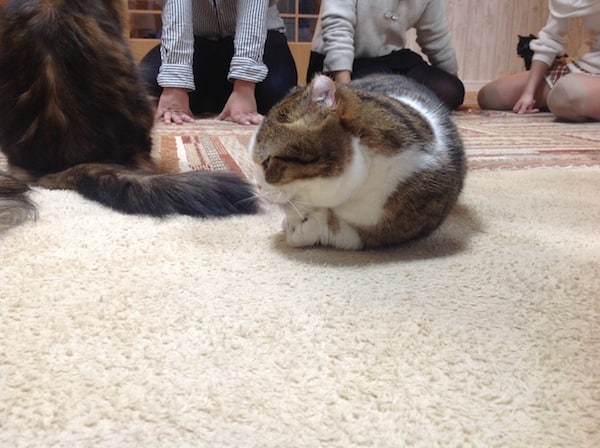 Sadly, it was time for my husband and I to leave. I would gladly have paid the $2 per 10 minutes to stay longer, but we knew that was a slippery slope.
Before we left, though, I couldn't resist laying down amidst the gaggle of kitties and soaking it in one last time.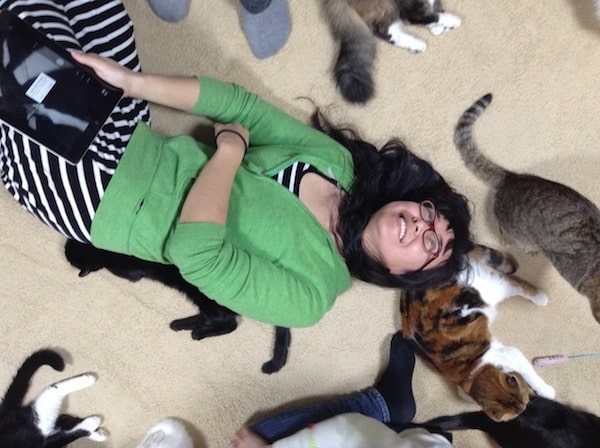 Don't worry, I'm not smooshing the black cat at my side. That's my pal, Luna. She sidled right up to me.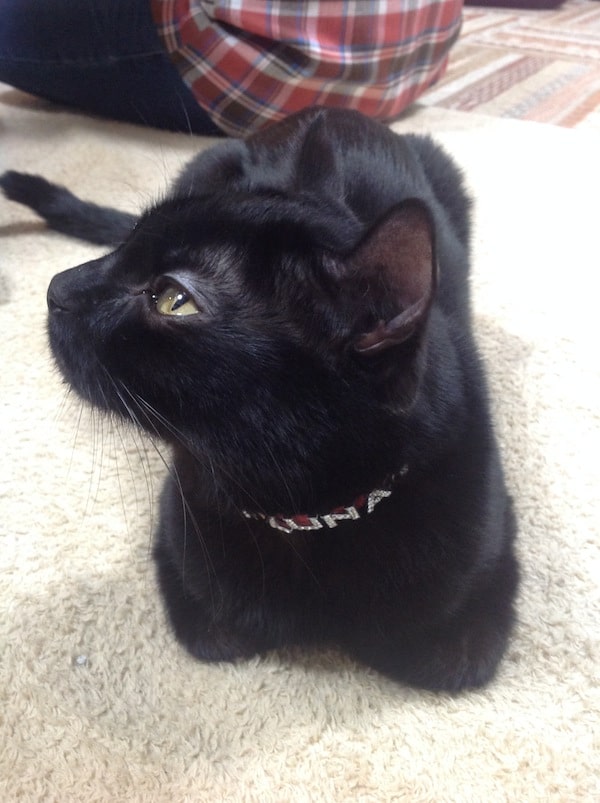 We bid farewell to the happy cats of Neko Cafe Leon and ventured back out onto the cold, cat-less streets of Yokohama. (I kid. I got to go home to my own cat, Brandy, who promptly sniffed me with disgust. "I know where you've been.")
If you ever find yourself in Yokohama, don't let Neko Cafe Leon's humble exterior deter you. Go inside, get a drink, and meet some of the coolest cats in town. Tell Leon I said hello!
Thank you to Neko Cafe Leon for such a delightful visit. All photos taken at Neko Cafe Leon. For more information, visit www.nekocafe-leon.com.
Have you been to a cat cafe? Where? What was your experience? Tell us in the comments!
Read our latest stories on cat cafes: