Every October, black cat syndrome spikes, bringing centuries of superstition and ignorance back to the surface. Black cat syndrome isn't a Halloween horror flick but a very real prejudice. Yes, the horror of bad things happening to black cats is a reality — which is why many shelters won't allow black cats to be adopted close to Halloween.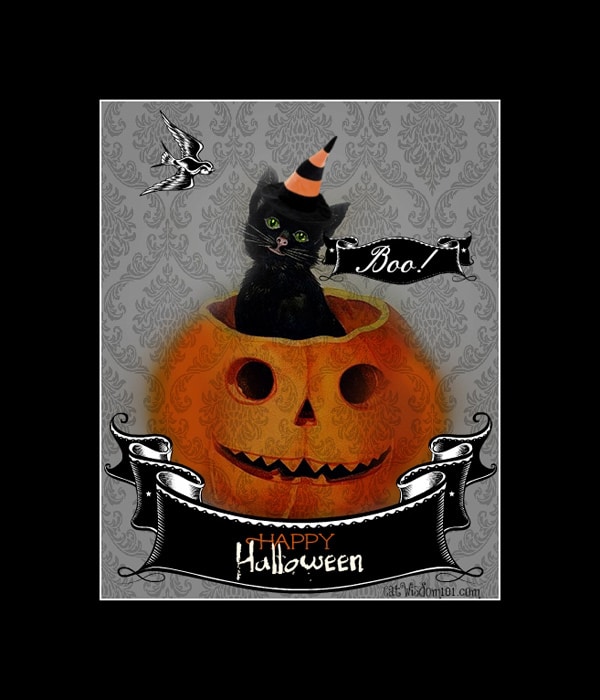 Years ago, a friend of mine accidentally let her two cats out on Halloween. One returned, but her black cat never did. It still haunts her. There is no expiration date on guilt or cruelty. Ironically, researchers have proven in a 2012 study, Human Perceptions of Coat Color as an Indicator of Domestic Cat Personality, that cat lovers do judge felines by their colors rather than their personalities. And those judgments can be deadly. Dark-colored cats in shelters are euthanized more often than light-colored ones.
Mikel Delgado, lead author of the study and a doctoral student in psychology at UC Berkeley, says, "Adopting a cat should involve evaluating the creature's personality, not its coat." Black cats were proven to be no less friendly than any other cats. In other words, don't judge a cat by its color. Until popular culture catches up with science, it's easier to be safe than sorry.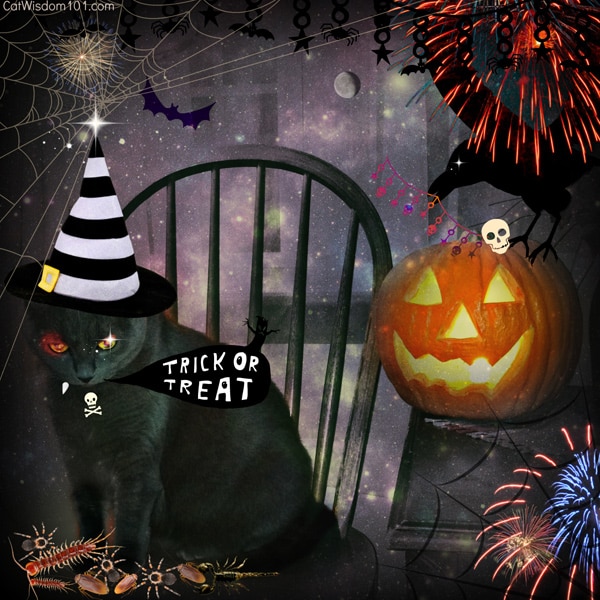 While Halloween is fun and festive for humans, it can be noisy, scary and potentially deadly for cats. This year, let's make it a delightful and not frightful Halloween for cats. Here are five ways to make that happen:
1. Holiday hell
Most cats don't enjoy holidays, which often involve parties, different foods and smells, decorations, and more comings and goings. Cats like routine. If you're expecting trick-or-treaters or having a party, your cats will wonder what the hell is going on.
Imagine it from their perspective. There's loud doorbell ringing, strangers in stranger costumes invading your cats' territory, children shrieking "trick or treat," adults having rowdy fun, more vehicular traffic, loud music, and the ubiquitous scary haunted-house soundtrack. Cats have a highly sensitive sense of hearing to begin with. Some cats are easily spooked and may react with unwanted behavior like peeing out of the box or redirected aggression.
Communicate with them before the action starts. Whether you believe in animal communication or not, it won't hurt. Tell them as you're preparing that everything will be back to normal the next day. Spray Feliway, the "feel-good" pheromone, in their beds and comfort spots. If possible, sequester them in a room or part of the house away from the action and noise with their favorite bed, toys, food, water, and litter. This way they won't be underfoot at a party or slip outside with a frequently opening door.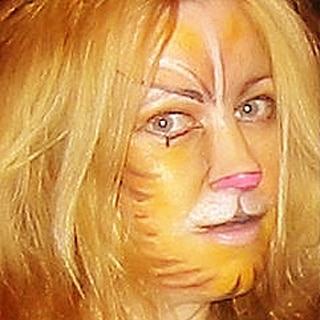 If you can't separate them from party central, make sure their food, water, and cat litter are easily accessed. A closet can be turned into to a makeshift "safe place."
If you have an indoor/outdoor cat, keep him indoors that day and night and lock the kitty or doggy door. Even the calmest or most sociable cat can behave out of character with unusual stimuli. You can preempt stress by adding calming homeopathic drops like Rescue Remedy or flower essences to your cat's drinking water the day before and the day of.
2. Treats can be toxic
Bowls of snacks, treats, and candy with crinkly wrappers can be tempting. Cats don't have the gene to taste sweet and can get sick or choke from snacking on chocolate or other treats, so keep all treats out of your cat's reach and ask party guests not to give any treats to pets.
When kids come home with their Halloween loot, give them plastic containers to stash their treats in and seal the lids tightly. Ingesting large amounts of high-fat or sugary treats can lead to vomiting, diarrhea, pancreatitis or kidney damage. Even small amounts of sugar-free treats containing xylitol are toxic. Symptoms may not appear for days. If your cat ingests anything foreign or toxic or has symptoms of lethargy, decreased appetite, vomiting, or diarrhea, call your veterinarian. If it's after hours, call your nearest emergency clinic or the Pet Poison Helpline at (800) 213-6880.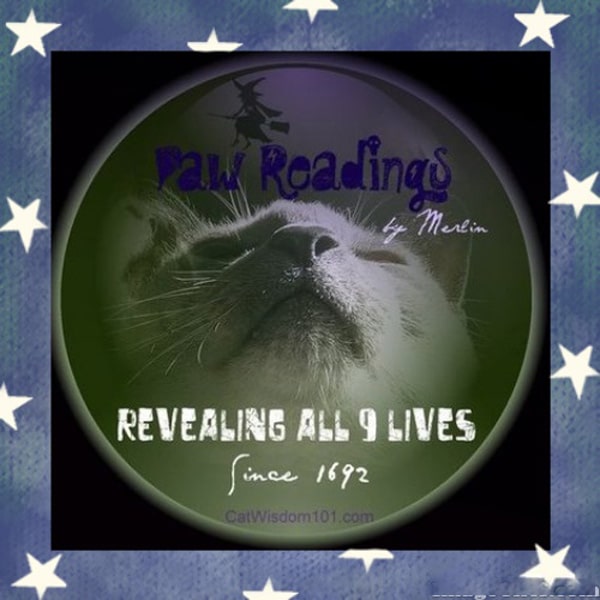 3. Decorations aren't toys
Cats, being naturally curious, are attracted to Halloween decorations, costumes, shiny foil, stringy cobwebs, and spooky lights. A little plain cooked pumpkin is healthy for cats, but raw pumpkins or blazing jack-o-lanterns are not. Keep all candles and electrical cords away from cats. Keep cats amused with their own new Halloween-themed catnip toys.
4. Cats and costumes = HOWLoween
Cats who love wearing costumes are rare, but there are more silly and cute designs than ever to feed the growing trend to anthropomorphize pets.
Respect your cat by thinking like one. What does she want? I don't know any self-respecting cat who wants to look like a bumblebee or a shark. Never force your cat to wear a costume.
If your cat doesn't mind dressing up, make sure the costume fits comfortably and is kept on only briefly and within your sight in case of "wardrobe malfunctions." Make sure it doesn't impair your cat's vision, hearing or mobility. Cats especially do not like having their ears covered; they rely on their rotating "satellite" ears not only for hearing but to navigate their environment. Watch for loose thread or pieces that could create choking hazards. Most costumes are made of synthetic and flammable materials, so keep well away from candles or fireplaces.
But really, the safest way to have Halloween costume fun is to go nuts with a photo-editing program.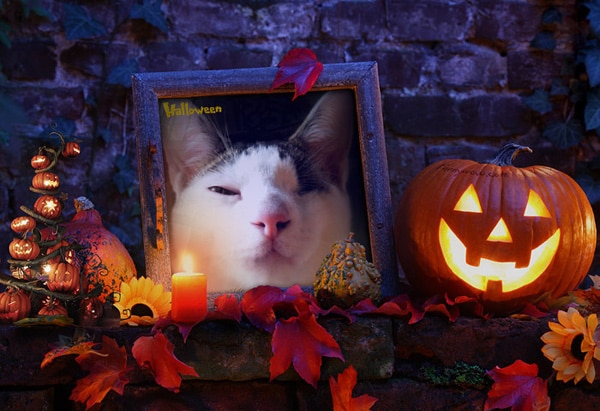 5. Just in case: ID
If your cat isn't microchipped, place a breakaway collar with ID on him just in case he manages to play Houdini and escape. Even if he is microchipped, he should wear a collar anyway. A colorful Halloween-themed collar can be a safer alternative to a costume. Many tags use QR codes or other smart technology for a quick and easy scan.
I greatly appreciate that pet owners can have peace of mind and safer living for our pets through our ubiquitously present mobile devices. Technological advances now enable us to monitor a pet's location via GPS, such as with the Tagg Pet Tracker. If your pet travels beyond the established perimeter, you will be notified by text or email.
All art by Layla Morgan Wilde
About the author: Layla Morgan Wilde is a holistic cat behaviorist, an award-winning writer/photographer and founder of the premier online magazine Cat Wisdom 101. A passionate advocate for cats, she founded the Toronto-based Annex Cat Rescue in 1997. In addition to her blogging at Cat Wisdom 101, she blogs at Boomer Muse, contributes to Petfinder.com and Nordic Spotlight. Wilde is a professional member of the Cat Writers' Association. She lives in Westchester County, NY with four cats.