I recently worked on a campaign with a cat food company in which one of my cats wore a collar camera and I uploaded images to an online scrapbook. They provided the collar cam (but you can buy something similar here), which looked bulky, but was actually lightweight and didn't seem to bother Phoebe in the least.
Since I already had the camera, I thought it would be amusing to allow each of my three cats to wear the cam for a short time and compare the images. I set the camera to take a photo once every 30 seconds. Here are my findings, along with a couple of shots from each feline photographer.
1. Phoebe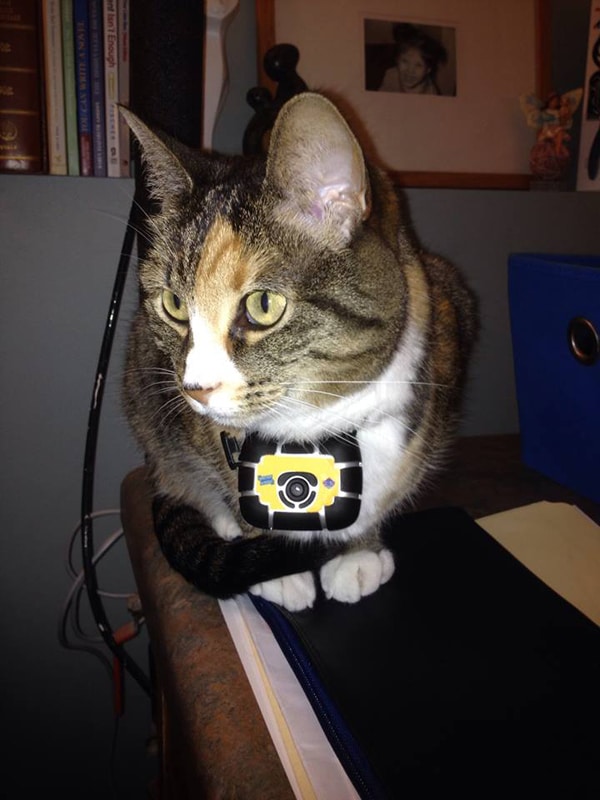 Phoebe was the original shutterbug, so she was quite used to wearing the collar cam. She's very active, so I found images from a variety of locations in my house (my cats all are indoor). She's on the move quite a bit, so some of the photos were blurry. In general, the little camera doesn't take the highest-quality images — most wind up on the cutting room floor; however, I could definitely glean some understanding as to how my cats spend their time.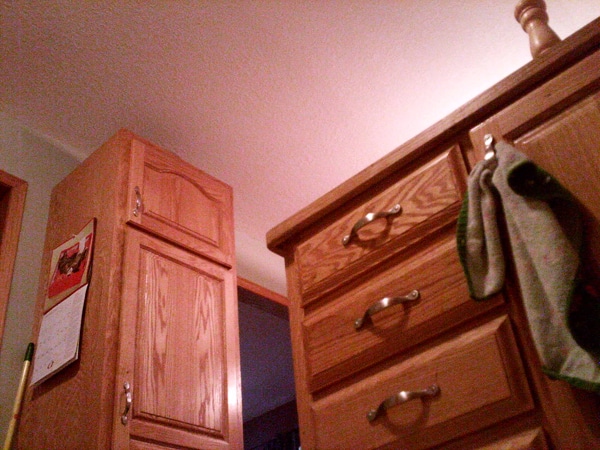 Phoebe enjoys sprawling out in front of the heating vent below the sink in the kitchen. There were a few dozen shots of views from that vent. Plus, treats are stored in that pantry she's looking at, so she'll have first notice if anyone decides to open the magical door.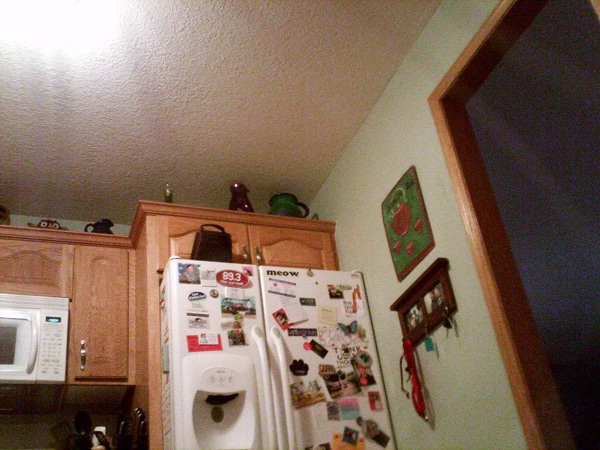 This is the view from her food dish. She's probably waiting for someone to walk by so she can look desperate. I also notice she's looking toward the hooks on the wall where we hang our keys. Could she be masterminding some sort of automobile heist? Honestly, I wouldn't put anything past that cat.
2. Cosmo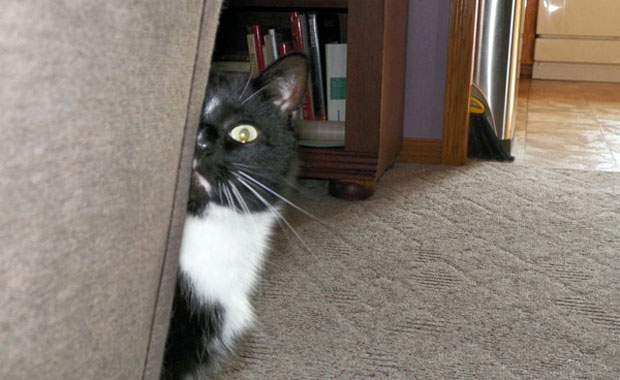 My man Cosmo was the next to try his paw at photography. He's a total mama's boy and demands a lot of my attention. Because of this, I assumed there would be plenty of pics of me — mostly unattractive ones. I was right.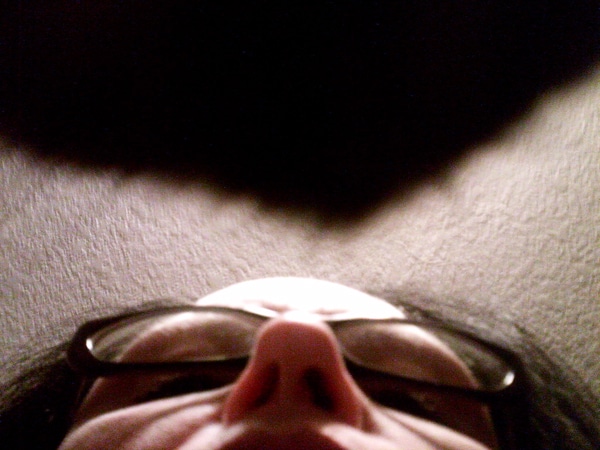 Cosmo likes me to hold him and he spends quite a bit of time in my lap. In the above photo, he's sitting on me and looking up into my nostrils. I've been really sick, so I'm glad there's nothing unsightly visible inside those things.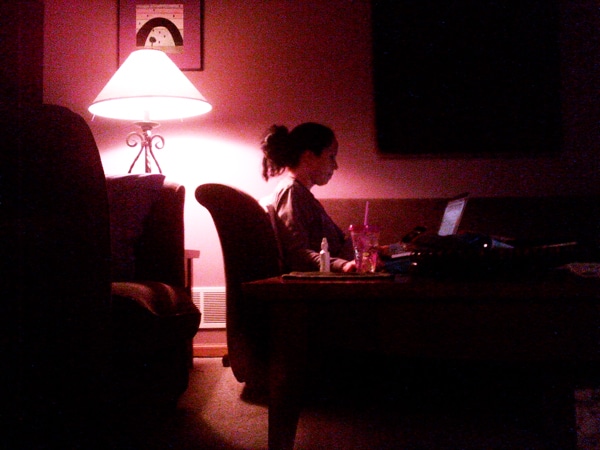 And when I'm not holding him, chances are he's watching me from afar like a fuzzy little stalker. I love that big weirdo. And now I have photographic proof of just how much he loves me.
3. Saffy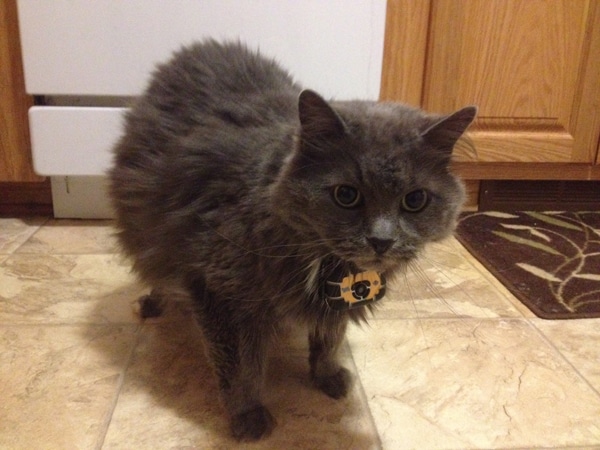 Saffy. Large Marge. Mighty Hippo. She really doesn't do much besides sleep, eat and stare. I tried to engage her in play so I could capture something interesting, but alas, I got what I expected to get.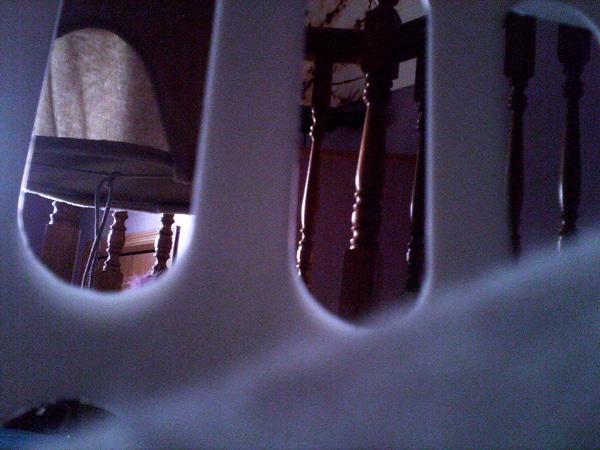 The girl loves a laundry basket. I always think it's hysterical how they think they're being all clandestine, but are actually pretty well exposed through the holes in the side of the basket. I pretend like I can't see them, though. I wouldn't want to damage their fragile self esteem. Ha.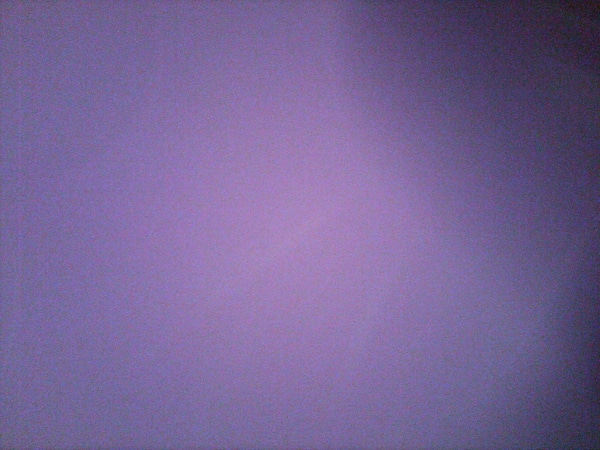 Yes, I have purple walls in my main living area — what of it? I think Saffy especially enjoys the color because she sure seems to stare at them a lot. I think they're pretty and would probably stare at them more often if I weren't so busy doing important things like putting collar cams on my cats.
What kinds images would your cats catch on their collar cams? Tell us in the comments!
About the Author: Angie Bailey is an eternal optimist with an adoration of all things silly. Loves pre-adolescent boy humor, puns, making up parody songs, thinking about cats doing people things and The Smiths. Writes Catladyland, a cat humor blog, Texts from Mittens (birthed right here on Catster) and authored whiskerslist: the kitty classifieds, a silly book about cats wheeling and dealing online. Partner in a production company and writes and acts in comedy web series that features sketches and mockumentaries. Mother to two humans and three cats, all of which want her to make them food.
Read more on Catster:
Read more by Angie Bailey: