According to the British tabloid The Mirror, black cats are being abandoned in record numbers in UK shelters: 70 percent of cats at the 16 shelters of the Royal Society for the Prevention of Cruelty to Animals are black.
This strange development in a nation where black cats have long been considered good luck has some officials concerned that it might be because, in a culture obsessed with social photo sharing sites and selfies, black cats just don't show well in photos.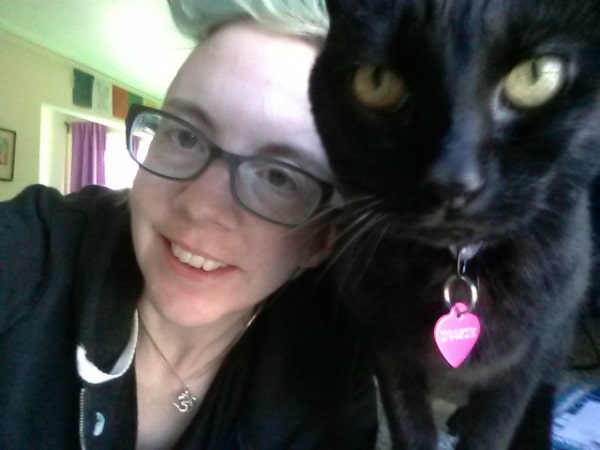 As the dedicated slave to two black cats, I know how hard it is to get a photo that depicts their elegance and style. In order to get good photos of black cats, you have to set the scene — lots of natural light, no flash, the cat sitting still or a camera with a high shutter speed, and so on — and then be willing to take approximately 304,839,203,848,303 billion photos in order to get a few good ones.
This problem is compounded when trying to get a selfie with a black cat. Rear-facing phone cameras take much lower-resolution photos than front-facing cameras, and it's hard to have a steady hand while holding your phone with one hand and your cat with the other. If you're using a regular digital camera, your photos may be higher in resolution, but you're lucky if you get a picture of the corner of your head and one cat ear, let alone a full-face shot of you and your feline friend.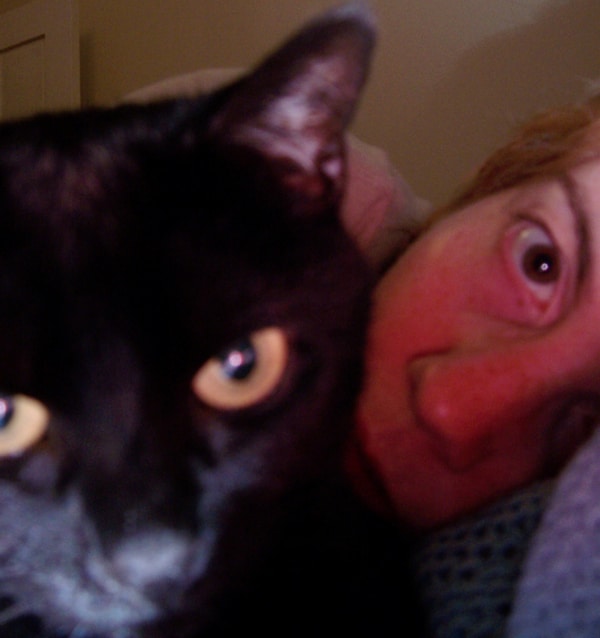 I'm pretty well-trained in the art of the selfie. I've lived alone for several years, but I still want to get photos of my beloved kitties and me, so the selfie is pretty much my only option. Does that mean I always take good selfies? Hell no! In fact, probably 99 percent of my selfies suck, about 0.8 percent of the remainder are passable, and the final 0.2 percent are actually images I'd be proud to include in a montage of my life.
How do I handle this? Well, first of all, I have changed my definition of a good selfie. I don't need my selfies to look like they were taken by somebody with a multi-thousand-dollar camera and lighting setup. If the composition is good — or at least, interesting — and the photo isn't blurry, it goes in the do-not-delete-immediately file.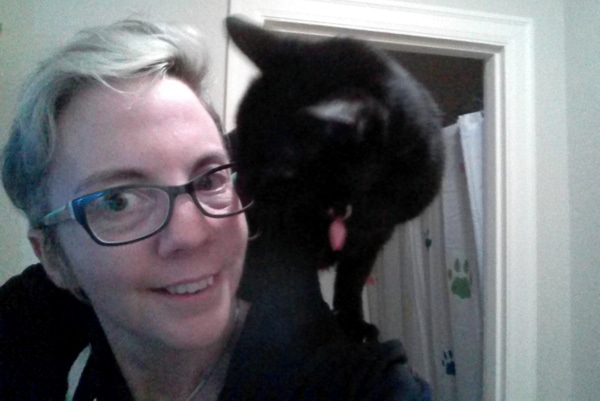 I also accept my imperfections. I know I'm not a great photographer, and I'm fine with that. If I'd dedicated as much time to learning the skills of photography as I have to developing my writing skills, I'd be much better at it. However, my creative life has also made me a lot more comfortable with imperfection.
Whatever you think of the selfie, it has become a central part of our social world. Selfies, and the reactions to them by friends, peers and even total strangers, have a lot of influence. More than they should, perhaps, especially if the reactions to selfies are causing people to feel bad about themselves and the people and pets they love.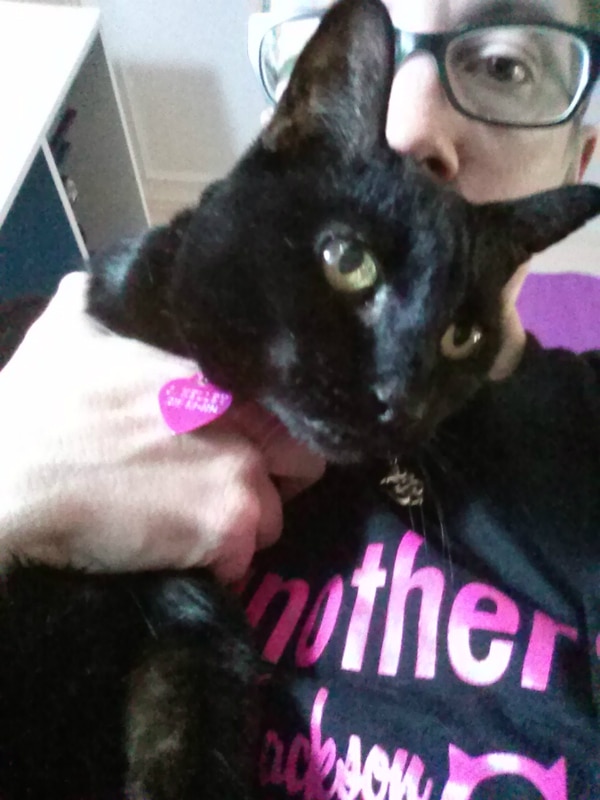 I understand that people are vulnerable, they want to make a good impression, and they want to be loved. But abandoning a black cat at a shelter because you can't get a good selfie with him? I sincerely hope people aren't that vapid and vain. If they are, I don't think I want to live on this planet anymore.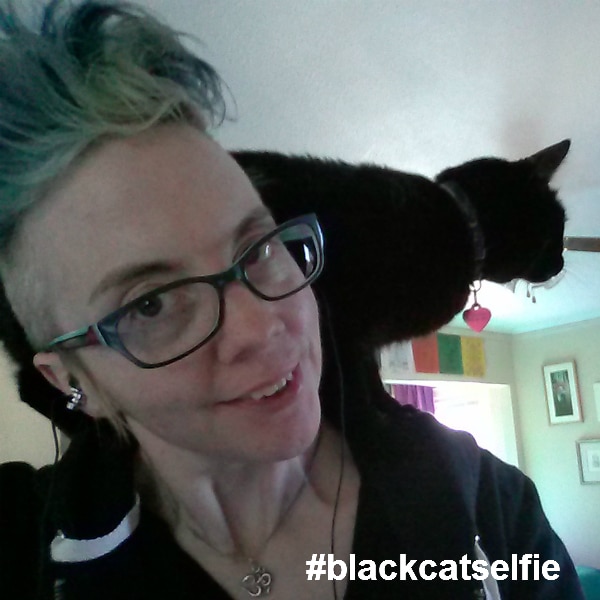 What do you think? Do you have a black cat, and have you ever gotten a good (or even usable) selfie with him or her? Do you have any tips for people who want to take photos of themselves with their black beauties?
I've got a challenge for you: August 17, 2014, is Black Cat Appreciation Day. On that day (and every other day), take selfies with your black cats and share them on Facebook, Instagram, Twitter, Pinterest or wherever, and use the hashtag #blackcatselfie.
Read more about cats and photography:
About JaneA Kelley: Punk-rock cat mom, science nerd, animal shelter volunteer and all-around geek with a passion for bad puns, intelligent conversation, and role-play adventure games. She gratefully and gracefully accepts her status as chief cat slave for her family of feline bloggers, who have been writing their award-winning cat advice blog, Paws and Effect, since 2003.