When was the last time you saw the most adorable cat toy and brought it home, only to watch your kitty sniff at it and then walk away?
I can't count how many fun jingly or crinkly balls we've had that get a bit of batting action, and then nothing. Nada. I find them years later under the couch, covered in cat-fur tumbleweeds. The irony of all of this, of course, is that our cats play with everything but cat toys.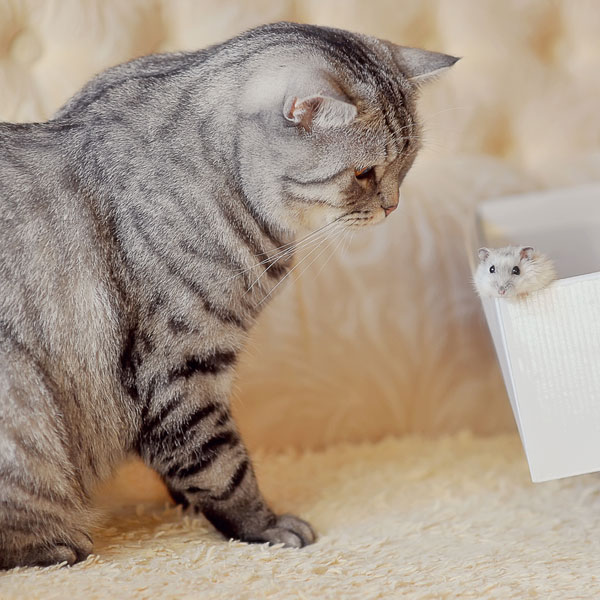 I began to wonder if I was alone in this, so I took to the Internet to poll my Facebook and Twitter friends about their cats' favorite toys — that aren't really cat toys. Here's what I found:
1. Hair accessories
Paws down, the most popular non-toy cat toys are ponytail holders. There's something about these little round things that cats really dig. They bat them around, pick them up with their teeth, throw them in the air, and gnaw on them.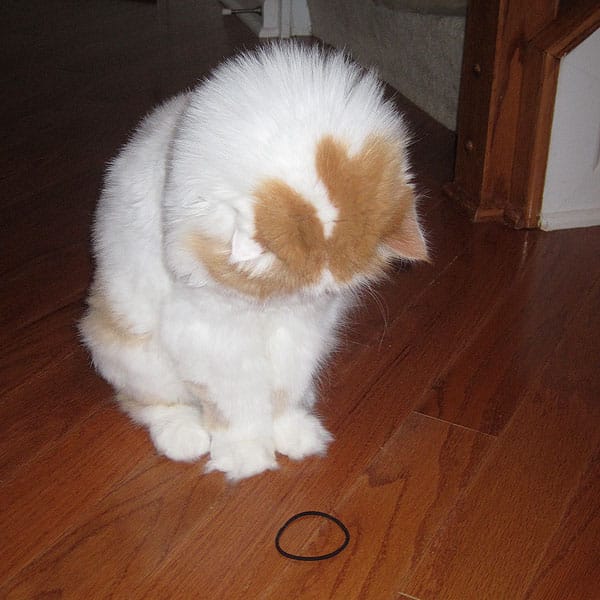 As with any toy, it's important to keep an eye on your cat when he's playing with ponytail holders. If you have a cat who gets a little too enthusiastic about chewing on it, you may have a big problem on your hands if he ingests it. If your cats are like mine and enjoy just batting them around, you'll be fine.
2. Living things
Living, breathing things are not toys — unless you're a cat. Respondents told me about bugs, lizards, and mice as playthings … and even human fingers and toes. "Especially feet hiding under duvets," one said. Another cat parent shared that her cat simply thinks she's the toy. "Humans, used as jungle gyms."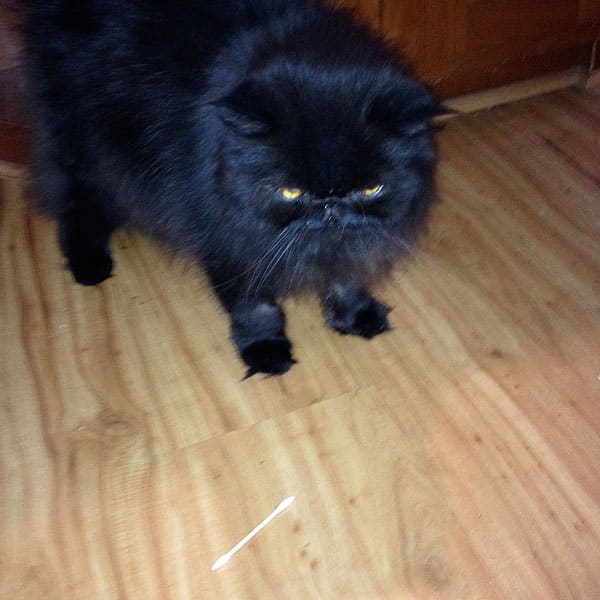 3. Human food
Some cat parents reported that their cats enjoy playing with human food. Ice cubes, for example, make great non-toy toys. One cat owner said her cat loves to play with dried pasta. Whenever ziti night rolls around, this cat waits for the inevitable few pieces to fall to the floor, and then pounces.
Another cat mom explained how her kitty loves "anything green and leafy we're washing in the sink: spinach, lettuce, kale, etc."
4. Containers
Cats love stuff that you put stuff in. Cardboard boxes are a favorite among cats, according to their parents. And grocery bags, both paper and plastic, seem to be high on the list of kitty good times.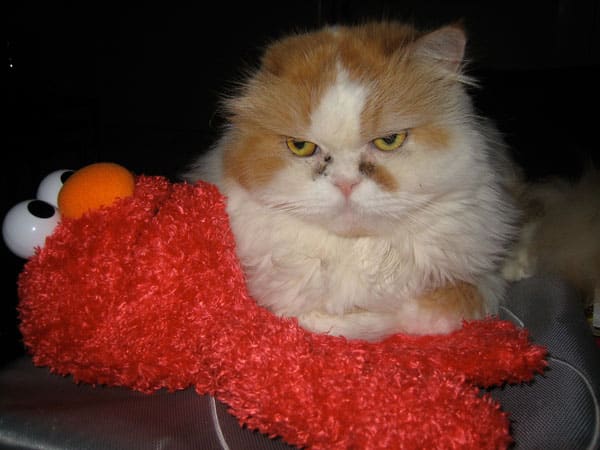 In fact, some cats are a bit obsessed with the plastic grocery bags. One woman shared, "My cat licks bags," and another responded, "It's like they are making sweet love to them!" My goodness! What a racy game!
5. Random anythings
Many people shared plastic drinking straws as a cat favorite, especially, as one cat mom reported, "when pulled from a freshly made cold drink."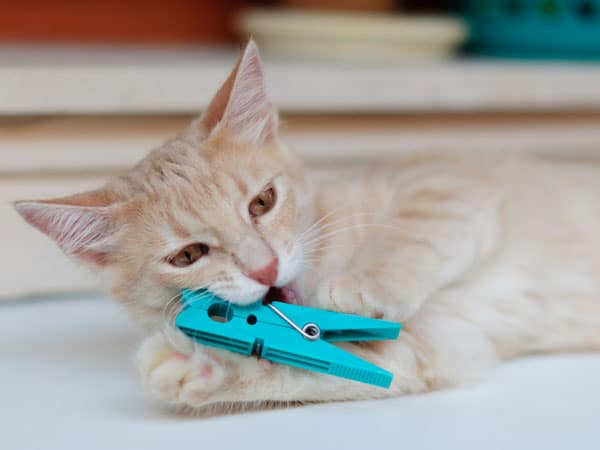 If your house is like mine, wine corks are abundant. Many wine-drinking cat moms reported that their cats love batting around those aromatic little corks of happiness.
Other toys that received numerous mentions include Q-Tips, tinfoil balls, rolls of toilet paper, twist ties, and the ring from the gallon of milk. "Midnight used to play fetch with the bottle caps — it was so cute!" recalled one wistful cat mom.
6. Dangly stuff
My cats love dangly stuff. Necklaces and ribbon mesmerize them. I swear Pugsley can hear a tape measure a mile away. He comes running from wherever he is in the house to play.
And my cats aren't the only ones — many cat parents mentioned string necklaces, neckties, ribbon, belts, and extension cords.
7. Underwear!
Lots of cats apparently love getting into the undergarments. One cat mom reported her cat's penchant for underwear: "Toothpick had a bout of time where he would drag my underwear around and leave it in the middle of the floor."
Socks were also a favorite, with many cat parents sharing that random socks on the floor are always fair game. "Toby cat will paw open my sock drawer and pull out my balled-up fluffy socks, then bat and carry them around the apartment!"
8. Holiday … everything
I'd be remiss in not mentioning the holiday wonder-toys, having just come off weeks of shiny, fun new "toys." My cats Romeo and Pugsley had fun with tinsel, Christmas tree ornaments, wrapping paper, ribbon, and bows. Judging from my Facebook and Twitter friends' responses, we weren't the only ones.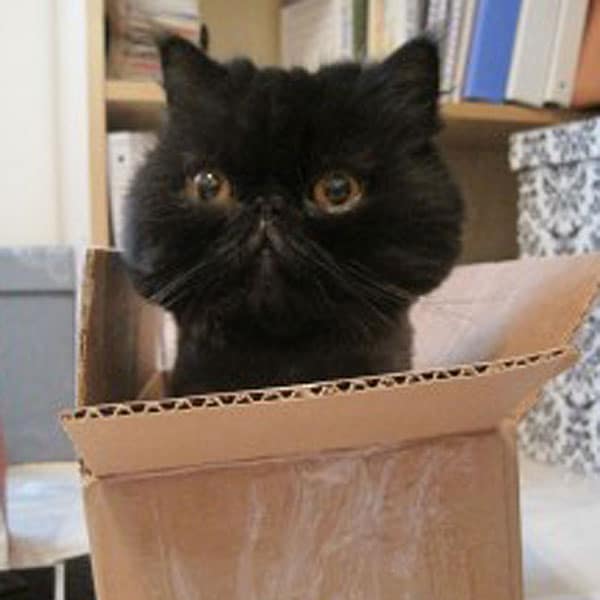 9. Little white "mice"
At first glance, tampons fall into the (very) weird toy category, but if you think about it, it kind of makes sense. Admit it, tampons look like little mice.
As one Facebook friend explained, "My cat Oozy has been known to break into the vanity cabinet and get into the box of Tampax. He takes it out and bats it around, and then gets his paw on the wrapper and unwraps it. Separating the cardboard tubes and getting to the 'fluffy white mouse' buried inside!"
The bottom line is that, really, anything can be a toy. And nothing is cuter than seeing our sweet, playful, silly little kitties having the time of their lives with a pipe cleaner.
Does your cat love toys that aren't really toys? What kinds? Let us know in the comments!