The older I get, the more aware I am of my own bad habits. I've always been a night owl with a penchant for sleeping in, and I've never been the type to find joy in housekeeping. Over the last few years I've tried hard to change my ways, and with every birthday I get better at getting up and getting the house clean. I'm proud of myself, but my kitties don't much care for all this adulting. Ghost Cat and Specter would rather I embrace my bad habits instead of trying to banish them, and they have all sorts of ways to tempt me to backslide.
Let's take a look at five ways my cats encourage my bad habits:
1. Snuggling me into staying up late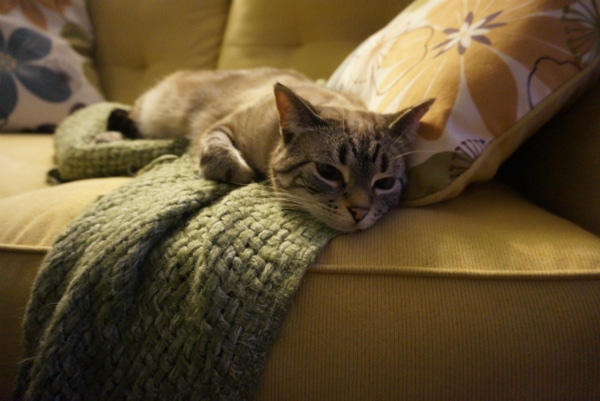 As I approached and then surpassed the big 3-0, my youthful habit of staying up late didn't seem so appealing anymore. I generally like to be in bed by 10 these days, but sometimes I let Ghost Cat convince me to stay up for a bit. She doesn't really have to do much to get me to push my bedtime back a bit. If Ghosty is comfortable on my lap, I have no problem letting Netflix move on to the next episode in the queue. Ghost Cat can get very invested in her shows, and she loves to snuggle into my lap as the clock ticks toward midnight (after all, it's not like she has to work in the morning).
2. Convincing me to hit snooze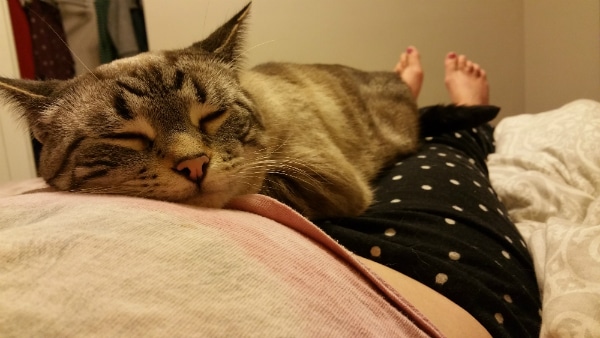 Ghosty might not have a reason to get out of bed before noon, but I certainly do. Still, my busy schedule doesn't stop Ghost Cat from trying to prevent me from getting up some mornings. Just when my alarm clock rings, Ghost Cat comes running to my bedroom, tired out after spending the wee hours chasing Specter around the basement. Just as I'm contemplating hitting snooze, she'll jump up onto the bed and cuddle down on my legs, tempting me to stay in bed for just a few more minutes. Sometimes we'll cuddle like this for just a couple snooze cycles, but I'd be lying if I said Ghosty and I don't stay in bed until 10  (or even noon) on some Saturday mornings. She's just too darn cute to move!
3. Justifying my hatred of folding laundry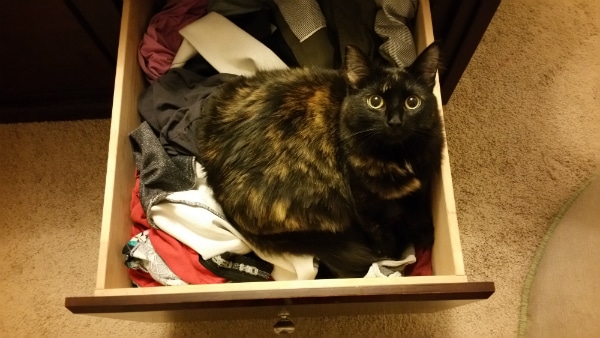 My younger cat Specter is not as much into cuddling as Ghosty is, but she sure is a bad influence on my housekeeping — particularly my laundry. With Specter around, there's just no reason to fold the clothes that I keep in the drawers below my bed; they're just going to be used as cat pillows anyway. For a while I wondered why all my clean clothes would come out of my drawers covered in a layer of black kitty hair, and one day I got the answer. I opened my drawer to take out a shirt and screamed in surprise when I found Speck in there, sleeping among my outfits. I'd had no idea she could get in there, but after some detective work I found out how she goes behind our headboard to gain access to the hollow space between the drawers. I'm not too worried about her getting stuck (having been through the drawer drama with Ghosty before), and I'm also not too worried about folding the laundry just so Speck can sleep on it. I just de-wrinkle and de-fur my laundry the day I wear it, bad habits be damned. 
4. Being happy about dirty dishes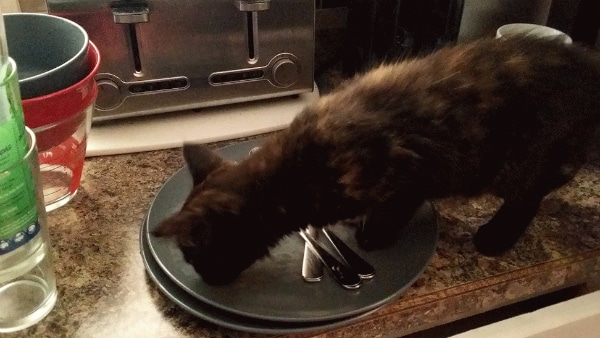 Specter wishes her bad influence on my housekeeping habits would extend beyond the laundry, but I refuse to let her win when it comes to the dishes. If it was up to her, I would either leave all the dirty dishes in the sink for her to lick (and contaminate) or I would leave the dishwasher door open so that she could get to the stuck-on food before the detergent does. When it comes to dirty dishes, I think Specter's disgusting habits actually encourage me in a good way — she forces me to get to the dishes before she can (and to bleach all my plates, just in case).
5. Hating me for housekeeping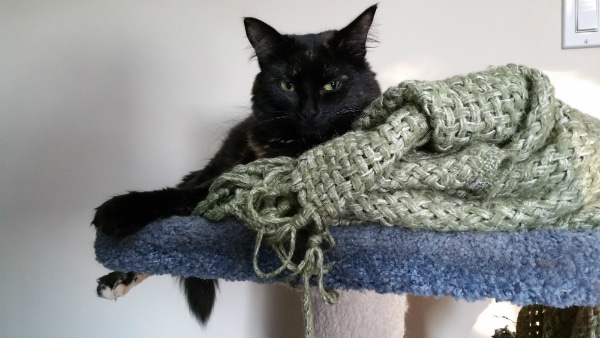 Speck may force me to do the dishes, but I can't force her from her favorite place — the cat tree. Since losing a bit of her free-feeding weight gain, Speck is back to lounging on the top of her carpeted cat tree as often as possible. The problem is, her soft black fur gets all gross and matted into the carpet, and every once in a while I have to take the vacuum to the tree to prevent it from looking grosser than it already does. Specter does not like to give up her tree when cleaning time comes. She'll hiss at me and swat at me if I try to evict her from her carpeted perch, only jumping off when the scary vacuum starts roaring beside her. Unfortunately for Speck, I can't let her use her cuteness or her tortitude to convince me to leave tufts of kitty hair lying around.
I often think that my cats would be happier if they lived with the teenage version of me. If I was still 17, I would have no problem sleeping in with Ghosty, and I would no doubt be leaving a ton of dirty dishes around for Specter to scavenge. Back then I had so many bad habits, the kitties wouldn't even have to encourage me at all. On the other hand, it's probably not a bad thing that they're stuck with the modern-day, more-responsible version of me — because grown-up me always makes it a habit to keep the litter clean (no matter how late Ghosty and I have been up the night before).
How do your cats encourage your bad habits? Let us know in the comments!
Read more by Heather Marcoux:
About the author: Heather Marcoux is a freelance writer in Alberta, Canada. Her beloved Ghost Cat was once her only animal, but Specter the kitten, GhostBuster the Lab and her newest dog, Marshmallow, make her fur family complete. Heather is also a wife, a bad cook and a former TV journalist. Some of her friends have hidden her feed because of an excess of cat pictures. If you don't mind cat pictures, you can follow her on Twitter; she also posts pet GIFs on Google +.