What's "the 12 Cats of Christmas?" Well, each day we pluck one notable furball who's made a huge and lasting impression on our hearts over the last 12 months and revisit hi or her story. Consider it your daily festive feline gift.
Today's cat is a stickler for the rule of law …
8. Gray the Internet Crime Fighter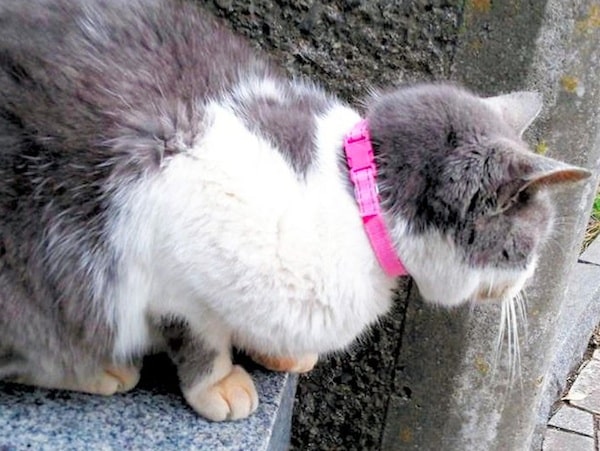 Two thousand thirteen turned out to be a splendid year for cats with a penchant for fighting back against criminals. A stray kitty on the island of Enoshima in Japan helped local cops track down and arrest a hacker who had been threatening to massacre students at a local school, while over in England a cat's DNA was also used to successfully convict a murderer.
The Japanese hacking hunt involved a 12-year-old cat named Gray who lives on Enoshima along with around 200 other felines. Police were sent a bunch of riddles from the hacker, Yusuke Katayama, one of which suggested clues were hidden with one of the island's cats. It turned out the pink collar Gray was sporting held a memory card which lead police to Katayama's domain, where he was plotting to send out more blood-thirsty threats.
Gray has now turned into something of a celebrity on the island. He enjoys spending his days lounging in the sun and chowing down on fresh amberjack fish. (Local reports suggest he's quite the discerning eater.) He does seem to have ditched the infamous pink collar — although who wouldn't want to see him in a fancy festive red and green replacement for the holidays?
Revisit the rest of the 12 Cats of Christmas here:
About Phillip Mlynar: The self-appointed world's foremost expert on rappers' cats. When not penning posts on rap music, he can be found building DIY cat towers for his adopted domestic shorthair, Mimosa, and collecting Le Creuset cookware (in red). He has also invented cat sushi, but it's not quite what you think it is.