For "The 12 Cats of Christmas," each day we pluck one notable furball who has made a huge and lasting impression on our hearts over the last 12 months and revisiting their story. Consider it your daily festive feline gift. Today's offering involves a couple of scampish little tykes …
10. The New York City Subway Kittens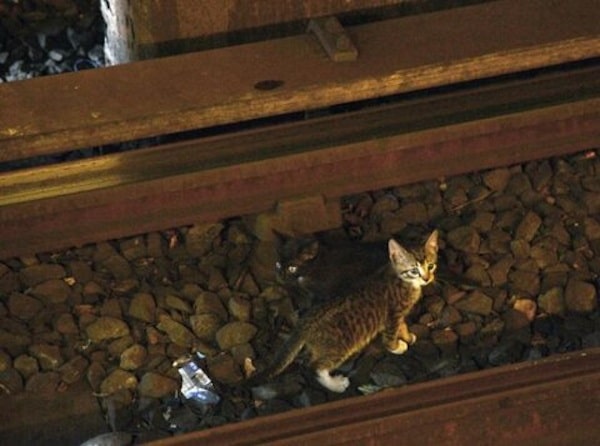 Back in the sweltering summer, two tiny kittens somehow escaped on to the New York City subway tracks and stopped a bunch of commuter trains through a combination of playful hi-jinks and unadulterated cuteness.
The incident took place at the Church Avenue subway station in Brooklyn, and according to local reports they managed to suspend train service for two whole hours while a combination of police officers and transit workers attempted to get them safely off the tracks.
Once they were eventually captured, they were taken to the Scratching Post foster home in the Bushwick area of Brooklyn. A flurry of applications to adopt the duo named August and Arthur came in and they eventually found a new home (presumably with no easy access to the apparent playground that is public transportation).
The two scampish rogues also managed to make the front page of the New York Post and provoked the city's mayoral candidates to go on the record as to exactly how they'd deal with the pressing issue of future kittens on the tracks. Personally, I'm hoping for an Arthur and August ticket come the next mayoral elections in 2017.
Revisit the rest of the 12 Cats of Christmas here:
About Phillip Mlynar: The self-appointed world's foremost expert on rappers' cats. When not penning posts on rap music, he can be found building DIY cat towers for his adopted domestic shorthair, Mimosa, and collecting Le Creuset cookware (in red). He has also invented cat sushi, but it's not quite what you think it is.