Every day during the 12 Cats of Christmas, we'll pluck one notable furball who has made a huge and lasting impression on our hearts over the past 12 months and revisit his or her story. Consider it your daily festive feline gift. For the ninth cat of Christmas we have …
9. Lazarus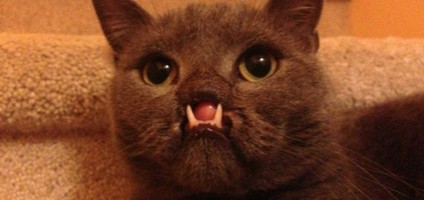 Back in March, we introduced you to Lazarus by good-naturedly noting that the gray cat bore something of a resemblance to "a tiny vampire" by virtue of his cleft palate. Cindy Chambers, a special education faculty member at East Tennessee State University, took the distinctive-looking Lazarus in when he was found in a sickly state. Among other ailments, his mouth was infected — but a solution was struck upon when an abscessed tooth was removed (although Cindy did tell us that he still suffers from the occasional bloody nose).
Once he regained his health, Lazarus's unique look saw him becoming something of a cult on campus, as other lecturers would refer to him in their speech pathology classes. This idea of Lazarus being used as a therapy cat is something Cindy is keen to continue. As she writes on Lazarus' Facebook page, "At first he may be seen as a cat with no nose or lip due to a cleft palate but is soon viewed as a playful, lovable cat. Laz wants to raise awareness that animals (and people) with disabilities can be great contributors to people's lives if given the opportunity."
Lazarus will be enjoying this holiday season in his home in Johnson City, Tennessee, with his seven feline and canine housemates. While he's relaxing at home, you can also view this video recounting his story.
Revisit the rest of the 12 Cats of Christmas here:
12. Lucky
11. Grumpy Cat
10. The New York City Subway Kittens
About Phillip Mlynar: The self-appointed world's foremost expert on rappers' cats. When not penning posts on rap music, he can be found building DIY cat towers for his adopted domestic shorthair, Mimosa, and collecting Le Creuset cookware (in red). He has also invented cat sushi, but it's not quite what you think it is.