"She's getting so big!"
That's what everyone says when they walk into our house or see a picture of our kitten, Specter, posted on social media. It's weird to me that people think she's so huge, because I still see her as a tiny little baby. I'm like one of those moms who keeps counting her kid's age in weeks long after it's appropriate. Maybe it's just easier for those moms to say their child is 152 weeks instead of three years old. I know I'll still probably still be calling Specter a kitten long after she's a cat.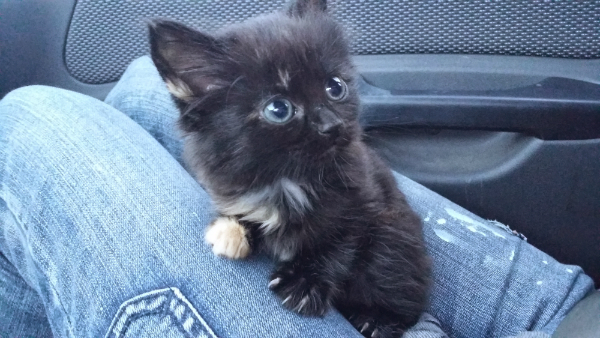 She was so tiny when we picked her up back in May. For a kitten said to be six or seven weeks old, she was just so minuscule. I was worried that she wouldn't be able to make it on her own, but she had no choice. Due to some unfortunate circumstances, the humans in the home Specter had been born into were in a hurry to get rid of a litter of kittens. I held her in my arms as we drove home with her, and I wondered if Specter would cry for her mother and siblings all night. The thought brought tears to my eyes and I promised her that we would take good care of her and be her new family.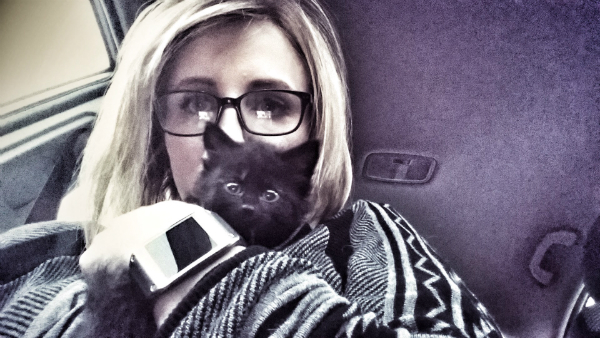 When we picked her up we'd been told that she was the shyest kitten of her litter. The one most likely to hide from humans and other cats. This description turned out to be inaccurate (just as Ghost Cat's had been at the shelter). From the minute we got her home, Specter made it clear that she wasn't going to hide. Although we kept her and Ghost Cat separated at first, Specter was charging right at Ghosty any time she got the chance. She was like a intense and tiny (but kind of threatening) ball of fluff. It took some time, but eventually Ghost Cat fell in love with tiny Specter just like we had.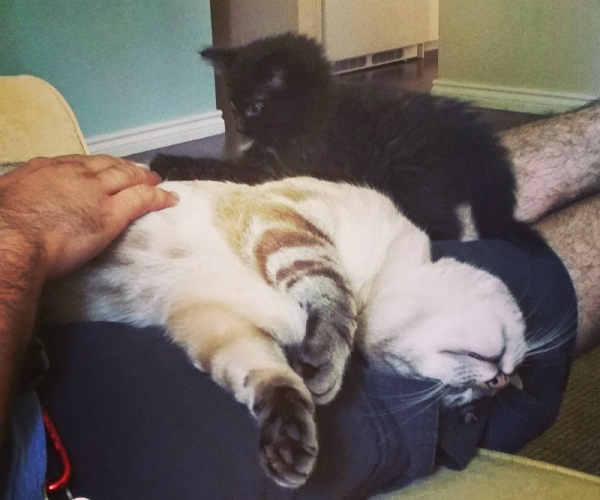 As Specter established her place in our family she did go through some physical changes. She's somehow grown significantly and imperceptibly at the same time. Maybe it's just because I always see her next to Ghost Cat that she still looks so tiny to me. Aside from her growth, the most noticeable change has been her eyes. The widows to her soul have gone from blue to green to gold. The color change was slow at first, and then it happened almost overnight. The evidence is hard to ignore. My baby is growing up.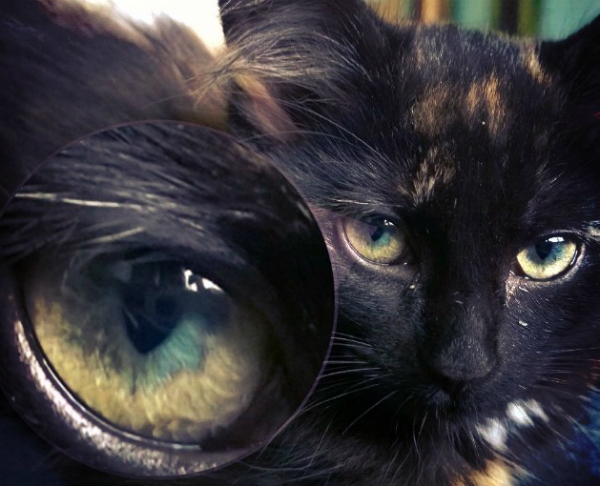 Specter is about 14 weeks old now. She is playful and sweet and very much still a kitten. Every morning she sits on my lap while I drink my coffee, and then she climbs onto the kitchen table and lies next to my keyboard as I type.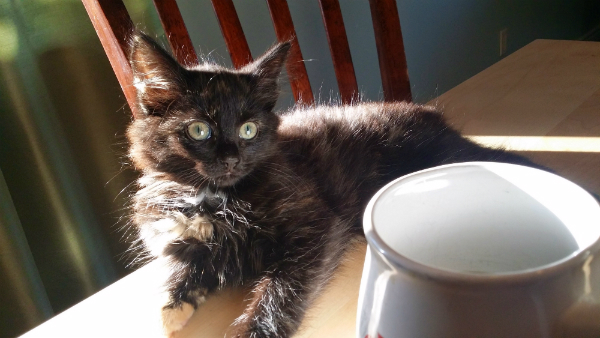 Everybody says she's so big now, and I guess it's true. I mean, she's bigger than she was, but she's still far from full-size. She may be growing up, but in many ways she's still a little cuddle bug who needs comfort. She still suckles on Ghosty, and still cries to be held. Ghost Cat and I both still baby her, and I don't think we'll ever stop.
Do you still see your grown-up cats as tiny kittens? Was it hard to admit that they were growing up? Let us know in the comments!
Read more on kittens:
Learn more about your cat with Catster:
About the author: Heather Marcoux is Ghost Cat's mom. She is also a wife, writer and former TV journalist. Some of her friends have hidden her feed because of an excess of cat pictures. If you don't mind cat pictures, you can follow her on Twitter; she also posts GIFs of her cat on Google +.