The popular proverb "cats have nine lives" is probably derived from their ability to seemingly always land on their feet. This unique talent for aerial moves certainly rivals Cirque du Soleil. It's a trait that is held by just a handful of mammals. Monkeys, lemurs, primates and squirrels quickly come to mind. But trees are their primary habitat. Cats, not so much now. So how do they do it? Let's explore why cats always land on their feet!
Cat righting reflex
The ability that cats possess to right themselves as they fall is because of their reflexes. Cat-like reflexes turn out to be a real lifesaving skill! How cats land on their feet turns out to be many voluntary and involuntary responses working in tandem. They essentially are able to twist their body in opposite directions. Then they are able to extend their back legs to create more of a parachute while retracting their front legs to increase the rotation speed on the front of their bodies.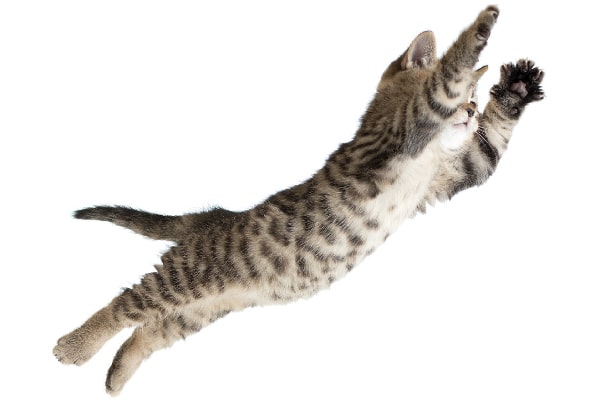 All tree-dwelling animals have an aerial righting reflex, according to biologist Robert Dudley, with the animal flight laboratory at the University of California – Berkeley in a BBC article. And while cats are not living in trees since they came indoors to live with humans about 9,000 years ago, they've done their fair share of tree-dwelling and have evolved over the centuries to withstand falls. Their whole body is designed for it!
However, never try to test your cat's righting reflex – this is a foolish and dangerous idea. A cat pushed or thrown does not have the same advantage of a cat who has lost his footing or miscalculated a leap.
Felines' form follows function
Here are the elements that make your cat's body a death-defying marvel:
Cats determine which way is down either visually or through small bones in their ears.
Volume vs. mass: Cats have a lot of surface area compared to their weight.
It's a leg day every day! Cats' legs are long and muscular. They are able to divert the energy used for climbing into decelerating (think springy!).
Cat legs are angled coming off his body rather than straight. Coupled with his flexible joints, they're perfect shock absorbers.
Their spine is extra remarkable thanks to having 30 vertebrae.
The flexible skeleton of a cat lacks a collarbone – also helpful during a fall – the forceful energy doesn't get jammed up.
Restless in a high rise
A few years ago, Sugar, a cat from Boston, made worldwide news by surviving a 19-story fall. A prime example of cats always landing on their feet – because the miraculous feline suffered minor injuries. But, there are other kitties who haven't fared as well.
During the 1980s, the Animal Medical Center in New York City saw a dramatic increase in cats plunging from high-rise buildings. There were so many incidents that they coined the phrase, "High Rise Syndrome." The white paper on the syndrome states that 132 cats fell from buildings over a five-month period in 1988. Thirty-seven percent of those cats required emergency medical treatment. Amazingly, 30 percent required no treatment. And 90 percent of the cats who received medical attention survived.
While those stats are quite steep in the cats' favor, there are stats not reflected in these numbers. When a cat falls or jumps from a high-rise and is killed, he is not taken to the veterinarian for treatment. It is not really known what the overall fatality rate for cats falling from high places is exactly.
For health and safety reasons remember:
Install screens on every window.
Check the screens periodically (cats can scratch and stretch on them!).
Keep your cats inside: Do not allow access to balconies and terraces.
*Catios are a great way to give your cats outdoor access.
Our most remarkable house guest
With all their talents, both obvious and more secretive, cats have enchanted people for thousands of years. And while our fascination with all things cat continues, one of their greatest mysteries exposed is why cats always land on their feet!
Denise LeBeau is a writer, editor and photographer with almost 20 years of experience of creating content for animal-related issues, endeavors and events. She worked at Best Friends Animal Society for 12 years where she had two columns in the Best Friends Magazine, and held multiple content creation roles including web managing editor and outreach campaign editor. Denise has been an ongoing contributor to Catster since 2014, writing for the magazine and website. The self-professed poet laureate of the pet set is currently the manager of development for an animal welfare agency, where she works with a team to create content across media platforms. She lives in Hampton Bays with her two rescue Siamese mixes – Flipper and Slayer, and her LBD (little brown dog), Zephyrella.
Learn more amazing facts about cat on www.catster.com: