Sorry babies, but kittens are the cutest thing in town (just ask Wasabi-chan). There's no denying their soft tufts of fur, those tiny little paws, and the way they just make you want to cuddle them forever. Sure, you could wear clothing with other baby animals on it, but a puppy jumper just doesn't hold the same allure as a kitten-ified frock (although perhaps some Dogster editors would disagree).
In the spirit of these adorable lil' babies, I picked my five favorite kitten fashions featuring bold feline designs that are too cute for school. You're bound to brighten everyone's mood (including your own) when you show up in one of these kitten-inspired creations.
When it comes to making a statement without saying a word, I'm not sure you could do better than a $400 designer dress emblazoned with a black and white kitten head.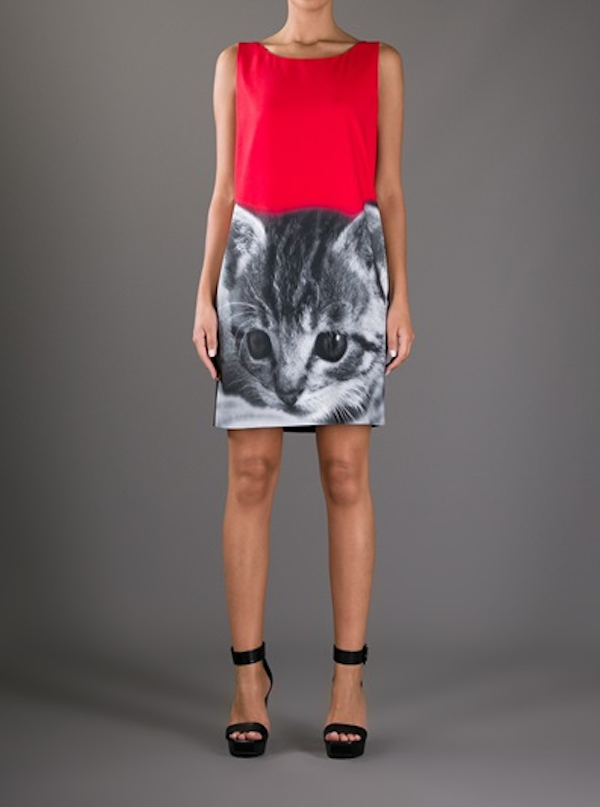 I'm really into graphic prints lately, and what better way to keep it business kitty casual than with a realistic kitty print right on your outfit? While the "cheap" part of "Cheap & Chic" might be a misnomer, this unique Moschino shift is guaranteed to secure your spot as the HCLIC (Head Cat Lady in Charge).
Intergalactic cat fashions are nothing new, but I love the sweet take on this Wildfox Couture kitten sweatshirt, which is equal parts cozy and cool.
The star-studded backdrop is perfect for this pair of precious white kittens, who are innocently perched upon a bed of crystals and roses. The baggy jumper is also super versatile and can be worn according to your mood. Roll up the sleeves and pair it with shorts for a more pulled-together look, or unfurl it long and loose when you wanna let it all hang out.
There are two kinds of people in this world. Those who would wear cat underwear, and those who would not. Obviously I fall into the former category, making me a fan of these kitten-themed knickers from TopShop.
I dig how the print is on the FRONT and not the BUTT, so if you're wearing them, you can actually see what's up. Also, the kitties on these hipsters might seem like they're wondering, "What the hell are we doing here?" but even they have to be aware of their monstrous levels of cuteness.
This three-in-one moisturizer by SteamCream is handmade from unrefined steam and floral extracts, and can be used on your face, hands, and body. I haven't tried it so I can't tell you if actually works, but when it comes to beauty supplies with cat-themed packaging, does it even matter?
Sure, SteamCream is "softly scented" with orange flower water and essential lavender oil, but it also comes in an adorable limited edition tin that would look great in your purse. The neat little container features kittens playing with feathers and the phrase "Petits Coquins," which means "little rascals" in French.
Peekaboo, I see you! My favorite thing about this quirky tank from ASOS is that it manages to remain adorable while also channeling Jack Nicholson in The Shining at the same time.
The peeking-kitty design is another classy entry into the graphic kitty tank game, with its precious lil' paw peeking through to say "Hello!" Wear it for a fun look in the heat of the summer, or layer it under a blazer in the fall to reveal a feline surprise inside.
Looking for more cat style? Check these out: