Cat Breeds
---
Discover information on all purebred cat breeds and hybrid cat breeds.
---
ABYSSINIANS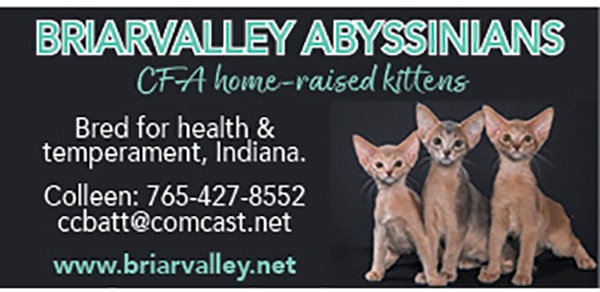 ABYSSINIAN KITTENS — Home of national winner. Ruddy, reds, blues and fawns. Raised underfoot. Judy, Sun City West, AZ; 623-398-8573; judyjlaffin@gmail.com
EL QAHIRA ABYSSINIANS — Kittens from our CFA national and regional award-winning Grand Champions. Rae Ann Christ, Chicago; 847-742-8738; www.elqahira.com
ABYNORMAL ABYSSINIANS — CFA ruddies and reds. Entertaining, loving kittens and adults. Raised underfoot. Kevin/Andrea, Northern Indiana; 574-784-2479; keanmallory@aol.com
---
AMERICAN CURL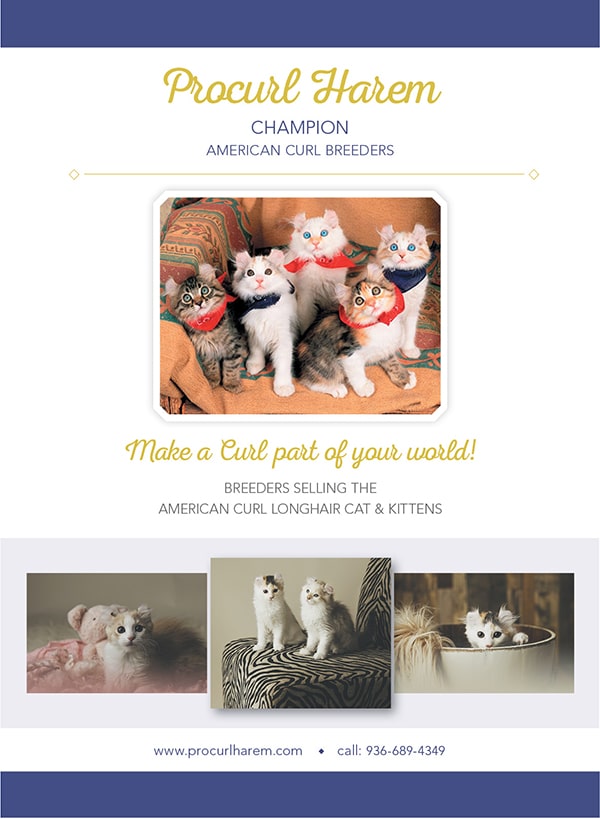 ---
AMERICAN SHORTHAIR
MELODYGARDEN — Shaded and ticked tabby kittens. Great personalities. Health guarantee. Carol Johnson DVM/PhD, So. Cal; 805-375-4270; carol.w.johnson@gmail.com; www.melody-garden.com
---
BALINESE
BALINESE KITTENS — Long guarantee. Carol Johnson DVM/PhD, So. Cal; 805-375-4270; carol.w.johnson@gmail.com;www.melody-garden.com and shorthair. All color points. Lovable and social. Located in Kalamazoo, MI. Call Patty, 269-345-9144; www.mybalisicats.com
---
BENGAL
ADORABLE CLARKSTONE BENGALS — Top lines guaranteed. Fair prices guaranteed. Peoples' Choice Award. TICA's Outstanding Cattery Award. 830-609-4601; www.clarkstonebengals.com
BENGALAND — SGC bloodlines. Show, pet-quality kittens available. Multiple international winners. TICA Outstanding Cattery/TIBCS. Hugh/Peggy Price, Pennsylvania; 717-243-8972; www.bengaland.com
MIMICRY CATS — Specializing in Bengals/Chausie/Savannahs. Striving to copy the wild look. California; 916-484-3751; 530-586-1841; mimicrycats@mimicryexoticats.com; www.mimicryexoticats.com
RAGANWOOD BENGALS — Missouri cattery that specializes in raising loving Bengal kittens for family pets in brown, snow and silver. 816-454-4303; raganwood@sbcglobal.net; www.raganwood.com
METASTAR BENGALS — "Poetry in Motion." Magnificent internationally acclaimed Bengals; marbled/spotted/rosetted; standard/shorthair and longhair/cashmeres. 215-915-2881; aponic@rcn.com; www.metastarbengals.com
ACAPPELLA BENGALS — Specializing in award-winning bloodlines, lots of glitter and sweet temperaments. Raised underfoot in our Texas home. 830-625-1520; cell: 830-494-1672; larry@acappellabengals.com; www.acappellabengals.com
PIXEL PERFECT CATS — Sweet temperament, great personality, rosettes and glitter. Supreme Champion bloodlines, TICA registered and health guaranteed. Maryland; 443-223-6480; www.pixelperfectcats.com
SNOW TUNDRA BENGAL — Small cattery with 15 years experience. Health/temperament is our first priority. Hermina, Maine; 207-449-1031; www.snowtundrabengal.com
STONESRIVER BENGALS — Bengal kittens in Tennessee. Small in-home cattery. Well-socialized. TICA/TIBCS. Health guarantee. 615-267-0329; twofemcats@yahoo.com; www.stonesriverbengals.com
---
BIRMAN
PURR-CUSSION AND WORLD CLASS BIRMANS — Seal, blue, chocolate, lilac, red, cream, tortie, lynx. Carolyn/Dick Prucha, Wisconsin: 608-719-9042; birmans@usa.net; www.purr-cussionbirmans.com
LAUREL GLEN SACRED BIRMANS — Since 1992. Healthy, CFA registered kittens and adults available in Pennsylvania. laurelglen@westpa.net; www.bellsandbirmans.com
KITTENS KITTENS KITTENS! Reds, seals, torties, blues. Birmans available in Ohio. 937-372-7066; 972-814-0642; 513-532-7903; juanita.rowley@gmail.com; marilyn.rowley@gmail.com
BIRMANCATZ — TICA kittens available. Health guarantee. All colors including lynx points. Small East Texas cattery. 936-829-4635; birmancatz@gmail.com; www.birmancatz.com
BEAUTIFUL TORIELLE BIRMANS — CFA Cattery of Distinction. Seal and blue points. Kittens and adults. Ellen Weber, Great Neck, NY; 917-273-1158; torielle9@yahoo.com
---
BOMBAY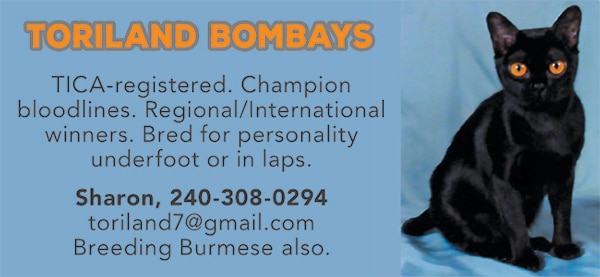 ---
BRITISH SHORTHAIR
KLA BRITISH SHORTHAIRS — Looking for forever homes for home-raised kittens and retired show cats. Shots and vet health certificate come with all cats. CFA/TICA registered. Blues, bi-colors, whites, lilacs. 712-251-1505; kpudytat@aol.com; www.dovon-kla.com
OUACHITA BRITISH SHORTHAIRS — CFA. Grand Champion bloodlines. Pet/show, socialized, veterinarian raised. Will ship. Arkansas; email for information: suzanne@ouachitabritishshorthair.com; www.ouachitabritishshorthair.com
INNOCENTIA — Affectionate and home raised. Blues and whites. Immunization/health guaranteed. Will ship from Detroit, MI. 877-228-7868; www.innocentia-cats.com
TGFC CATTERY — Specializing in blues. All championship lines. Wonderful dispositions. Great references. Sacramento, CA; 916-290-2435; 916-364-7404; www.freeholder.com/tgfc
---
BURMESE
CIMARRON/WOBEGONE/CRAZY BAY — Traditional Burmese since 1969. Health and purrsonality guaranteed. All colors. D. Lucek/K. Tenerowicz, northwest Chicago; 847-788-9758; deannelucek@yahoo.com
KIT'N'KABUTAL — ACFA/CFA. Sable only kittens. Healthy, loving personalities. Traditional. Lap cat. Occasional Tonkinese. Shipping. Nancy Bisterfeldt, 715-745-4144; lee_nancy_bisterfeldt@yahoo.com; www.kitnkabutal.net
KINCSEM BURMESE — CFA. Adorable little executives to reorganize your life. Health guarantee. Judith Kollmann, 810-715-2367; jkollman@umflint.edu; www.kincsemcats.com
BIJOUX — Burmese, Bombay and European Burmese. The ultimate lapcats. Excellent for children. Healthy, loving kittens available now. Wonderful disposition. Outgoing, never shy. Will ship. Maryland; 410-937-9262
PANDORA CATS BURMESE AND BOMBAYS — Supreme Grand Champion bloodlines. Health guarantee. 606-831-9284; 606-324-3668; adorablerags@aol.com; pandoracats@aol.com; www.pandoracats.com
---
CHARTREUX
CHANSON BLEU CHARTREUX — CFA kittens raised with care/attention. Steve and Judy Belden, 603-763-5600; chansonbleu@comcast.net; www.bluecatfarm.com
JOUVENCEBLEU CHARTREUX — (Circa1975) Exquisite cuddly supraplush bluebears who say their prayers! We've gone global, breeding European and all other foreign bloodlines. We export. Never imitated…always authenticated! 630-776-8333; 630-293-4033; chartreuse@aol.com
LECOMPAGNON CHARTREUX — Lovable blue companions just for you from national- and regional-winning lines. CFA registered. David Hadley, 614-885-6119; dhads614@msn.com; www.lecompagnonchartreux.com
---
CORNISH REX
TENDER CLAWS CATTERY — Most colors, kittens to retired. Michigan; 586-420-4259; 586-477-0641; dkimber@flash.net; www.tenderclawscattery.com; www.donnakimber.com
TEXAS REXES — Raised by a veterinary technician. CFA. Health guaranteed, raised underfoot. Rhonda, 817-300-5226; texasrexes@yahoo.com; www.texasrexes.com
KAYLEE CORNISH REX — Kittens available. Kaitlyn and Kathy Pritchard, Spotsylvania, Virginia; 540-582-2614; kayleecornishrex@msn.com; www.kayleecornishrex.com
---
DEVON REX
MELLOWMARK CATTERY — Kittens/adults available. Specializing in TICA Sphynx, CFA Devons and some outcrosses. Reasonable prices. We ship. 402-244-5480; catsapurrin@abbnebraska.com
KITTENS FROM GENETICALLY TESTED PARENTS — Somali also. Health and temperament guaranteed. Come with welcome home kit and courier service available. eternal_dream@hotmail.com; www.nightmagicdevons.com
DEVON REX HEAVEN — CFA/TICA Grand Champion lines. Health guarantee. All colors. Kittens/young adults available. Will ship. 479-970-2391; www.devonrexheaven.com
KURAKATS — Exclusive Devon Rex. Lovable kittens well-cared for in a clean, healthy environment. 336-877-2248; www.kurakats.com
---
EGYPTIAN MAU
JEWELS NILE EGYPTIAN MAU CATTERY — CFA/TICA registered. Small family home cattery. Vet checked/vaccinated. Ontario, Canada; info@jewelsnile.net; www.jewelsnile.net
ARIETTA CATTERY — Home of the best Egyptian Maus and Singapuras. Excellent quality, health and temperament. CFA/TICA. 609-314-0252; www.ariettacattery.com
SUMMERMAGIC EGYPTIAN MAU or Maine Coon reduction. Show, breeder and pet; cats and kittens. All ages. Adults at reasonable price. Northeast Ohio; 330-610-0717; begtf@aol.com
BELLE HOLLOW EXOTICS — Egyptian Maus and Savannahs. Fabulous spots. Quality, gentle, loving companions. 828-524-6943; betsywhitlock1@gmail.com; www.bellehollow.net
---
EUROPEAN BURMESE
MAYONAKA EUROPEAN BURMESE — CFA/ACFA. State-licensed cattery, passed all inspections. USA rescue rehome breed coordinator. Allene Keating, Kansas; 785-594-6424; ekeating@centurylink.net; www.mayonakacats.net
---
EXOTIC
LION HOUSE — Outstanding type in Exotics. Most colors. Super, people-oriented cats/kittens. Sue Fraser, Lancaster, CA; 661-945-3255; lionhousecats@aol.com
DIEHL CATTERY — Exotics and Persians. CFA. Pet, breeder/show qualities. Cannot ship pets. Evelyn Diehl, Nashville, TN; 615-255-9135; www.diehl-cats.com
CARAVAN CATTERY — Exotic Shorthairs and Persians. Solids and bi-colors. PKD-negative cattery. Georgina Wood, 707-994-9071; caravancattery@gmail.com; www.caravancattery.com
A LOVE 4 PAWS EXOTICS and Persians. Most colors. Bred for personality and health. Breeding to the CFA standard; 949-233-9853; margaretlombardi@mac.com; www.alove4paws.com
MADAME NU EXOTICS — Since 1973. CFA/TICA. Grand Champion lines. Bi-color, tabby, solid, colorpoint. 315-687-6871; ngnewton167@gmail.com; www.madamenu.com
---
HAVANA BROWN
SOESTHILL HAVANA BROWNS — Home of CFA's highest scoring Havana Brown! Anne Edwards, 573-364-6583; anne@soesthill.com; www.soesthill.com
---
HIGHLANDER
CANYON SHADOW HIGHLANDERS — Highlander (TICA) and Highland lynx kittens available. Polydactyl, curled ears, short tails equals beautiful and family friendly. Call 602-909-0041; canyonshadowhighlanders@yahoo.com; www.canyonshadowhighlanders.com
THE HOME OF THE HIGHLANDER — A foundation cattery. With happy, healthy, family-friendly kittens. Arkansas; 479-243-0221; www.homeofthehighlander.com
---
HIMALAYAN
MCDUFF — Breeding to the CFA Persian standard. Kittens/adults available. Dorothy McDaniels, Michigan; 248-714-9337; djmcdaniels@comcast.net; www.mcduffpersians.com
TULEBURG CHOCOLATE HIMALAYANS/PERSIANS — Breeder/show kittens available, in chocolate and lilac, bi-colors and calicos. California; 707-823-3010; bredalia@sonic.net; www.tuleburgcattery.net
---
JAPANESE BOBTAIL
KIDDLYN — Outstanding JBTs since 1985. All colors, shorthairs/longhairs, blue/odd eyes. Health/personality guaranteed. Worldwide shipping. 303-325-5033; linda.donaldson@kiddlyn.com; www.kiddlyn.com
GINCHIKA — Twenty-five years of healthy, happy, quality Japanese Bobtails. Southern California; 714-408-8834; bobtails@janipurr.com; www.janipurr.com
KURISUMASU — Elegant, enthusiastic and extra sweet long/shorthairs. All colors. More than 200 CFA Grands. Marianne Clark; kurisumasu@live.com; www.kurisumasu.org
CAT-CHI CATS — Japanese Bobtail comedians in fur coats. Spayed, neutered, vaccinations prior to adoption. Raised underfoot. Beth Graham: 304-535-8404; cell: 703-801-1086; www.catchicats.com
JEWELS OF MINE JAPANESE BOBTAILS — Sweet healthy kittens out of Grand Champion imported lines. Registered with CFA, TICA. Louise Hill, 919-742-0221; jewels ofmine1@gmail.com; www.jewelsofmine.com
---
MAINE COON
KARMACOONS — Healthy, large, sweet, loving temperaments. CFA, champion/Grand Champion bloodlines. Cattery of Excellence. Debi Kiley, central Florida; 407-365-8257; debi@karmacoons.com; www.karmacoons.com    
MAINE COON KITTENS — CFA registered. Hand raised. Known for intelligence. Wildcat look and blues. Will fly. 859-881-8333; www.kellyskittens.com
MTNEST MAINE COONS — TICA/CFA registered. Healthy, loving kittens. International/ regional winners. Solids/ tabbies. Southeastern Pennsylvania; 610-827-1895; www.mtnestcats.com
ADORABLE KITTENS — Most colors. GC/BW/NW/NRW. Deposits/payments OK. Cattery of Excellence. Toledo, OH; phone calls preferred: 419-472-5551; enveymeow@toast.net; www.enveymeow.com
MIRACLE MYST MAINE COONS — Large, gorgeous CFA kittens. Raised underfoot with dogs. Most colors. Ft. Lauderdale, FL; 954-444-2779; www.miraclemyst.com
MAINELYCLASSIC MAINE COONS — CFA/TICA. Kittens available. Breeder of Supreme Grand Champions. Regional-/international-winning lines. Solids, smoked and ticked tabbies. 252-940-4444; www.mainelyclassic.com
WWW.MAKANACOON.NET — Grand Champion-sired, pet/show kittens raised underfoot w/dogs. CFA/MCBFA. HCM Doppler screened. Pat Taylor, Virginia Beach, VA; 757-495-6222; makanacoon@cox.net
MCRUFF MAINE COONS — TICA/ACFA/CFA. Healthy kittens/young adults available. Grand Champion lines. Illinois/New Mexico; 217-357-5741; mcruffmaines10@yahoo.com; www.mcruffmainecoon; cattery.webstarts.com
LUCKYPAWS — Healthy, loving, large kittens from SGC lines. Five-year health guarantee. Near Jacksonville, FL; 904-282-8190; www.luckypawsmc.com
FURKATS MAINE COON CATTERY — National winning lines. Serving Indiana/Kentucky/Ohio for 30 years. CFA / MCBC member. Cell: 859-282-0836; furkats@yahoo.com; www.furkats.net
CDREAMS MAINE COONS — Grand Champion lines. ACFA's Best Kitten for 2007 and 2008! Written health guarantee. 608-332-3234; mmarkle@charter.net; www.cdreamsmainecoons.com
MARYLAMBS — CFA, TICA registered. Health guarantee. Home raised, affectionate kittens since 1999. Mary, eastern Pennsylvania; 610-681-6664; www.marylambs.com
TREMETHICK MAINE COONS — Breeder of Grand Champions. Large, gentle, raised underfoot. Located in Virginia. 804-861-3812; www.tremethickmainecoons.com
MAINE LVRS CATTERY — CFA national award-winning lines. Family raised underfoot. Health guarantee, HCM tested, FeLV neg. Michelle, Ohio; 440-221-0021; mainektn@yahoo.com; mainelvrs.com
TRADITIONAL, CHARMING, AFFECTIONATE MAINE COONS from Maine. Variety of colors. Some polydactyls. 207-650-1388; sebagomist@yahoo.com; http://sites.google.com/site/sebagomistmainecoons
AMERICA'S OWN CAT — A beautiful Maine Coon kitten could be your new best friend. Home raised. CFA GC/RW lines. 814-677-5050; www.katcoons.com
KIBBUTZKATS MAINE COONS — International champion lines. CFA/TICA. Reds, browns and silvers. Gloria Rowson, Richmond, VA; www.kibbutzkatscoontillion.com
NATIVE ROOTS MAINE COONS — Kittens for sale. Get your Maine Coon from the state of Maine. Polydactyls available. 207-650-4365; nativerootsmainecoons@gmail.com
ANGTINI MAINE COONS — Large, tabby kittens. Raised underfoot. National-/regional-winning lines. Linda Murphy, Painesville, OH 44077; 440-223-5316; www.angtini.com
---
MANX
FUZZY-FOOT MANX — CFA. Pet/show kittens. Whites, bi-colors, tabbies. National-winning lines. Great temperaments. Healthy. Cathy, 913-645-9799; fuzyfoot@aol.com; www.manxcats1.com
---
MINUET
WEE KITTY CITY MUNCHKINS AND MINUETS — TICA registered. Arkansas home raised. Will ship. Reasonable prices. PayPal. 501-327-8734; www.weekittycity.us
---
NORWEGIAN FOREST CAT
NORDICTALE, COMPANIONS FOR LIFE — Raised as loving family members. CFA regional-winning bloodlines. Brook Cole, Ohio; 513-477-5919; nordictale@msn.com; www.nordictale.com
---
OCICAT
PURRFURDOTS OCICATS — Affectionate, healthy, home-grown kittens. CFA since 1986. Nice selection. Reasonable price. Shipping. Trudy Hoffman, Waynesboro, PA; 717-762-7222; www.purrfurdotsocicats.com
CALUMET CATS OCICATS — CFA-registered kittens/young adults. Champion/Grand Champion bloodlines. Health guaranteed. Pet/show quality, most colors available. Michigan. 810-765-5782; franvolkman@ymail.com; www.calumetcats.com
DYNAMICAT OCICATS — Pet/show quality, kittens/adults available, various colors, Grand Champion/championship bloodlines, CFA registered. Health certificate. CFA/TICA Cattery of Excellence Award current. Florida; 810-919-5859; www.dynamicatocicats.com
---
PERSIAN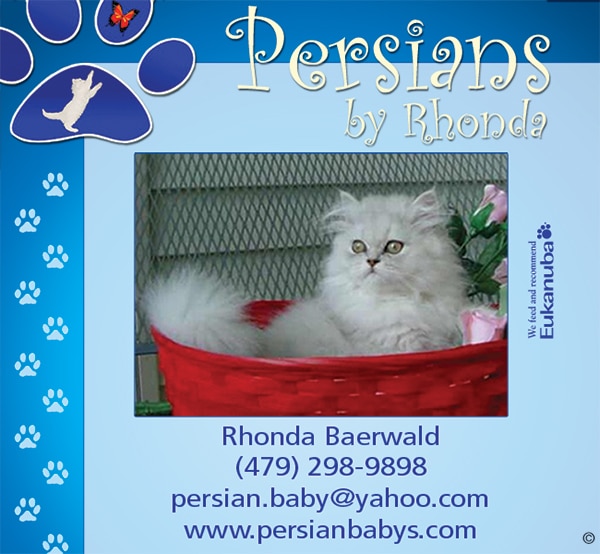 ELOISA CATTERY — CFA healthy kittens. Chinchillas, shaded, silvers/goldens. Eloise Addicott, upper Marlboro, Maryland; 301-538-7300; 301-574-5518; Texas; 830-537-4408; laddicot@aol.com
JOVIAL PERSIANS AND HIMALAYANS — CFA. Loving, healthy, beautiful kittens. Health guarantee, vaccinated. Mark Vitale, Newburgh, NY 917-710-8296; jovial
persians@gmail.com; www.jovialpersian.com
MISTEERIVER PERSIANS — CFA. Bi-color, tabby, solid. Kittens/retirees available. Lovingly home raised. Pet, breeder, show. Illinois; 630-416-8749; www.misteeriver.com
MAGGIE ANN'S PERSIANS — Solids and bi-colors. Pet kittens/adults available. Reasonable. Health guaranteed. CFA. East Peoria, IL; 309-699-3773
OLYMPUS PERSIANS — Also American Bobtails. Cats/kittens, all colors. Genetics/health guaranteed. Reasonably priced. 171 W. Airport Rd., Lititz, PA 17543-9260; 717-569-6226
KITTYTALES PERSIANS/HIMALAYANS — CFA. Most colors. Family-friendly, darling kittens. Health guaranteed. Darlene, southern California (Murrieta); 951-816-0972; darlene@kittytales.com; www.kittytales.com
MADISONDOLL PERSIANS — CFA/DNA PKD/FIV/FeLV negative. Shaded silvers plus. Health guaranteed. Shipping available. You'll fall in love! Binghamton, NY; 607-773-0114; www.madisonsdollfacepersians.com
PINK PALACE CATTERY — CFA. We ship. Grand Champion lines. Health guaranteed. Smoke, smoke bi-color, tabby and bi-color. 615-754-5679; worrall37122@yahoo.com; worrall43@comcast.net; www.pinkpalacepersians.com
WINDY VALLEY PERSIANS — Small cattery, family raised. CFA registered. Specializing in solids, bi-colors and tabbies. Murrieta, CA; 951-600-9634; peekaboopersians@aol.com; www.windyvalleypersians.com
PRECIOUS GEMS PERSIANS — Breeding Persian cats as beautiful as precious gems. Vet checked and guaranteed. CFA registered. 417-720-1554; www.preciousgemspersians.com
CARRIECATS PERSIANS — Exotic Persian kittens. CFA and TICA. National and international cattery. Veterinarian guaranteed. 708-259-2555; www.carriecats.com
---
PETERBALD
PETERBALD KITTENS — Raised inside my home. Registered, shots, guaranteed. Retired adult cats.cowboyclaws@yahoo.com
---
PIXIE BOB
FALCONEYE — Foundation RW SCG. TICA Registered. Exotic, spotted long-short coat. Straight, lynx tuft ears.Home raised. Will ship, health warranty, references. 904-501-2291; www.southernpixiebobs.com
WILOWTREE PIXIES — Love that purrs. Pet/breeder/show. Bobcat look. TICA registered. Health guaranteed. Jackson, TN; 731-616-4940; www.homestead.com/wilotree
LIVING LEGEND PIXIEBOBS — Featured on Animal Planet Cats101. Best in the East. DNA and kid tested, veterinarian approved. Shari Fedewa, 407-923-5055; www.floridapixiebobs.com
KITTENS AVAILABLE NOW! Evergreen. Strive for quality, not quantity. Old Northwest lines shipped anywhere in USA. 360-460-4703; www.northwestpixie-bobs.com
SNOWCAP PIXIEBOBS — Home of Carol Brewer, the breed founder's last breeding cats. Wild look, dog like. Guaranteed. 503-680-1946; snowcappixies@msn.com; www.snowcappixiebobs.com
WAR CLOUD EXOTICS — We raise large, exotic-looking Pixiebobs. Awesome companions. Located in northwest suburbs of Chicago, IL. 815-420-8155; www.warcloudexotics.com
---
RAGAMUFFIN
FELISOPHIC FELINES — Sweet temperaments. DNA tested, FIV/FeLV negative. CFA/ACFA registered. Sonya, central Arizona; 480-529-9478; felisophic@gmail.com; www.felisophic.com; www.facebook.com/felisophicfelines
RAGAMUFFIN KITTENS AND ADULTS — CFA/ACFA; Unconditional 5-yr health guaranty. 480-650-4638; www.keepsakekats.com
---
RAGDOLL
GRACEFUL DOLLS — Beautiful, healthy, playful Ragdoll kittens. TICA/CFA. All colors/patterns. Independence, MO; 816-796-8824; www.gracefuldolls.com; www.facebook.com/graceful.dolls
VANILLABELLE RAGDOLLS — All colors and patterns. Supreme Grand Champion bloodlines. Sweet blue-eyed beauties. 606-831-9284; 606-324-3668; adorablerags@aol.com; www.adorablerags.com
OHIO'S PURRFECT CHOICE RAGDOLLS — Registered, home raised. Pet, show quality. Excellent bloodlines, very affectionate. All guaranteed. Akron, OH; 330-628-8147; 330-431-7171; www.purrfectchoiceragdolls.com
ANGELHEART — Handled from birth, large, healthy, well-socialized kittens raised w/love. DNA tested. Reg. TICA/CFA/ACFA. Burlington, WI; 262-767-9001; angelheartrags@aol.com; www.angelheartragdolls.com
MIDWEST RAGDOLLS — Purebred Ragdoll kittens home raised with kids and dogs. Veterinarian owned. Health guaranteed. 630-803-4405; www.midwestragdolls.com
LEXES DOLLS OF TUCSON — Exceptional bloodlines. Large, beautiful, home raised, TICA registered. All colors and patterns. Kittens available. Health guaranteed. Arizona; 520-748-9163; trisha@lexesdolls.com
CLARKSTON RAGS — TICA registered. Quality kittens. Health guaranteed. 864-943-1746; ladyragdoll@nctv.com; www.clarkstonrags.com
ROCKINBLUES RAGDOLLS — SG Champion lines. Two-year health guarantee. Kittens available. All colors. Alabama; 251-230-1522; rockinblues7@yahoo.com; www.rockinblues.org
BRIGHTSTONE RAGDOLLS — Where hand-raised, adorable/cuddly kittens are waiting for you! Health guaranteed. SGC bloodlines. Long Island, NY; 516-599-1708; www.brightstonerags.com
RAGDOLL KITTENS AVAILABLE — All colors and patterns. Supreme Grand Champion bloodlines. Sweet blue-eyed beauties. 606-831-9284; 606-324-3668; adorablerags@aol.com; www.adorablerags.com
ABSOLUTELY PRECIOUS — Ragdoll kittens available at Pam's Dollhouse. TICA, two-year guarantee, shots, neutered. PD103. Family raised in small New York cattery. Kate, 585-409-7313; www.pamsdollhouse.com
LORDS N LADIES RAGDOLLS — All colors/patterns. Health guaranteed, DNA testing, FeLV/FIV tested. Raised holistically. TICA/CFA/RFCI/RI/RAG/RFW. MA; 781-665-8955; www.lordsnladiesragdolls.com
---
RUSSIAN BLUE
MAUDDIB CATTERY — Over 30 years of breeding! CFA/TICA registered. Kittens available! Bred for temperament. Excellent coat! Southern Ontario, Canada; 519-469-8656; shelleyfishermaclellan@hotmail.com
ROXANASTASIA — Home of CFA national/regional Russian Blues. Helene Schneider-Hester, Rockville Centre, NY; 516-536-8210; hschneid@panynj.gov; www.roxanastasia.com
---
SAVANNAH
LOOKING FOR SAVANNAH KITTEN in Maryland? We raise our kittens underfoot w/both parents/other cats, children and adults. 301-356-3090; alottaspotz@gmail.com; www.alottaspotz.com
BELLE HOLLOW EXOTICS — Savannahs and Egyptian Maus. Fabulous spots. Quality, gentle, loving companions. 828-524-6943; betsywhitlock1@gmail.com; www.bellehollow.net
A1 SAVANNAHS — "The Original Founder of the Savannah Cat Breed." Large and leggy cats with extreme wild look. 580-718-0011; engster@a1savannahs.com; www.a1savannahs.com
JEWELS OF THE NILE — Kittens/adults available, 75 percent through SBT year-round. Allison Navarro, New York; 267-315-1714; savannahcat@optonline.net; www.junglecats.com
UNSET EXOTICS — Specializing in excellent quality, reasonably priced Savannahs. Small home cattery in southwest Florida. Karen, 239-691-6496; www.sunsetexotics.com
SPOTTED LOVE — Small in-home cattery, raising quality Savannah kittens. Leonard, San Diego, CA; 858-513-1777; lifeatthesharpend@yahoo.com; www.spottedlove.com
C AND C SAVANNAHS — Kittens up to SBTs. Top bloodlines. Savannah-to-Savannah breedings. Callie, 618-643-3930; cb_snowtracks@hotmail.com; www.candcsavannahs.com
---
SCOTTISH FOLD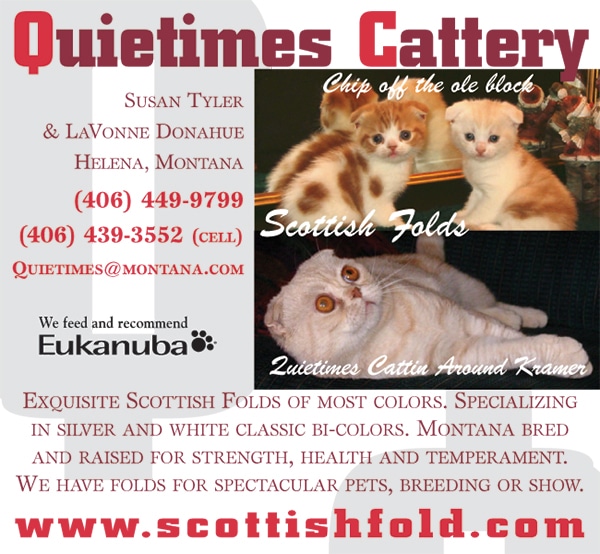 MEGAFOLD — Long/shorthair. Fold/straight ears. Show, pet quality. CFA. Shipping. Raised underfoot. Washington and California; 509-751-0132; 562-537-7232; green
acres@cableone.net; megafoldcattery.com
PURRFECTFOLDS SCOTTISH FOLDS — CFA. Champion bloodlines. Pet/show, well-socialized, veterinarian raised. Will ship. Arkansas; email for information: www.purrfect-folds.com
DESERT SUN SCOTTISH FOLDS — CFA registered. Apache Junction, AZ; 480-983-4416; peteandvicki41@yahoo.com; www.desertsunscottishfolds.com
---
SELKIRK REX
JADACATS SELKIRKS — Specializing in superior quality doll-faced Persians/Exotic Shorthairs, too. ACFA/CFA. 45 plus years raising/showing experience. 417-860-7064; www.jansgroomingandschool.com
---
SIAMESE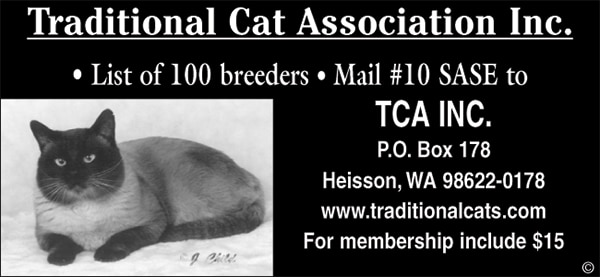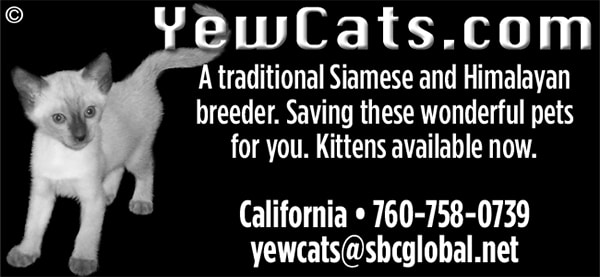 CLOWNTOWN CATTERY INC. — Siamese, Balinese and American Shorthair. All colors. Bred for health. CFA registered. Howard, 602-717-4830; clowntown1971@yahoo.com; www.clowntowncattery.com
ACATAMI AWARD SIAMESE — CFA. National and breed winners. Lilacs, chocolates, seals, blues. Ancestral longevity. Reincarnative qualities. Sibyl Zaden, P.O. Box 69530, W. Hollywood, CA 90069; 310-659-8602
TRADITIONAL SIAMESE APPLEHEAD PETS — Yesteryear's elegant charmers. Health guaranteed. 434-821-4555; nofinercat@aol.com; www.reprisesiamese.com
X-QUISIT SIAMESE — CFA kittens and adults occasionally available. Mary Vincent, Clearwater, FL. For that very special companion call: 727-446-7308; pets4you.com/pages/x-quisit.html
FLEUR-JEAN SIAMESE — CFA. Kittens occasionally. All colors, reasonably priced. Pet, breeding, show, champion lines. Will ship. 940-648-3577.
LINNY'S SIAMESE — Points, lynx points. Registered. Stud service. Purrfect purrsonalities. Health guaranteed. We don't ship our babies. Fleetwood, PA; 610-944-3609; 610-506-7109; simeznzr4me@verizon.net
MINGHOU — Siamese and Oriental. TICA and CFA registered. Health plus genetic guarantee. Pat Muise, 508-395-6000; www.minghoucattery.com
SIBERIAN
MUNCH RANCH — Siberian kittens available. TICA/CFA registered. USDA licensed and shipping available. Most colors available, including blue-eyed colorpoints, silvers, golden, solids and traditionals. Larry Munchrath, Texas; 903-887-6378; lmunchrath@netzer
HYPOALLERGENIC SIBERIAN KITTENS — Quadruple GC lines. Superb quality/personality. Many colors/markings, lynx point, blue, copper eyes. Health guaranteed. TICA. 404-451-3788; www.shadowlawncattery.com
DEEDLEBUGS SIBERIANS — Our cats are known for their kind temperaments, exceptionally low-allergen qualities and variety of colors. deedlebugs@yahoo.com; www.deedlebugsiberians.com
#1 CROSHKA SIBERIANS — Hypoallergenic, large/beautiful, longhaired kittens. USDA licensed. Breeder since 1994, health guaranteed. Registered. Will ship. Kathy Wade, Georgia; 678-859-2657; www.siberian-cat.net; www.facebook.com/siberiancatpage
CICA SIBERIAN CATS — Top-quality Siberians. Original Russian lines. Silvers, brown tabbies, blacks. Maria Pavloszky, 317-726-1482; cica@gfowler.net; www.cicacattery.com
FOLIE A DEUX SIBERIANS — Focusing on tabbies and bi-colors. Home raised, health guaranteed. Iris and Bob Zinck, 781-483-3007; email preferred: folieadeuxcats@gmail.com; www.folieadeuxcats.net
TORMODKOT CATTERY — Siberians/Norwegians. CFA registered. Strong, healthy, highly socialized kittens; European Grand Champion lines. Several colors. 509-306-1201; forestkats.net
---
SINGAPURA
SOMETHING VERY DIFFERENT — Singapura kittens, nurtured in my small-scale home cattery. Loved from day one to be ready for you. 919-742-3120; kittens@asiaticacattery.com; www.asiaticacattery.com
---
SOMALI
KAHALI SOMALIS/ ABYSSINIANS — All four colors. Pet and show quality. Excellent temperament, health/type. Worldwide courier service. kahalicattery@hotmail.com; www.kahalicats.com
---
SPHYNX
SUNDANCENBARE SPHYNX CATTERY — Striving to bring quality Sphynx to you. Healthy CFA kittens; 801-699-0691; alanajacobs@comcast.net; www.sundancenbare.com
ACROBATKITTY SPHYNX AND BAMBINOS — TICA registered. Kittens are raised with children and have one-of-a-kind personalities. 724-422-7698; acrobatkitty@yahoo.com
A SPHYNX IN FLORIDA — Home raised underfoot. Personality plus. Pet/breeders/show. Home of regional winners, Supreme Grands. Reasonable prices. 727-482-3205; www.hadakat.com
MAGICALPURR SPHYNX, BAMBINO, ELF CATTERY— CFA/TICA registered. Champion bloodlines. Health/temperament are top priorities. 559-392-0921; catherine.musgrave@yahoo.com; magicalpurr.com; www.facebook.com/kitty.musgrave.5
---
TONKINESE
TONKA TALES — Very playful, loving and social. Health guarantee. Will ship. Carol Corl, Toledo, OH; 419-836-1438; mspurz@aol.com
WENLOCK TONKINESE — Regional/national winners. CFA registered. Kittens by reservation. Vaccinated, with health certificate. Michigan; 248-349-1588; wenlock@gmail.com; www.wenlockcattery.com
MINE FALLS TONKINESE — Affectionate, family-raised kittens. All colors. Occasionally young adults. New Hampshire; 603-889-1103; www.minefalls-cattery.com
INNOCENTIA — Affectionate and home raised. All colors. Immunization/health guaranteed. Will ship from Detroit, MI. 877-228-7868; www.innocentia-cats.com
---
TOYGER
ALUREN TOYGERS — Kittens usually available in white and brown. Pat, New Jersey; 856-358-2455; 856-305-8147; alurentoygers@gmail.com; www.alurentoygers.com
---
TURKISH ANGORA
ANTIOCH TURKISH ANGORAS — Health guaranteed, kittens raised underfoot, occasional adults. Ohio; 740-817-2000; turkishangoracats@earthlink.net; www.turkishangoracats.com
---
BOOKS AND PUBLICATIONS
KHAN: A MAINE COON — Semi- ctional biography of a real Maine Coon, seen through his eyes and stoic heart. Learn in these pages why everyone who knew him loved him so very much. At Amazon or Lulu.com. www.facebook.com/Furlitian-Tales-Other-Stories -258778057484770/
---
BOWLS & FEEDING SUPPLIES
KEEP CAT HEALTHY WITH PORTIONMATETM — MUST HAVE 42-page feeding guide, treat mat, measuring tools. BUY NOW $16.95 visit shop www.portionmate.com
---
BUSINESS OPPORTUNITIES
TURN YOUR LOVE FOR CATS INTO AN INCOME! Part-time/full-time. Training provided. Own your own business for only $24.99. www.pawtree.com/catster
---
DVDS/VIDEOS
NO BORED CATS — Play Video Catnip. Two-hour DVD. Fun bird, squirrel, chipmunk action. Kitty's entertainment satisfaction guaranteed. 800-373-9137; www.videocatnip.com
---
ENCLOSURES AND FURNITURE
CAT PODS — The economical way to shelter outdoor cats. Available in sizes to t one cat or multiple cats. www.stabobspethouses.net
---
GIFTS
CHRISTMAS FROM ANGELS A FOOT! Experience the world of original, Victorian, cat designs on shirts for the cat lover! Shop www.angelsafootdesigns.com.
KITTYCATARTSTUDIO.COM — Quality handcrafted cat décor and gifts. Cat tree toppers, ornaments, desk organizers and more. Use code CATSTER at checkout for a discount.
---
NATURAL PRODUCTS
SAFE/EFFECTIVE ESSENTIAL OIL BLENDS for pets. Chemical free, heals skin, anti-anxiety, ea/tick repel- lent, ear issues. www.essentialoils4pets.com
---
PET CARDS AND STATIONERY
DON'S GREETING CARDS — Beautiful gift cards for any occasion, with incredible photography. 620-688-1800
---
PET MEMORIALS
SLEEPING CAT SHAPED CREMAIN URNS —  Painted to match your feline. Stoneware, hand-crafted in Asheville, NC. www.colinscreatures.com; 828-215-6006
EVERLASTING VERMONT GRANITE PET MONUMENTS — Airtight caskets, urns. Free brochure: Everlasting Stone, P.O. Box 995-CF, Barre, VT 05641-0995; 800-882- 6686; now shop www.everlastingstone.com
---
PET SERVICES
CONTINUING CARE — Assure your pet's future if you are no longer here. Contact Assisi Animal Foundation for information. 815-455-9411; info@assisi.org; www.assisi.org
---
REGISTRIES AND CLUBS
AMERICAN CAT ASSOCIATION (ACA) — Since 1897 registering cats; all colors, patterns. 11482 Vanport, Lakeview Terrace, CA 91342; 818-896-6165; www.americancatassociation.com; www.americancatassociation.org
THE INTERNATIONAL CAT ASSOCIATION (TICA) — Largest genetic registry of pedigreed cats: P.O. Box 2684, Harlingen, TX 78550; 956-428-8046; inquiries@tica.org; www.tica.org; www.ticaeo.com; www.facebook.com/theinternationalcatassociation
---
SPIRITUAL AND COUNSELING
ANIMAL COMMUNICATOR — Let me help you con- nect with your pets! Rescues free. Proceeds go to www.dpvhs.org. See www.zanottaway.com and call me at 413-301-3007 or email zottali@icloud.com to arrange a meeting through Skype, phone, FaceTime or in your living room (if you're in the Massachusetts Pioneer Valley)!
ANIMAL COMMUNICATOR, INTUITIVE MEDIUM — for pets and people. Correct behavior issues, health issues, grief support, contact the other side, lost pets found. 520-349-3909; www.AnnHo.com