Last weekend, the tranquility in the quaint British village of St. Osyth was interrupted by reports of a lion prowling around the edges of local RV parks. The creature, who quickly became known as the Essex Lion, was first seen by Denise Martin, who was vacationing at the Earls Hill Farm RV site.
She was looking out the window and saw a shape in the field. "So I got the binoculars out," she said. "I said to my husband, 'What do you make of that?' He said, 'That's a lion.'" The couple quickly called the police.
Gill and Steve Atkin were the next people to spot the animal. They even took a photo of it.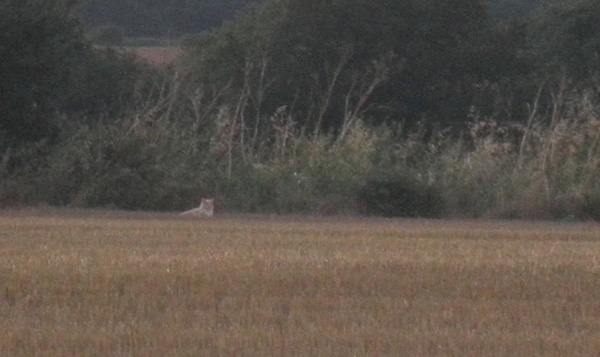 As calls to the police kept coming in and panic began to spread, authorities launched a full-scale search. "Operation Pussycat," as the mission was called, involved two police helicopters, 25 armed officers, and a couple of zookeepers with a tranquilizer dart gun.
The lion soon had his own Twitter account, in which he posted a stream of ASBO-worthy incidents from his life on the lam. He amassed about 38,000 followers in just a few days and gained the attention of another wild-animal celebrity, the Bronx Zoo Cobra, who shared the news of the feline fugitive with his 204,000-plus followers.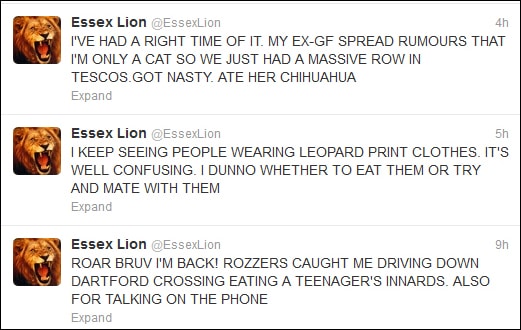 Meanwhile, St. Osyth resident Ginny Murphie was in Liverpool, watching all the excitement from her TV screen. But when she noticed that the police were speeding toward her home, she got a sneaking suspicion that the "Essex Lion" was none other than her giant Maine Coon cat, Teddy Bear.
Murphie bought Teddy Bear a few years ago, hoping he'd be a companion while she recovered from cancer. But alas, Teddy Bear definitely preferred the wild life and took to roaming around the gardens and fields around her home. His favorite stamping grounds: The field where the alleged Essex Lion was sighted.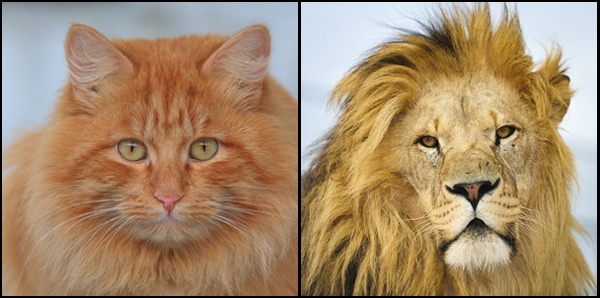 This isn't the first time a Maine Coon has been mistaken for a wildcat. Earlier this year, a resident of South Salem, Oregon, saw a Maine Coon that he swore was a cougar.
Although Teddy Bear has been mistaken for a fox before, Murphie said this is the first time he's been mistaken for the King of Beasts. "All my friends were joking that it must be Teddy," she said. "When I saw the photo, I recognized him straight away. The way his ears were and his head. It's definitely him."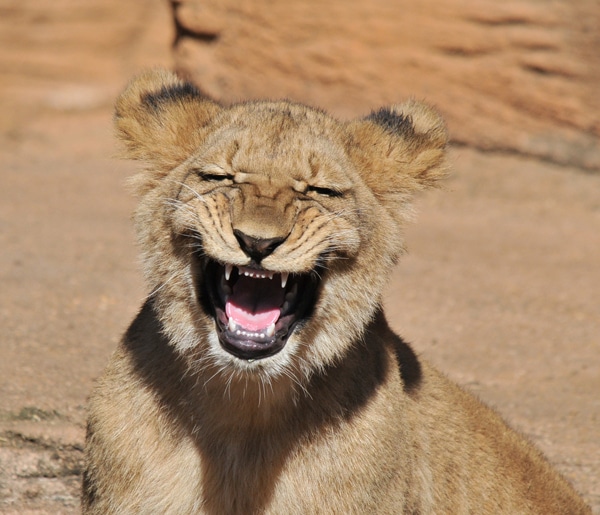 After a day, authorities called off the search because they saw no sign of a lion.
But even now, people are still insisting that the creature they saw was a lion and not a house cat — not even a very large house cat like Teddy Bear. After all, why let facts get in the way of a perfectly good mass hysteria?
Sources: The Guardian, the Daily Mail