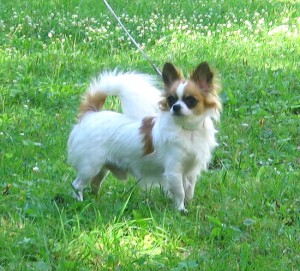 Dear Dr. Barchas,
I have a 7-year-old long-coat Chihuahua. I have had dogs most of my life, and probably have been fortunate because I have not experienced one being sick as mine suddenly became and won't eat.
I came home late from work on Friday and he wouldn't take his treat. He vomited bile three times during the night, and in the morning I took him to the vet. All day Saturday, he would not drink any water. Finally at around 2 a.m. he drank some water. He drank more later, but then sometime during the night he vomited.
I'm thinking that he did retain some of the fluid because he did urinate a little when I took him outside. I know that it takes 24 to 72 hours, but should I try to give him a little Karo in his water for his blood sugar? Do I just wait? I am really concerned.
Theresa
You don't mention what happened at the vet when you went, but it sounds like no blood tests were run nor X-rays taken. This is not uncommon — many vets and owners decide on a conservative approach to treatment when an animal first becomes sick. A significant number of pets will recover from episodes of vomiting and poor appetite if they are treated with fluids and basic stomach calming medications.
However, when a pet remains sick after initial treatment, it is important to find out why. Your dog does not appear to have a self-limiting condition. I am worried about serious problems such as pancreatitis, kidney failure, an intestinal foreign body, or other metabolic, inflammatory, or toxic causes of illness. Blood tests and diagnostic imaging (X-rays and ultrasound) will give you great insight into what's wrong. You can only treat serious problems if you know what needs to be treated.
For the record, I am not a proponent of conservative care in truly sick animals. When it fails, animals become sicker and treatment is more difficult than it would have been if diagnostic tests were run in the first place. When a pet is sick, I recommend tests, so that any serious problem can be caught and addressed early.
Photo: Tatiana Borisova