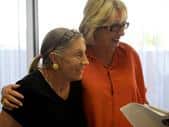 While recounting the first time she found an abandoned mother cat and her kittens in Palm Beach about 25 years ago, Catherine Bradley had to briefly stop to compose herself.
Im sorry, it still gives me emotion, Bradley said, her voice trembling.
Bradley, who initiated the caretaking of the islands feral cat population, received the 2011 Palm Beach County Animal Kindness Award Tuesday during the Board of County Commissioners' meeting.
County Commissioner Karen Marcus presented Bradley with the award in recognition of your devotion for rescuing and saving the lives of countless animals in need, particularly feral cats, Marcus said. Your kindness and compassion towards animals is admirable and greatly appreciated. In this time of need, people are busy with their own life and dont take the time to care for others and for animals in need. The fact that youve done that, we want you to know we appreciate that very much.
Bradley thanked Chuck Mata, who nominated her for the award and was in attendance, as were her friends and longtime supporters. She also thanked Dianne Suave, director of Palm Beach Animal Care and Control.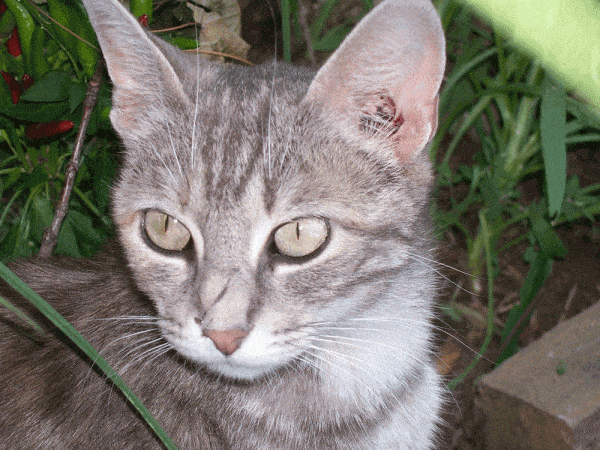 The one thing that Catherine Bradley has stood firm on is that feral cats need caregivers and thats one of the reasons that we embrace her philosophy, Suave said. She recognizes that you cant trap, neuter and abandon. You have to trap, neuter and care.
When Bradley first moved to Palm Beach, she had a small, but successful, real estate business. In 1990, she sold the oceanfront mansion once owned by John Lennon for $4.15 million.
But, as she described it Tuesday, life changed drastically one day when out walking my dogs I saw a mother cat and her kittens on the front lawn of a property, which was for sale and vacant. I had heard that people sometimes left their pets behind for the summer, much to my utter amazement. I went to Publix to get some cat food and the rest is history.
I realized that the only answer to this problem was, and is, the trap, neuter and release procedure for abandoned strays and their offspring, the feral cat, she said. Since that fateful day, we have spayed and neutered hundreds and hundreds of cats and kittens, but our work is never done.
Bradley thanked everyone on behalf of all my fellow cat ladies and gentlemen who will be going out into the bushes tonight.
In nominating Bradley for the award, Mata described her as a saint … Her generosity with her knowledge and her time is unequaled.
Mata said he met Bradley in 1996, when he worked for a family in Palm Beach.
Her fierce dedication to the welfare of the animals, providing guidance to the uninformed, starting T-N-R and preventing millions of deaths, Mata wrote in his nomination letter. Her love is unconditional, and undeniable.
Even after moving off island with her Palm Beach Cat Rescue and Humane Society in recent years, Bradley still has a staunch group of supporters and friends here. She also provides help to feral-cat colonies on Tamarind Avenue.
This is my ninth year going in there, she said. I have lovely, kind, wonderful people who are very poor, but who take care of the cats. I provide the food and the services.
Mata was part of Bradleys group of friends who attended the award ceremony, along with Lilly Pulitzer Rousseau, who has supported the cause all these years, and Bradleys sister, Maureen Bradley Crouch, who lives in London.
I wish that our mother were alive to be here, Crouch said. She would be so proud.
[Source: Palm Beach Daily News]