As the creator of ModKat, the first truly stylish litter box, the New York City design firm ModKo is the acknowledged leader in elegant kitty loo solutions. ModKat is a gorgeous, Kartell-esque piece of contemporary furniture that looks and performs great, but at $160, it ain't cheap.
Happily, the company just unveiled its newest creation, Flip, the world's first "cat box convertible," which retails for about half the price ($72).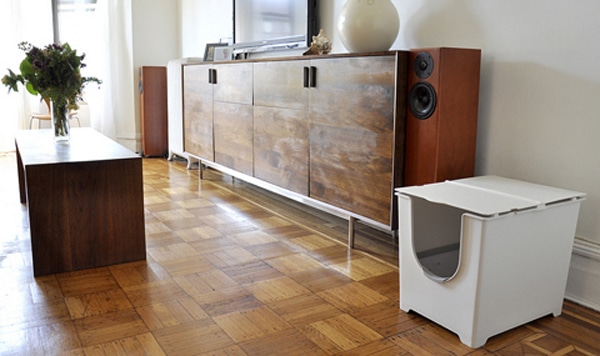 Design-deprived cat lovers are sure to flip for Flip, so named because of its hinged, magnetic lid, which opens and snaps shut at the touch of a finger. "Flip the lid once for daily scooping, flip twice for more thorough clean-ups," say designers Rich Williams and Brett Teper. "No lid removal or awkward bending to scoop, Flip provides unfettered access from above."
Feline waste is contained in a seamless, coated sheet of paper board called the Flip Liner, which is liquid-tight and scratch-proof (how'd they do that?), and lasts up to two months. Flip, like ModKat, features a handy hook to hang your scoop from.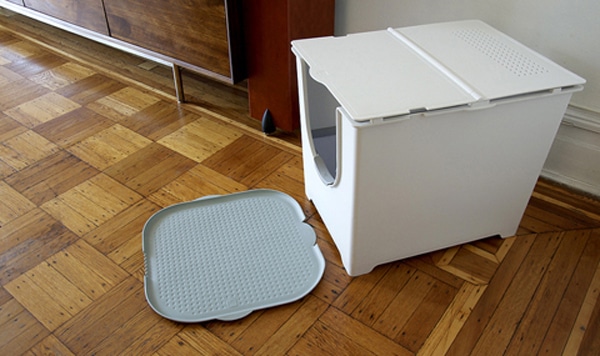 Even if you can't invest in a new loo for Fluffy, you can accessorize her current one for just $20 with ModKo's other new innovation: Katch, a clever, traylike mat that traps stray litter particles, so they're easily poured back into the box. Waste not!