Cats are mysterious, magical creatures, and the best place to learn about their mystery and magic is the internet. About a month ago, the Internet told me about the "cat trap" phenomenon. Apparently, because cats like small, enclosed spaces or geometry or something equally weird, it's easy to "trap" them using something as simple as a circle drawn with masking tape on the floor.
According to the Internet, it was supposed to work like this:
Step 1: Create a circle.
Step 2: Wait for the cat.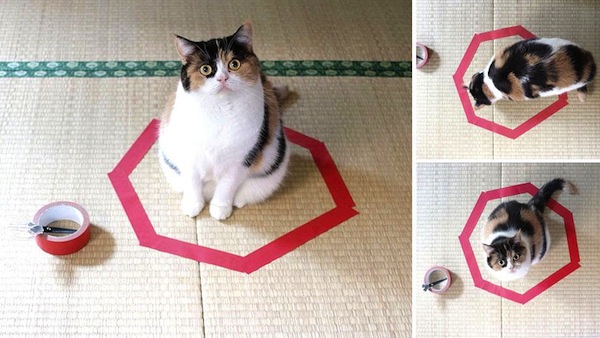 And that's it! Easy enough!
My boyfriend and I decided to make multiple circles of varying sizes on several different surfaces: the hardwood floor, the rug, and the couch. Suddenly, with blue masking tape everywhere, our home looked like the playground of crazy people on too much Mountain Dew. If anyone had come to the door, I would have felt obligated to defend myself: "No, no — we're trying to trap the cats! Really, it's going to work!"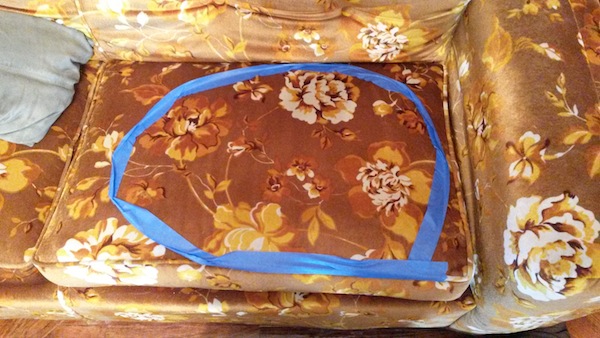 Actually, that might have made it worse.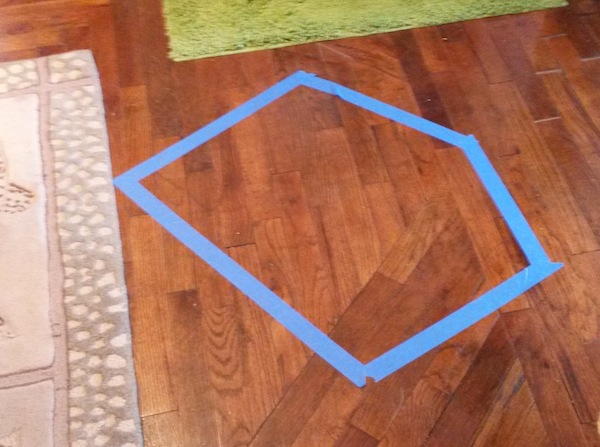 Then we waited. Because they're fastidious and borderline OCD, the cats were definitely interested in this minor change in their environment. They walked around the circles, sniffed them, even licked them; they basically did everything but go inside them.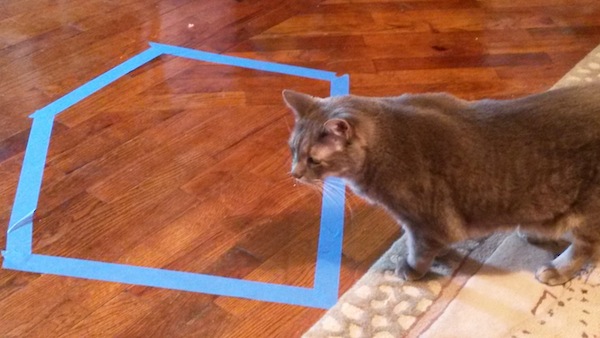 In a last-ditch effort, my boyfriend created one huge circle on the dining room floor. Maybe if they had nowhere to go but circles, they'd be forced to sit in one?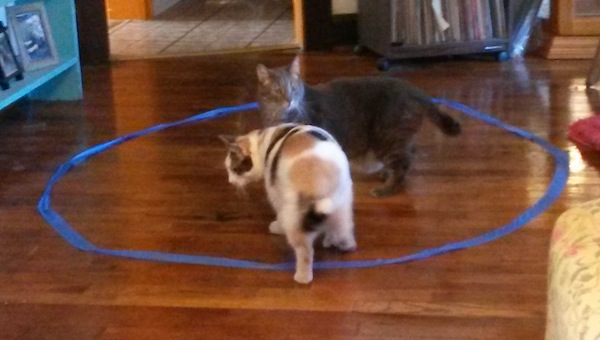 For a second, it looked like this devious plan was working. Both of the cats entered the circle — but instead of sitting down and making some stupid, wide-eyed, clueless face to underscore their adorable obliviousness, they jumped out of the circle as quickly as they'd entered. Yes — jumped, as though the masking tape created some sort of barrier they could not merely step on.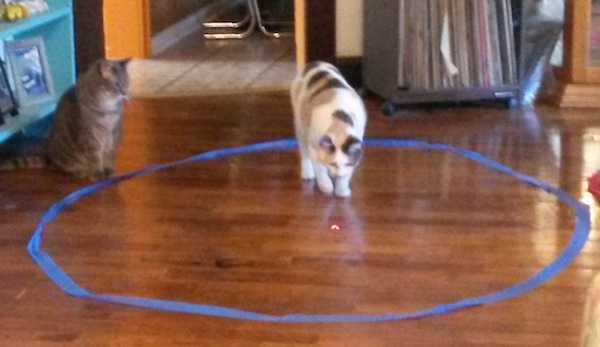 Frustrated, my boyfriend tried to lure them back in to the trap with the laser pointer. This was only temporarily successful — Phoenix, my calico girl, is so lazy that she gives up on trying to catch that elusive red dot within 30 seconds, and Bubba Lee Kinsey seemed hesitant to reenter the circle at all. At this point, we concluded that our cats were either too smart or too stupid to fall for this trick — or maybe they just needed a cat trap that was a little more substantial.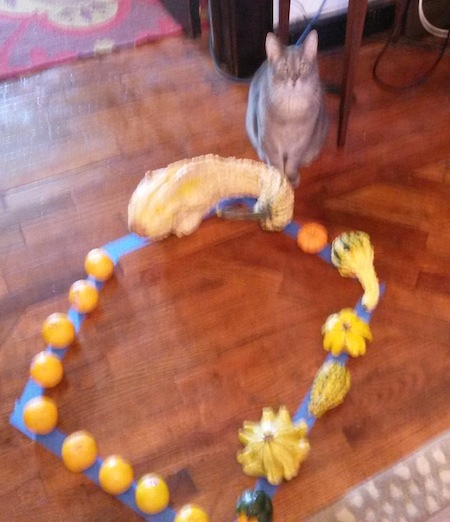 So we lined the smallest trap with tiny oranges and the mutant gourds we'd acquired from the pumpkin patch. Bubba Lee Kinsey sat directly outside of it and stared at us. Phoenix, unnerved by all of the ruckus, left the room to hide in the closet. Neither cat stepped foot inside.
In conclusion, cat traps don't work. (Catster's Angie Bailey recently had similar results.)
Instead of adorable pictures like this …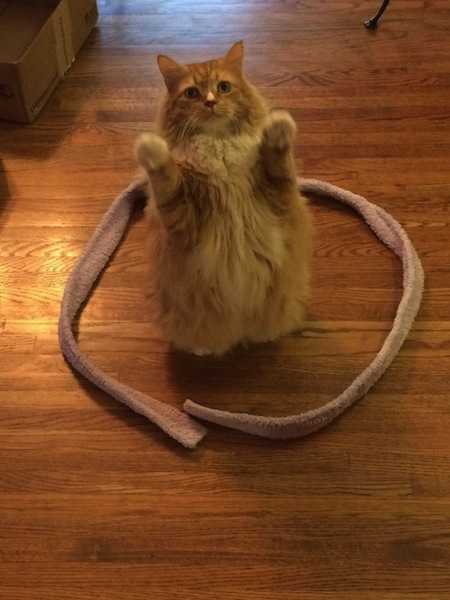 … we ended up with a bunch of masking tape we had to clean up and a gourd circle that looked like part of some weird pagan ritual. Incidentally, the only living thing who sat in one of our cat traps was me, on the couch, in defeat.
In the future, I'll stick to luring my cats with (occasionally empty) promises of treats.
More by Angela Lutz:
Learn more about your cat with Catster:
About Angela: This not-crazy-at-all cat lady loves to lint-roll her favorite dress and go out dancing. She also frequents the gym, the vegan coffee joint, and the warm patch of sunlight on the living room floor. She enjoys a good cat rescue story about kindness and decency overcoming the odds, and she's an enthusiastic recipient of headbutts and purrs from her two cats, Bubba Lee Kinsey and Phoenix.