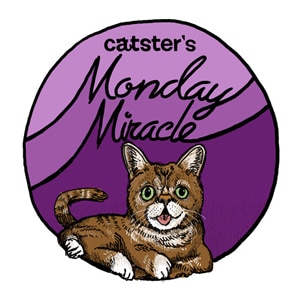 Billie Jean is one wild cat. Unfortunately, while out and about on the prowl earlier this year, this fog-colored kitty happened to get caught up in the bitter grasps of the polar vortex. Seeking refuge from the frigid weather, this feral female managed to hole up in a garage in Frenchtown in New Jersey — but by that point her diminutive frame had already succumbed to frostbite. So severe was her condition that she could barely stand on her own.
Thanks to the folks at the Tabby's Place sanctuary, though, she's getting back to her natural ways. 
Recalling her first meeting with Billie Jean, Angela Townsend from Tabby's Place says, "When we found her she was explosively angry, terrified and defensive. She would lash out at us continually, almost like a wild tiger. A couple of our seasoned staff members were honestly a bit afraid of Billie Jean — and this is unusual for brave Tabby's Place cat wranglers! But given what this poor girl had gone through, we certainly don't fault her for being so petrified."
In order to temper Billie Jean's "feral feral" nature, a large transfer crate was employed to help whisk her away to receive the intensive medical care she needed. Toes were unfortunately lost, while bandages were changed and reapplied — although an early suggestion that she would need to have additional toes removed didn't come to fruition.
Angela says that since her medical procedures, Billie Jean is "doing beautifully." She adds, "Her personality is now timid and reserved, and still a little suspicious of us. She certainly trusts us much more than she did, and we think her tremendous progress will only continue. She seems to understand that we are trying to help her — or, at least, that we are not trying to do her harm — and she's much more tolerant of the necessary poking and prodding."
To that end, this wide-eyed beauty is going to be up for adoption. Angela says the former feral is going to need "a home that abounds in patience and love." She admits that Ms. Jean might never bloom into a lap cat, but "will continue to grow in her affection for people. We are hopeful that there's a wonderful person or family out there who is willing to adore her just the way she is and to celebrate each step she takes on the path of trust."
As for Billie Jean's name? It turns out the origin story is one of simple serendipity. "One of our staff members happened to have the old Michael Jackson song in her head the morning we rescued Billie Jean," says Angela. "So the name just stuck."
You can keep up to date with Billie Jean's progress over at the Tabby's Place Facebook page.
Read more Monday Miracles on Catster:
About Phillip Mlynar: The self-appointed world's foremost expert on rappers' cats. When not penning posts on rap music, he can be found building DIY cat towers for his adopted domestic shorthair, Mimosa, and collecting Le Creuset cookware (in red). He has also invented cat sushi, but it's not quite what you think it is.