This week's Monday Miracle is a triumph of teamwork. Instead of profiling the usual superhero special needs kitty, this time we honor a tag-team duo called Ray and Newton. They're not biological brothers, but since their paths in life crossed these two have become inseparable. Because Ray is blind, Newton has stepped up and turned into his personal chaperone.
Ray's story begins when he was taken to the Kingston Humane Society in Ontario when just six weeks old. It seemed the black-and-white kitten suffered from an eye infection — although an examination revealed a far more serious situation.
The organization's Facebook page describes the extent of his congenital defect this way: "Both eyes were incredibly underdeveloped to the point where our veterinary care staff were unable to determine whether or not his eyes even existed."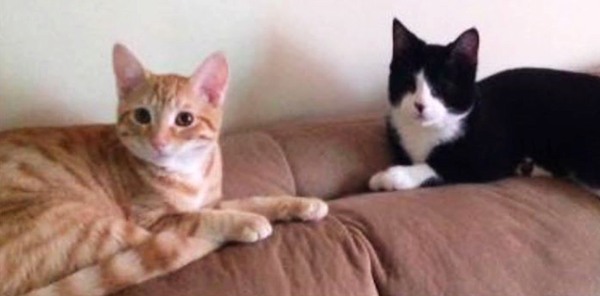 At that point, Ray was introduced to another similarly aged kitten in the shelter. His name was Newton and, after being placed in a foster home with Ray, he did the right thing and took on the responsibility of becoming Ray's official guide cat.
"Newton has been his buddy and has taught him to trust people and guided him around his foster environment," says a Facebook update. "Newton taught him to walk around his house freely and confidently and not fear for his safety."
At that point, Ray's personality began to shine through, as he discovered a talent for spending hours on end playing with his toys before relaxing on the couch and initiating snuggle sessions.
Now for the happy ending: With Newton and Ray demonstrating their double-team awesomeness during their foster stay, they were put up for adoption together. On March 25, they found their forever home. Well done!
Read more Monday Miracles on Catster:
About Phillip Mlynar: The self-appointed world's foremost expert on rappers' cats. When not penning posts on rap music, he can be found building DIY cat towers for his adopted domestic shorthair, Mimosa, and collecting Le Creuset cookware (in red). He has also invented cat sushi, but it's not quite what you think it is.