Hello, everypawdy! February is here and you might hate it or love it but it's a purrfect time fur say "I love you" to us, your lovable furchilds who are are there fur you, no matter if you are moody, happy or depressed and haven't showered fur three days.
Really, who is there when your BF or GF is being a dog-butt? When your furriends are being idiots? When you have a bad day at work? When you get a bad haircut? US!
Of course, we are there so you don't die and keep feeding us and keep getting all our stuffs — but we love you, too, unconditionally. Bottom line, it's time fur shop and we don't care that was just Christmas LOL.
Here are my recommendations:
1. Moody Pet Fling-ama-string
I love this toy fur reals, I have had it since I was eight months and still work and still love it! Here is a video of my furst Christmas when I got it and when my momma though I looked like Hello Kitty (no need to say that I'm way cuter). You can get this toy at Moody Pet or Amazon.
OMG this swing is soooo stylish, guys! Kitticraft has many purrducts, but I want to show you the swing because swings are so much fun fur us. Your house with this piece of kitty furniture won't scream "cat lady," it WILL scream HOT cat lady!
It's pricey, but I ain't never been cheap!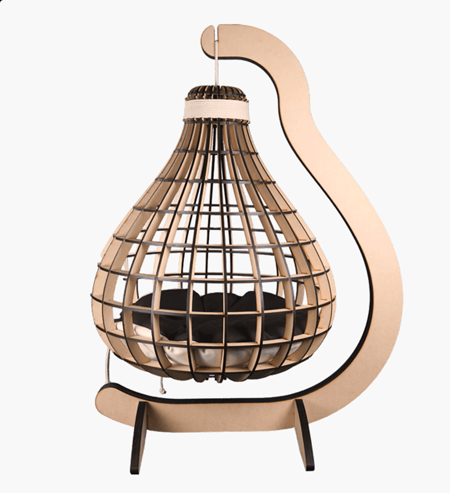 I have this scratcher and I love it and my momma love it because looks like art. It's cardboard, which every kitty loves — it's easily replaceable and recyclable!
Also you can configure the pieces to create your own design. Cool right? You can buy it at Etsy.
4. Martha Stewart furchild clothes
I have to say that the new designs are TO DIE FUR! So chic, so N.Y.! And I think Martha heard me when I complained about the prices, because now the designs are WAY cuter and you can even find some at less than $10!
You can buy Martha's clothes at PetSmart.
Honestly they are the best bow makers around. I have bows from both of them and the quality and creativity are MEGAPAWSOME!
No matter what's your budget, the good intention is what matters! Okay, that was a LIE. Momma, you better buy me something — it's Valentine's Day fur God sake!
Have a FABulous weekend, guys, and don't furget to follow me on Twitter, furriend me here on Catster, like me on Facebook, and last but not least go to my website to fall in love with one of my Purrsians in need!