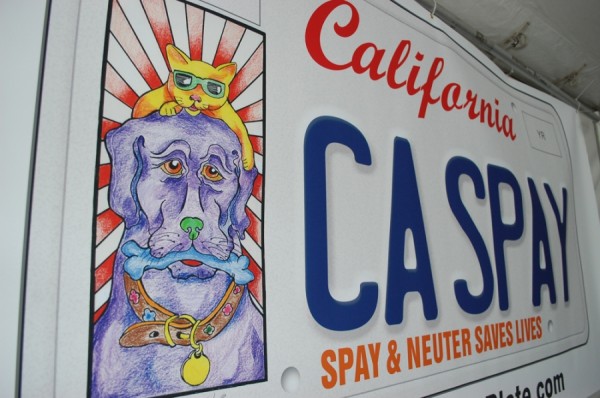 Woo Hoo! Am I glad to be a Californian! Gorgeous new license plates that feature original artwork by Pierce Brosnan (hubba hubba) are now available for pre-order. The plates promote Spay/Neuter, and proceeds from their sales will provide funding for free and low-cost spay and neuter surgery programs throughout California.
This program has been launched by the California Spay and Neuter License Plate Fund and the California Veterinary Medical Board.
The Spay and Neuter License Plate Program is unprecedented in California and a brilliant initiative, noted Dr. Stephanie Ferguson, Vice President of the California Veterinary Medical Board. The proceeds from this program will tremendously benefit animal shelters and help curtail the number of homeless animals throughout the state. Were also extremely fortunate to have the generosity and crucial support of Pierce Brosnan and other well-known celebrities, she added.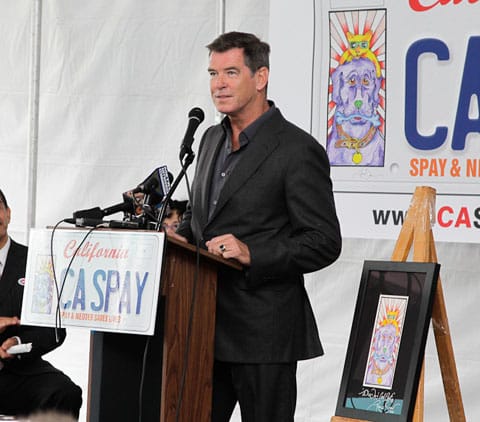 The California Spay and Neuter License Plate Program will help raise awareness about the overwhelming number of homeless and unwanted dogs and cats in California and the importance of spaying and neutering pets to save animal lives. The program will fund spay and neuter surgeries through local animal care and control agency voucher programs and through in-house or local veterinary clinics. Animal lovers and supporters can pre-order the special license plates online at CASpayPlate.com starting June 9, 2010.
According to the latest figures available from the California Department of Public Health, the total number of dogs and cats euthanized (killed) in public shelters rose from 378,445 in 2004 to 432,512 in 2008. When the States private shelters are included, it is estimated that one million pets enter California s shelters each year, with over half (500,000) of them euthanized.
The increase in animals entering shelters and the resulting euthanasia rates are caused by several factors, including people abandoning their pets due to the mortgage and unemployment crisis, accidental litters from unaltered pets, over-breeding of dogs and cats, and stray dogs and cats reproducing. Initiatives such as the California Spay and Neuter License Plate Program can have a positive impact and significantly reduce pet overpopulation through increased spay and neuter.
The program will be managed and administered by the California Spay and Neuter License Plate Fund, a 501(c)(3) nonprofit organization.