My local humane society in Toronto opened a new rooftop garden last month, thanks to a partnership between cat food company Purina and environmental nonprofit group Evergreen. The new space gives shelter volunteers a much-needed area with fresh air. It has bunches of catnip and other tasty herbs filling the containers; the garden's designed as much for cats as it is for those who care for them.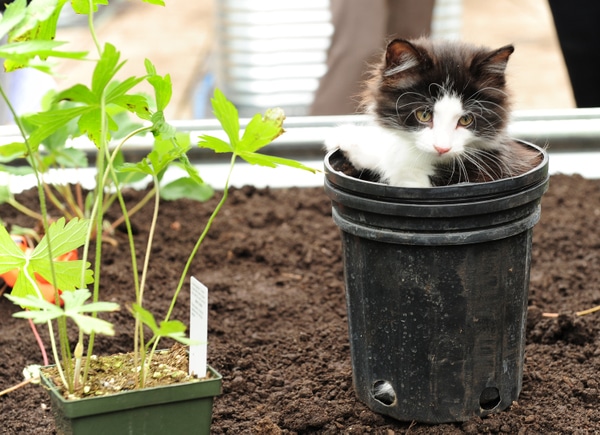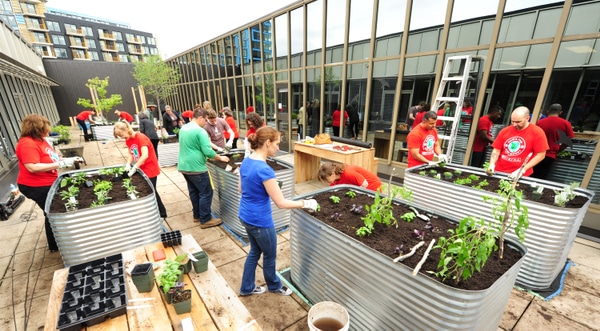 This got me thinking: What makes a garden cat-friendly? And how might a little green space brighten up an urban cat's day-to-day routine?
Local news organizations covered the garden's grand opening, which was a busy affair bustling with volunteers, kittens, and cats, among other small animals.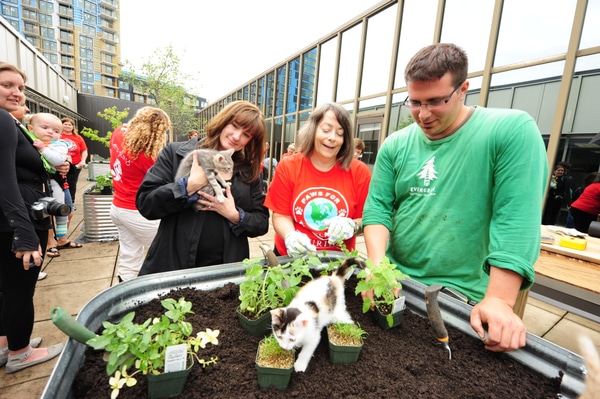 Barbara Steinhoff, executive director of the Toronto Humane Society, says the garden has continued to be popular long after its launch ÔÇô- so popular, in fact, that staff member had to introduce a sign-up sheet to prevent the area from becoming too crowded.
"It has gone over so well," she tells me.
She says that it's especially rewarding to watch kittens, freed from their cages for the very first time, explore their surroundings.
"To see them running and playing is such an incredible experience," she says.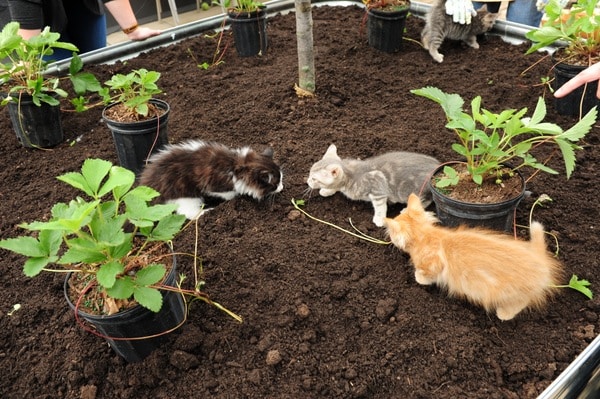 As part of Purina's Paws for the Planet initiative, similar gardens at other Canadian shelters are set to open this summer in British Columbia, Nova Scotia, and elsewhere in Ontario. The Toronto Humane Society's patio includes small trees, vegetable-growing plants, and edible herbs, such as catnip, basil, ginger, wheatgrass, and thyme. The Humane Society will maintain the garden and volunteers are free to take home some of the herbs and produce it bears.
Purina approached Evergreen last year, asking if the organization could help them build a pet friendly garden at its head office. Since then, the two groups formed partnerships with various shelters and discussed how gardens could best suit their individual needs.
The second-floor courtyard at the Toronto shelter had always been an available but unusable space. "There were very little signs of life there," Evergreen project manager Joseph Leo says, explaining that since the patio had full exposure to the sun, it became baking hot during the summer. To solve this problem, Leo had trees planted that will provide adequate shade without growing too tall as they age.
Steinhoff thought the catnip would become the garden's main attraction for feline visitors, but this hasn't quite been the case. The most popular place by far, surprisingly, is the strawberry patch. Berries are still many months away, Leo says, but the cats just love rolling around and sniffing the strawberry leaves.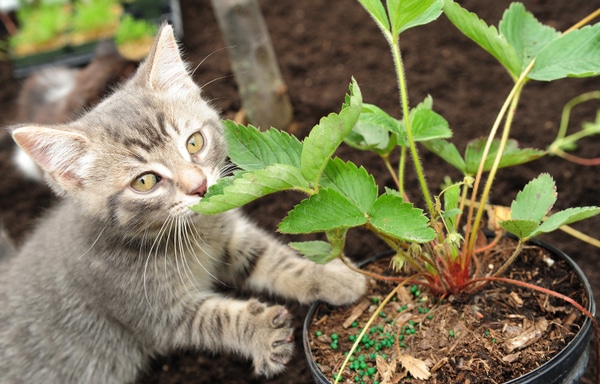 "We tried to come up with not only what would look nice but also what would be the most functional and sustainable for them," Leo says. Much discussion revolved around what plants would be safe around animals, as many common garden plants are toxic for pets.
Because of its courtyard rooftop location, this garden's a completely enclosed space, which means cats are safe to roam free there without being tied or leashed.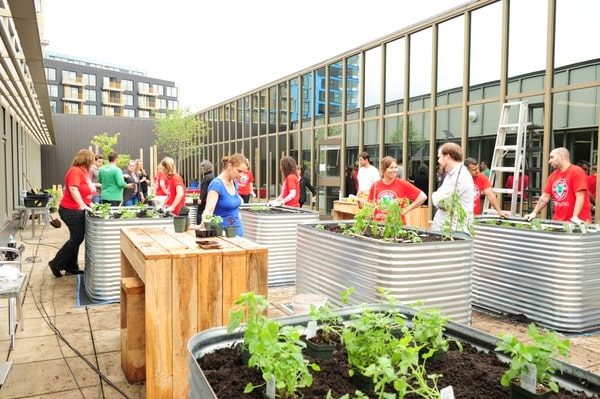 But there are cons to turning your cat loose in a traditional backyard garden. Depending on the space, an unfenced yard may be unsafe, especially in cities full of cars and opportunities for cats to get lost. Neighbors may also get irritated over time with unknown cats using their backyards as litter boxes, especially if their you-know-what compromises the quality of soil.
"We don't recommend people let animals out," Steinhoff says, but they can be outside so long as they're safe and secure.
My own cat, Tango, spends much of her day traversing our garden, though she has yet to persuade us to plant her a personal catnip supply.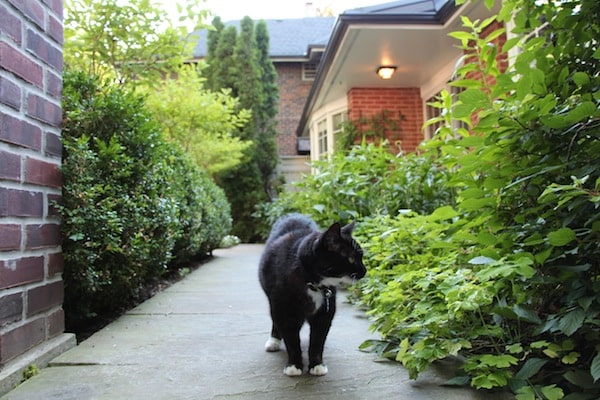 Tango's outdoor sleeping locations vary depending on the time of day and level of sunlight, but she can often be found on the tiles in the afternoon.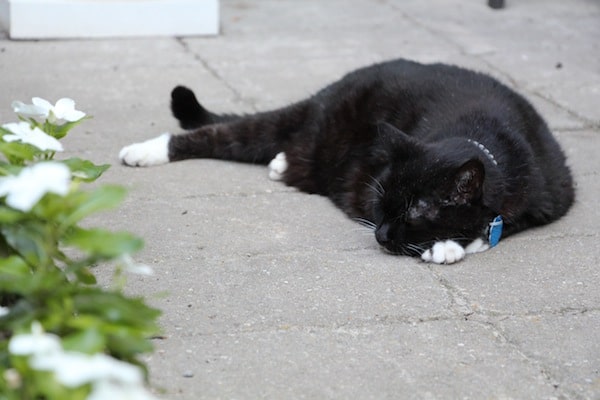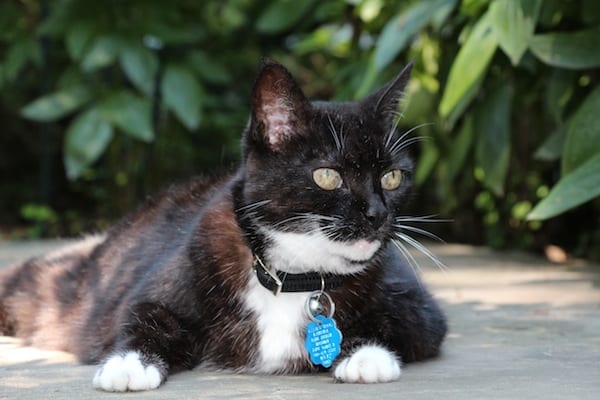 People without garden access need not worry that their cats are missing out. Cats love to be inside and are perfectly content to stay there, Steinhoff explains. But if you've got a backyard, or a leash and some patience, your cat, like these ones, might just be thrilled with the green space to explore.
Read more about cats and gardens: