The holidays are coming, and my two cats have been warming their furry little butts under the Christmas tree, waiting patiently for Santa Paws. He'll come, like he does every year, and shower them with catnip mice and feathers on strings and fluffy beds — everything a kitty could possibly want, and more.
This makes me incredibly happy and also really sad. Because there are tons of animals who will spend the holidays in shelters, without the joy of a family to give them love and presents.
So four years ago, I decided to help change that and founded Santa Paws Drive, the first-ever completely online toy-and-treat drive for shelter animals. Our pets at home get gifts for the holidays, and shelter pets deserve them, too!
Santa Paws Drive is like Toys for Tots, but for animals. We collect toys and treats and cash donations ÔÇô- all online to make it super easy! -ÔÇô and divide them between rescues and shelters worldwide to send some cheer to animals who aren't lucky enough to have forever homes and families for the holidays.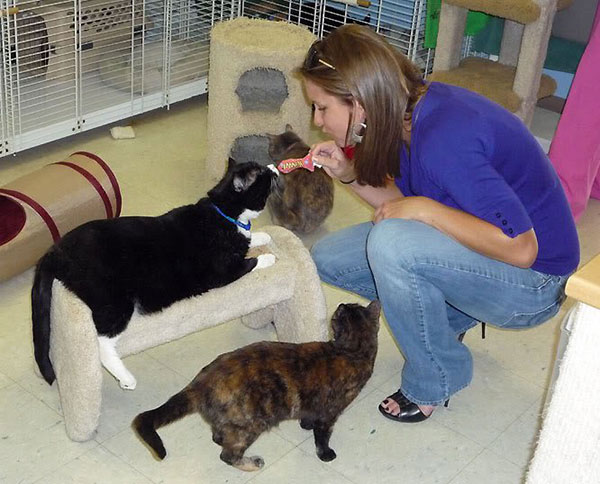 Each year we choose six nonprofit, no-kill shelters based on nominations throughout October. We try to focus on smaller rescues without big funding and fame, because we know how hard they work and how much they depend on donations.
In the past three years, we have raised more than $30,000 in toys, treats, and cash, and supported 18 shelters from the U.S., Canada, Australia, and Africa. (See some pictures of the past shelter animals getting their gifts on our Facebook page!)
Our six shelters for 2012 are Castaway Critters in Georgia, Forever Home Feline Ranch in Illinois, Bobbi and the Strays in New York (who were hit hard by Hurricane Sandy), H.A.R.T. Cat Shelter in Maine, Kyrenia Animal Rescue (KAR) in North Cyprus, and Foundation of Animal Protection (FAPF) in Hungary.
There are more than 750 cats and 450 dogs at these shelters combined, and our goal is to send each and every single animal a present ÔÇô- and $1,000 in cash for each rescue as well!
Our big dream is for every single animal to get the ultimate gift of a forever home, but while they're waiting, we hope we can make their holidays as bright as they can be with tons of toys and treats.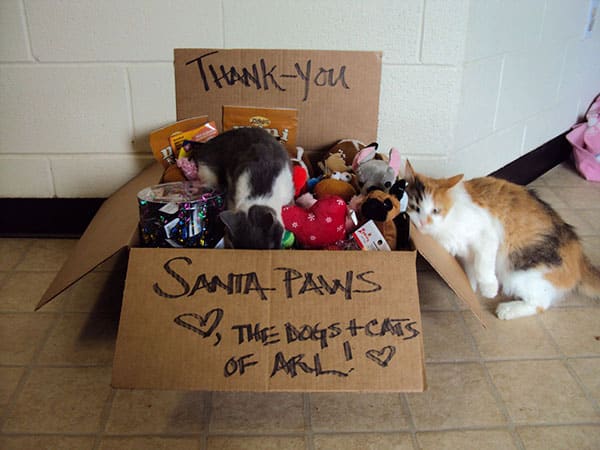 To donate, simply visit the Santa Paws Drive site and choose whichever toys and treats (bundles start at just $10) or cash (even $1 makes a difference!) you'd like to donate. We'll collect all the donations and wrap them up in huge boxes and ship them off to the shelters in time for Christmas.
We also have a huge raffle that we put together each year, with some great companies chipping in to donate some fabulous prizes. Tickets are only $1, and we have $1,775 worth of amazing pet-lover items you can win ÔÇô- and 100 percent of the proceeds go directly to the Santa Paws Drive shelters.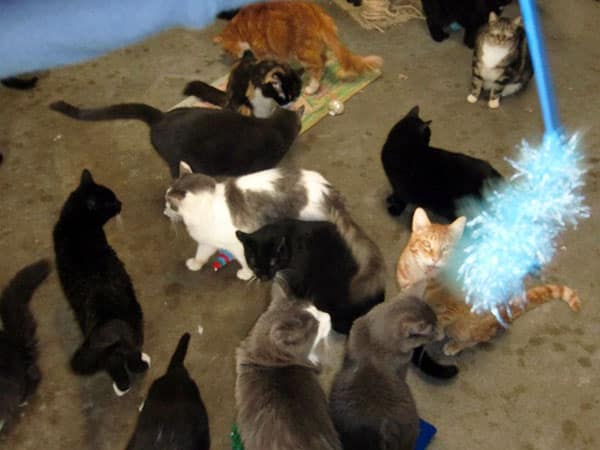 Santa Paws Drive is a true labor of love for me and the other "elves." The five of us -ÔÇô myself, Kerri Heath of the Kitten Crew, Salina Gannon of Nip and Bones, Diane Silver of To Dog With Love, and Lynn Haigh from Dougal's Den — dedicate many, many hours during the already-busy holiday season to put this together and run it each year. We don't make a single penny, but there is nothing more rewarding than hearing from the shelters after they receive their gifts and seeing pictures of the dogs and cats with their toys.
We've gotten hundreds of pictures from our past shelters — with cats diving into the bursting boxes of toys, dogs carrying around their favorite new stuffed toy, kittens playing in their new crinkle tunnels, and much more. And what makes it even better is the outpouring of support and donations from the wonderful community of animal lovers I've been able to meet though blogging on Catster and on my own blog, Your Daily Cute.
Here'a a pretty kitty at Eleven Eleven Animal Rescue enjoying one of his toys from Santa Paws Drive a couple years ago.
It truly warms my heart, and I hope we can continue to do this forever and support more and more shelters each year! Won't you please help us put huge smiles on shelter animals faces this holiday season?