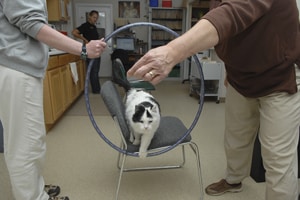 If you think agility training is just for dogs, you haven't met Raed the cat yet! He is learning all kinds of tricks with the cat agility training he's getting!
Raed is a cat who was rescued from Lebanon by Best Friends Animal Society in 2007. He is FIV+ and doesn't really get along with other cats, so his caretakers decided to think up some creative ways for him to have fun and get his exercise.
The answer? Cat agility training!
Raed already knew how to sit, so cat agility training made sense for him. Now he is learning how to jump through hoops, jump from platform to platform and even weave in and out of chair legs (they have real agility equipment on order for him soon!).

Can't see the video? Watch it on Youtube.
Impressive, huh? Raed super smart, but easily bored, his caretakers say. So this kind of fun is perfect for him.
If you're wondering what they use to get him to do all these cat agility moves, it's just kibble. Raed is on a bit of a diet, so he'll do practically anything for food, they say. And the kibble they use for his trick treats comes out of his dinner, so he's not eating any extra calories. Plus, they say he's actually losing weight from all the extra exercise. A win-win for Raed!
You can read his whole story and see more pictures at Best Friends blog.