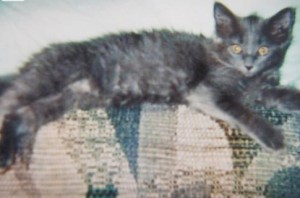 Imagine this: You're a heroin addict who has managed to take the huge step to get clean. You're getting your life back together, piece by piece, moving through the incredibly difficult process of recovery — taking ownership of your own faults, making amends where possible, and learning to live day by day, minute by minute, and even breath by breath if necessary, without picking up the needle again.
Your ally in this amazing journey is a small gray kitten who gives you a reason to start and finish every day clean and sober. You've raised her from her earliest days, doing the best you can to keep her healthy and strong.
Then one day your cat comes home with horrible wounds, some down to the muscle. It looks like the poor thing got caught in a barbed-wire fence.
You know you can't afford veterinary care at full price, so you bring your cat to the Arizona Humane Society's Campus for Compassion clinic because they can help her at a reasonable price. You find out that the bill for her care will be $400 — less than a regular vet clinic, but more than you can afford. You call your mother, and she agrees to provide her credit card information so the Humane Society can bill her.
But they refuse. "It's our policy not to take credit cards over the phone," they say.
Your mother offers to wire you the money, but it'll take 24 hours for the cash to get to you.
"Nope," they say. "We need the cash right now. Otherwise, the only way you can get care for your cat is to surrender her to us."
Heartbroken, but knowing you've got to do what's best for your cat, no matter how it tears you apart, you agree to surrender her. The Humane Society promises to give your cat the needed medical care and find her a good foster home.
You place your beloved friend in their hands, believing they'll do what's right. Because you can't pay, the Humane Society brings her to their Second Chance clinic for free care.
But a little while later, you start searching for your cat and trying to find out what became of her. After days of stonewalling from the humane society, you finally find out that they euthanized your cat four hours after you surrendered her — not because of her wounds, which could have been treated, but because you couldn't pay for her care the minute you brought her in.
That's what happened to Jim Dockery. His cat, Scruffy, was the victim.
Scruffy's story has prompted an outpouring of justified rage against the way AHS handled (or didn't handle) the cat's care. Comments poured into AHS's Facebook page and the organization received floods of e-mails and calls from donors threatening to pull donations and — before the public found out about Scruffy's fate — demanding that Dockery be reunited with his cat.
A note from AHS director Guy Collison said that on the day Scruffy was admitted to the Second Chance Animal Hospital, with the full intention of treating her extensive wounds, the organization took in 178 animals, many of whom also required urgent care.
"Some were cruelty cases, seized in cooperation with police, and required to be held for 17 days with urgent care required by law. The Arizona Humane Society did its best to treat all of the animals that came to the shelter that day. Again, all were in need and their treatment couldnt wait. AHS took the most compassionate action with the animals it couldnt treat that day. Scruffy was euthanized."
Last week, AHS apologized for "failing" Dockery and announced that it had changed its credit card policy. "The [credit card] policy failed Daniel, and it had the potential to fail another loving pet owner," said Stacy Pearson, a publicist who is working pro bono to help the society through the PR firestorm. "The policy has been changed, effective immediately."
That's small consolation for Dockery, who has to live with the knowledge that his best efforts to do the right thing only led to his beloved Scruffy's death.
"Now I've got to think about how I failed that beautiful animal," he said. "I failed her. … That's so wrong. There was no reason for her not to be treated."
Please, Mr. Dockery, know that what happened to Scruffy is not your fault. Scruffy died because of AHS's lousy policy and a lack of compassion that no organization whose stated goal is to help animals should demonstrate. Please stay strong in your sobriety — I have friends who are recovering alcoholics and addicts, and I know how they've struggled to stay clean and sober when they've encountered devastating losses and crises — and know that there's a whole nation of cat lovers wishing you the best and sending its sincere condolences for your loss.