I remember how angry and patronized I felt when a "tour de force" documentary about my home town, made by an award-winning filmmaker, opened with a scene of a home health care worker picking lice off a woman's head. And the four-hour movie only got worse from there: it felt as if the filmmaker had done all he could to portray my (actually pretty cool) town as a leftover from the Great Depression. That is, of course, until a bunch of heroic out-of-staters rushed in and brought Arts And Culture to my "deprived and depraved" town, thereby saving the day.
I imagine that's kind of the way the residents of the Over-The-Rhine neighborhood of Cincinnati felt when they awoke to see this billboard.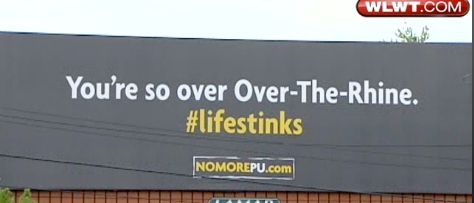 Purina's NoMorePU.com ad campaign features things that stink, and it's localized to the areas in which the billboards are posted.
The trouble is, somebody made a big misstep when they posted a billboard basically claiming that Over-The-Rhine stinks. Now, Over-The-Rhine may not be the best neighborhood in Cincinnati, but it has been undergoing a renaissance in the last several years and its residents are proud to live there.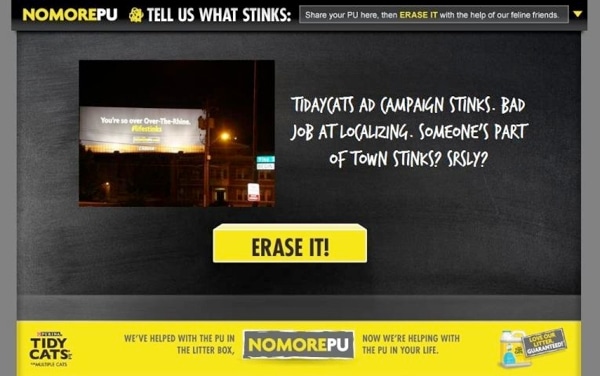 To Purina's credit, the company heard what its audience was saying and issued an apology on its Twitter page over the weekend. "We're sorry. Our billboard was meant to be humorous, but to many of you it wasn't. We'll take fast action to correct this."
And they did. Within a day, the billboard had been covered up with an ad promoting pet adoption.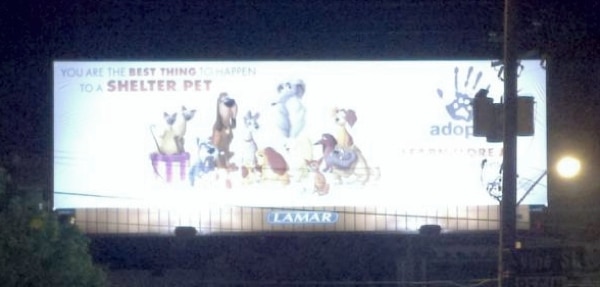 I hope other companies that "have an accident" with their cat-related PR take a lesson from Purina and Tidy Cats, and clean up their own stink by making it right. I'm talking to you, Lowes Hotels!