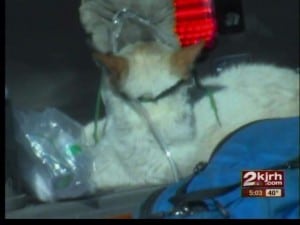 A Tulsa, Oklahoma family lost all their worldly belongings in a fire Sunday morning. But thanks to a quick-thinking neighbor and the local fire department, their two cats escaped with their lives.
Fire crews responded to the blaze, in the front apartment of a duplex in the Evanston area, around 11 a.m. The occupants of the home were not there at the time, but the residents in the back apartment escaped with out injury.
Firefighters did find two cats who they believed had perished in the fire. But a neighbor who had once worked for a veterinarian was able to revive one of the cats, who was in good condition once the fire chief arrived. Because the fire chief carries an oxygen tank and face mask for animals in his car, the firefighters and the neighbor were able to revive the second cat as well.
The fire is believed to have been caused by debris left too close to an old floor heater.
The cats were taken to a veterinarian for evaluation and have made a full recovery.
[Sources: Tulsa World, KJRH-TV, and News on 6]